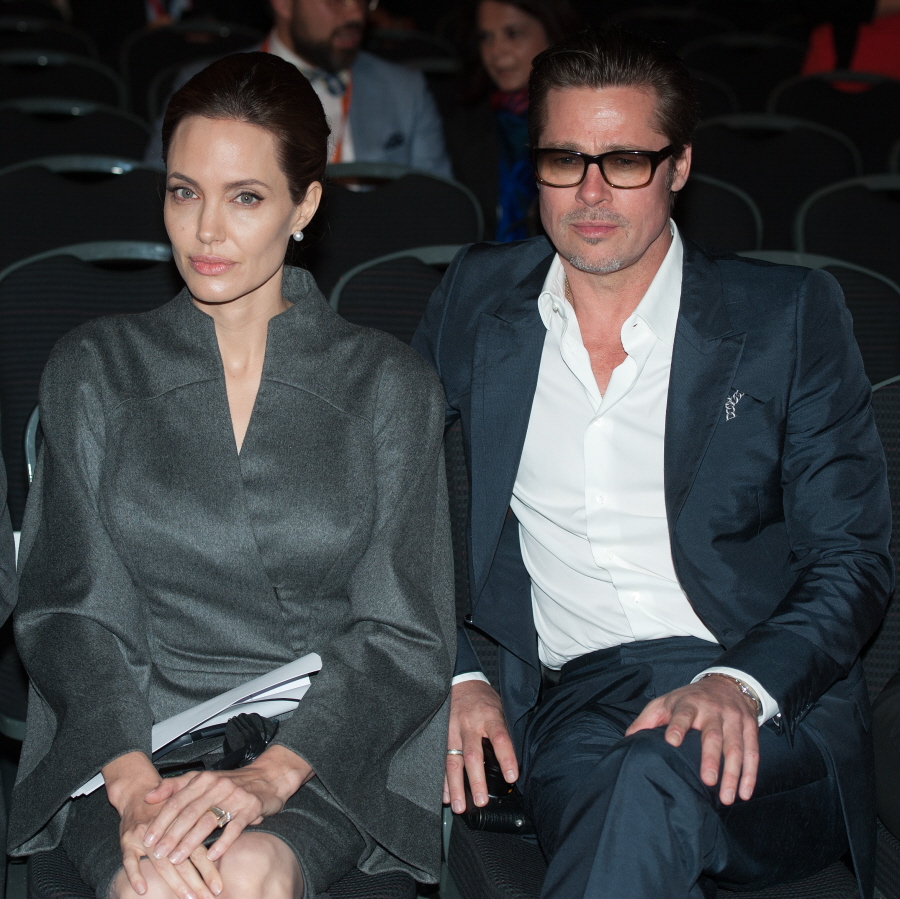 I keep forgetting that Angelina Jolie is DAME Angelina Jolie. That's right, people. Dame Angelina was Dame'd last October. She got to meet Queen Elizabeth II and Dame Angie curtsied and everything. I bring up Dame Angelina's Dame-ing because on Friday, Dame Angie got to meet two other members of the royal family: Duchess Kate and Prince William. The tabloids have always said that Kate was somewhat desperate to meet Angelina but I never really believed it. I guess Kate really did want to meet her though, because Kate pulled herself away from… ?? And William I guess got some time off from his job too. Angie and Brad went to Kensington Palace and chatted for "hours" with Kate and William.
Friday, June 26, 2015, will forever go down in history. Not only did the Supreme Court of the United States legalize same-sex marriage, but Brad Pitt and Angelina Jolie had tea with Kate Middleton and Prince William.

After months of coordinating, the two power couples met for the first time at a private Kensington Palace meeting. "The Duke and Duchess of Cambridge met with Brad Pitt and Angelina Jolie Pitt at Kensington Palace on Friday afternoon," a Kensington Palace spokesman tells Us Weekly exclusively. "They discussed their shared interest in combatting the illegal wildlife trade."

Brangelina had flown to London earlier in the morning so Jolie can attend a lunch at the Foreign & Commonwealth Office on Monday as part of her work on UK foreign policy and her ongoing campaign to end war zone sexual violence. At around 3:45 p.m., the UN Special Envoy was joined by Pitt and they headed straight over to Kensington Palace for the informal meeting.

And according to the insider, Middleton and Prince William were "really excited" about the afternoon tea, with a source adding that the royal couple — who were joined by Prince George — actually waited outside their apartment 1A home to greet the Hollywood royal couple. (Pitt and Jolie's kids were also in London, but did not join in on the visit). Naturally the Jolie-Pitt's didn't arrive empty handed. A source tells Us the couple brought a special gift for the Duke and Duchess to celebrate the arrival of Princess Charlotte, who was born in May.

"Everyone got on splendidly," says the source of their afternoon tea. "Brad and Angelina spent much longer with the Duke and Duchess than planned. They ended up staying for almost a few hours."

The meeting was a first for the foursome. Prince William, Pitt, and Jolie all attended the 2014 BAFTA awards but didn't cross paths.

In October 2014, Queen Elizabeth II made Jolie an Honorary Dame Commander at a private Buckingham Palace ceremony, which is the female equivalent of knighthood, for her humanitarian work to which she has dedicated much of her life.
Us Weekly is wrong, Kate didn't go to the 2014 BAFTAs, William memorably went stag last year and then this year, neither of them went to the BAFTAs (even though William is BAFTA president and they were supposed to host a pre-BAFTA cocktail party the night before and didn't bother showing up for that either).
As for the meeting… I bet William and Kate would like to see themselves as a philanthropic power couple in the same league as Brangelina. What's funny is that even though Brad and Angelina both have full-time Hollywood careers AND six kids, they've done more for conservation than Will and Kate ever have. Angelina owns hundreds of acres of land in Cambodia which is a fully functional nature preserve. She and Brad do/have done conservation work in Namibia, Kenya and Ethiopia too, I think. Oh, and Angelina has done more de-mining work with the HALO Trust (one of Princess Diana's last patronages) than William and Kate too. I'm just saying, if we're doing a side-by-side comparison between "power couples," it's hard to see how Brad and Angelina aren't miles ahead.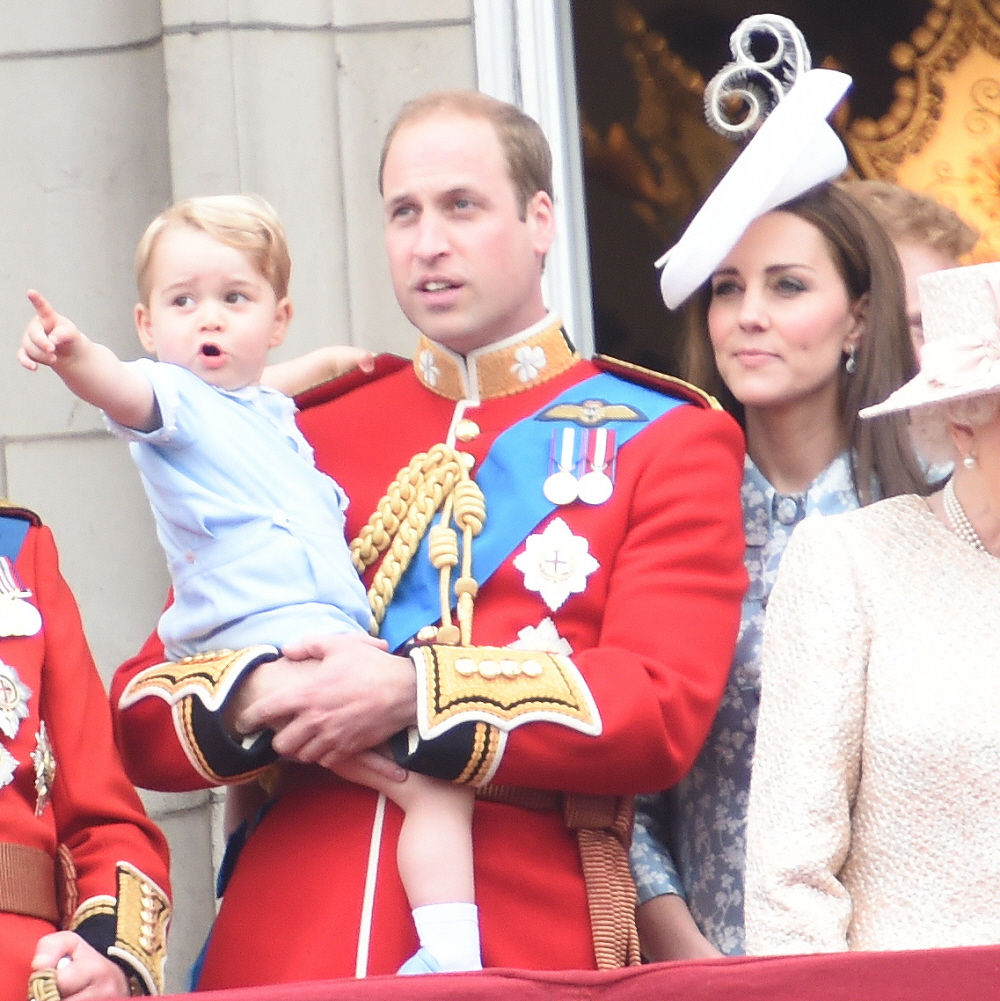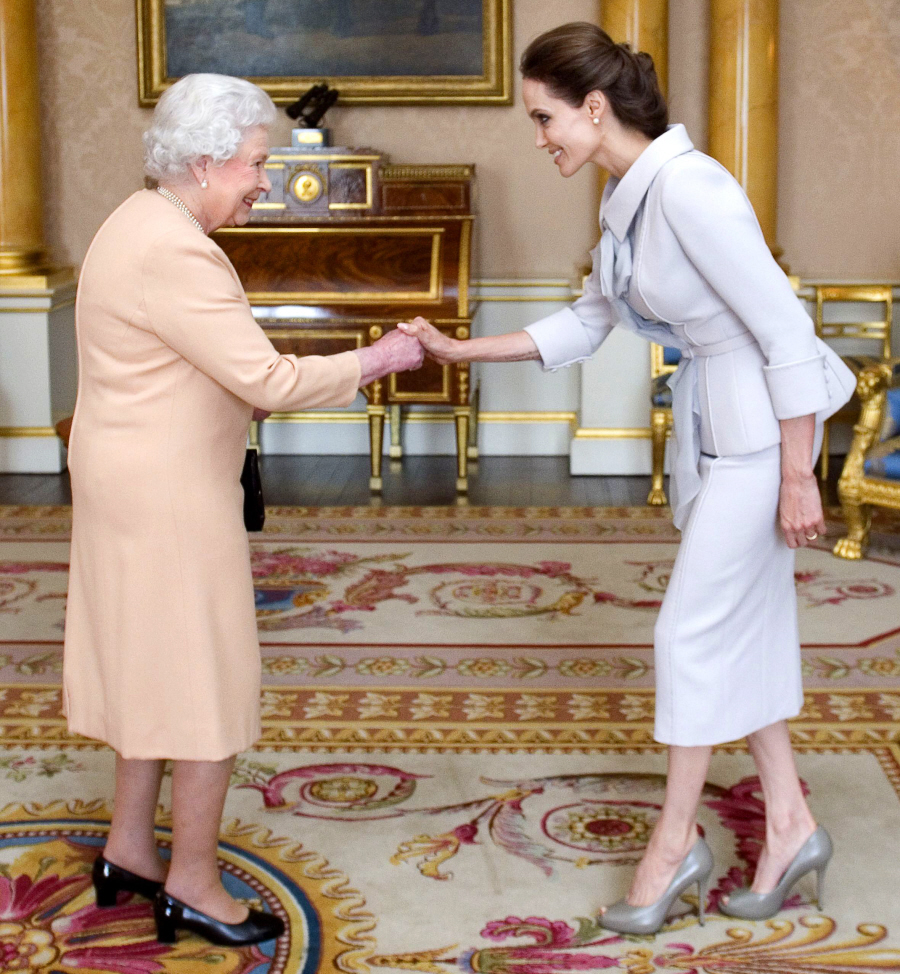 Photos courtesy of WENN.