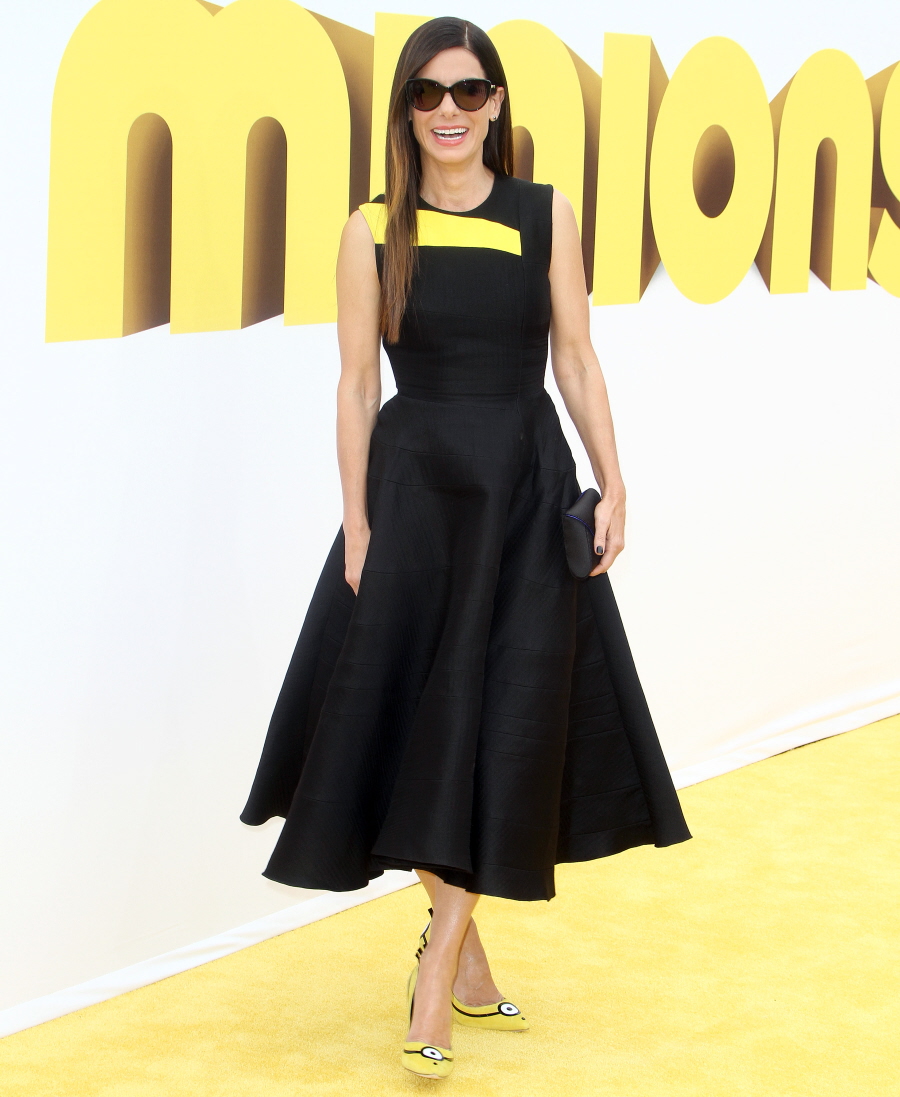 Here are some photos of Sandra Bullock and Jon Hamm at Saturday's LA premiere of Minions, the Despicable Me spin-off movie featuring a Minions-driven storyline. Sandy wore this Roksanda Illincic dress in black and yellow – the colors of the Minions – and she wore these absolutely AMAZING Minions-themed pumps by Rupert Sanderson. They are literally Minion-heels.
Sandy voices the character of Scarlet Overkill, the new villain in the Minions' world. She basically admits that she agreed to voice the villain character because of her son, saying: "I wanted to do something that he could see, that I was in." She also told the BBC that she loves that she's voicing a villain because "As an actor, being a villain is a great thing. Everyone wants to be able to do that. And we're human beings – we're crabby – so to be able to be mean the entire time you're working? It's a great release." Here are some additional quotes from Sandra on the red carpet:
A Minion state of mind: "I'm always in a Minion state of mind. It's impossible for people to understand me. I'm constantly making odd sounds and things are always a disaster where I am. But somehow, I always get out alive. I'm basically a Minion."

She's a bitchy villain: "It's a job I'm very proud to step up into. I think it's appropriate. I am a bit of a bitchy villain. And I think it's appropriate I was typecast. It's perfect."

She's a funny villain: "They don't write villain roles for women. But in this I was able to do the funny villain. And that made me feel really good. And Scarlet Overkill has a good reason to be like she is. It's good to have a good reason."
Super-cute. And no, no one believes that Sandy is secretly a bitchy villain in real life. She's America's Sweetheart! She really is, more than anyone else these days. Julia Roberts? Not so much. Jennifer Aniston? Eh. Sandy is the Sweetheart.
PS… I wouldn't mind seeing Hamm and Bullock play opposite each other in a rom-com, you know? Their coloring is a little brother-sister, but I bet they would have chemistry together.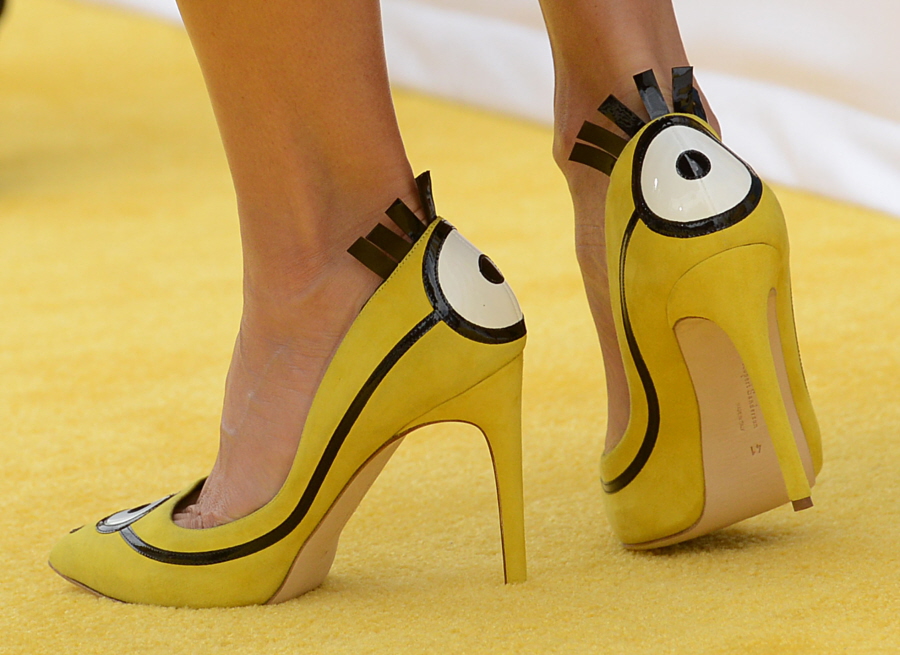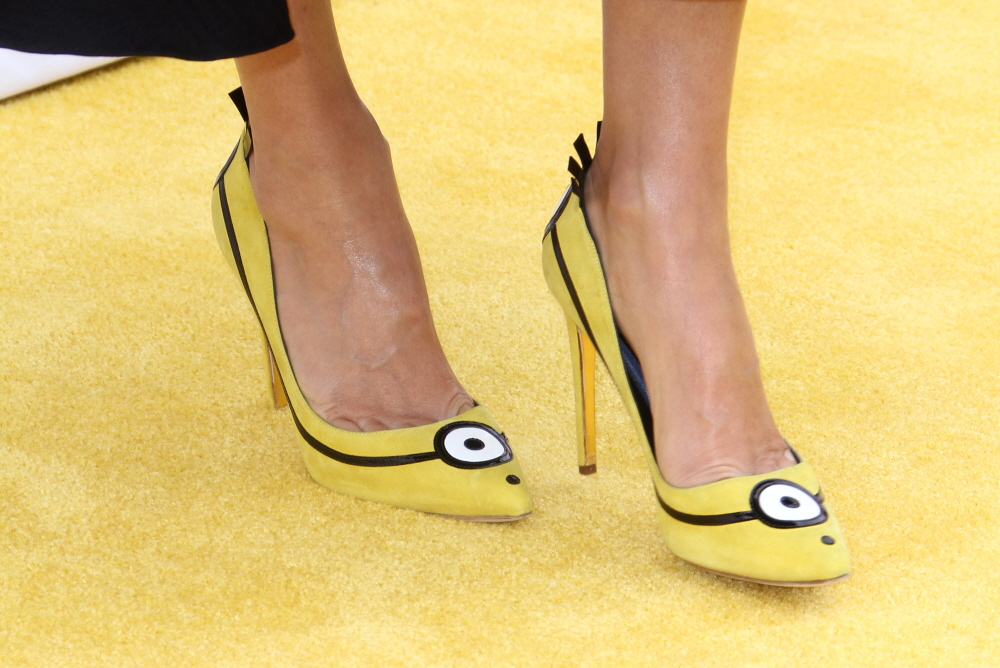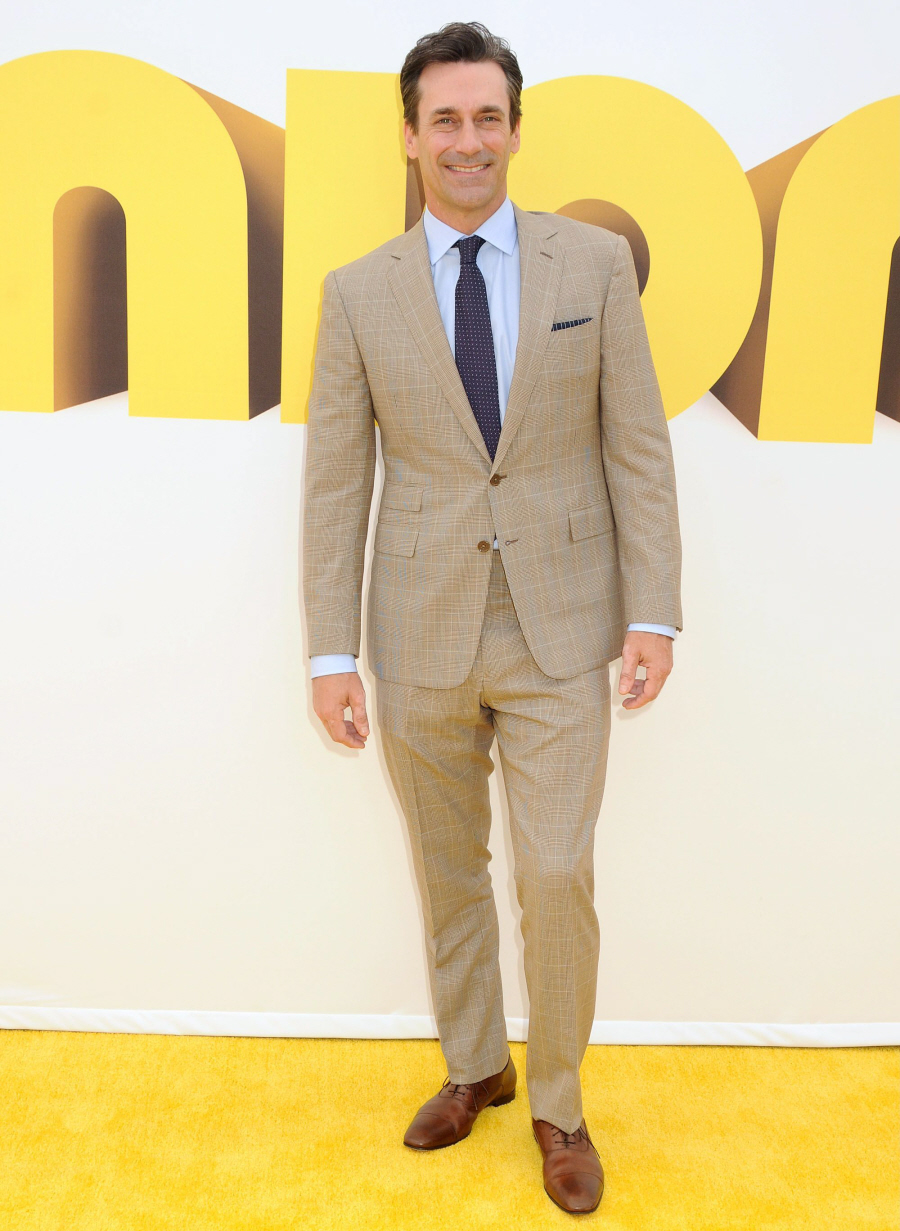 Photos courtesy of WENN, Fame/Flynet.