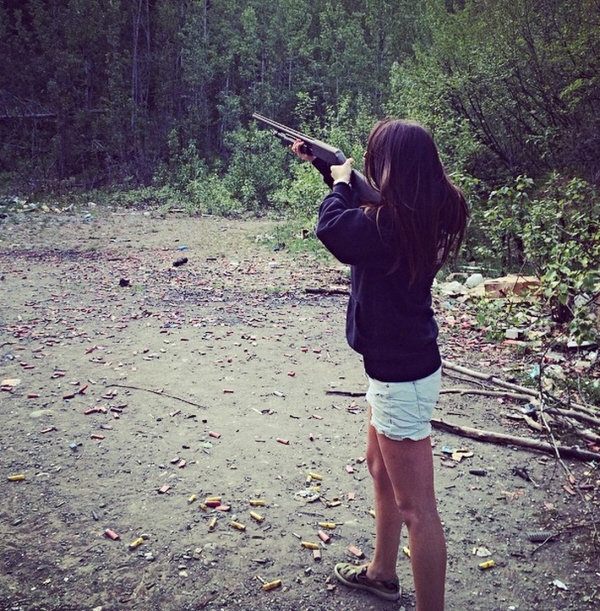 Bristol Palin was on a blogging bender yesterday, and she brings out the rage-monster in me. I'm sorry if I'm offending people, but I just can't even start with all of the gentle think-pieces being written about how Bristol is being "slut-shamed" or how we need to go "easy" on Bristol. NOPE. She's a hypocritical liar. She's a douchebag. And she's an a—hole. Bristol posted the above photo yesterday as part of her blogging bender, because this too is probably some "response" to all of her "haters". Bristol carries a big shotgun. Bristol doesn't pick up her cartridges because littering is for winners. She actually had the audacity to blog about that Ted Cruz-gun photo "controversy" right after she posted this too. She also posted the same photo on Instagram with the caption: "She is clothed with strength and dignity; she can laugh at the days to come. Proverbs 31:25." Oh, Jesus.
As we've said before, Bristol can't even get her story straight about whether her second unwed pregnancy was an accident or whether she "planned" it. She also hasn't bothered to come up with a lie about exactly who the father is. But she did have time yesterday to write a blog post called "When Killing Babies Is More Important than Women's Health." Her blog post is just for Bristol's thoughts about the SCOTUS decision to issue of stay for the state of Texas's legislation to shut down more than half of the abortion providers in Texas. The Texas legislation, HB2, was part of the years-long anti-choice crowd's agenda to attack reproductive choice through access to constitutionally protected services. As in, there has been a very focused effort to create crazy rules, regulations and faux-medical addendum to the process of termination in the hopes that abortion providers will simply collapse under the weight of all the excess regulation. Most of the new "regulations" are simply being created with that aim, to shut down abortion providers. The aim is not to "protect women." The best way to protect women is to trust them to make their own reproductive choices and provide them sexual education, inexpensive and quality medical care and access to affordable birth control. But I digress. Let's hear Bristol's thoughts on this matter.
In another outrageous move this week, the Supreme Court temporarily blocked a common-sense abortion regulation in Texas. After the elected representatives voted to enact laws to protect the health of women and unborn children, 5 unelected judges are once again putting their policy preferences above those of the American people.

The Associated Press Reports: "The Supreme Court refused on Monday to allow Texas to enforce restrictions that would force 10 abortion clinics to close. The justices voted 5-4 to grant an emergency appeal from the clinics after a federal appeals court upheld new regulations and refused to keep them on hold while the clinics appealed to the Supreme Court. The Supreme Court order will remain in effect at least until the court decides whether to hear the clinics' appeal of the lower court ruling, not before the fall."

The court's decision to block the regulations is a strong indication that the justices will hear the full appeal, which could be the biggest abortion case at the Supreme Court in nearly 25 years. While celebrities like Lena Denham are celebrating the Supreme Court's decision in the name of choice, what is happening here is placing the murder of babies on a pedestal.

Texas Attorney General Ken Paxton issued the following statement: "The Highest Court in our country just put Texas women in harm's way. HB 2 ensures abortion clinics and doctors meet basic health standards if they choose to operate their businesses in Texas. Today's delay subjects Texas women to substandard care all to the benefit of the abortion industry's bottom line."

How can these pro-abortion advocates claim to be pro-women when they won't even support laws that are designed to ensure women get safe and quality health care? And they call me hypocritical!?!
I really hate this, you guys. Her stupidity is dangerous. You know what will subject Texas women to substandard medical care? When more than half of the abortion providers – the same clinics that also offer sex education, pap smears, cancer screenings, birth control and prenatal care to mostly lower middle class and poor women – are put out of business because Texas Republicans wanted to find a backdoor way to simply punish women for having sex. Republicans all around the country want to punish women for having sex. And when I say "women," of course I mean "every woman other than Bristol Palin, who is somehow immune from all criticism." The simple fact that Bristol is too stupid to even understand the concept of her own reproductive CHOICE is beyond me.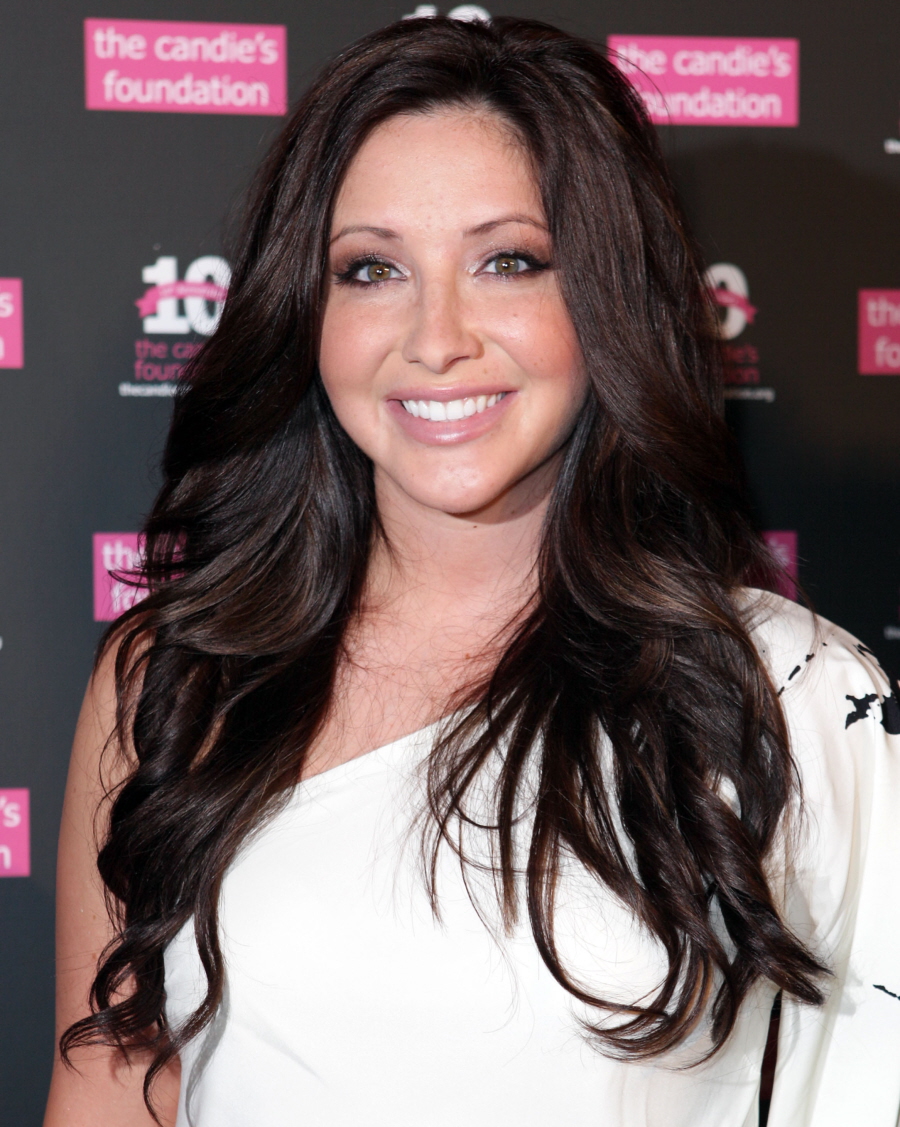 Photos courtesy of Bristol's blog, WENN.