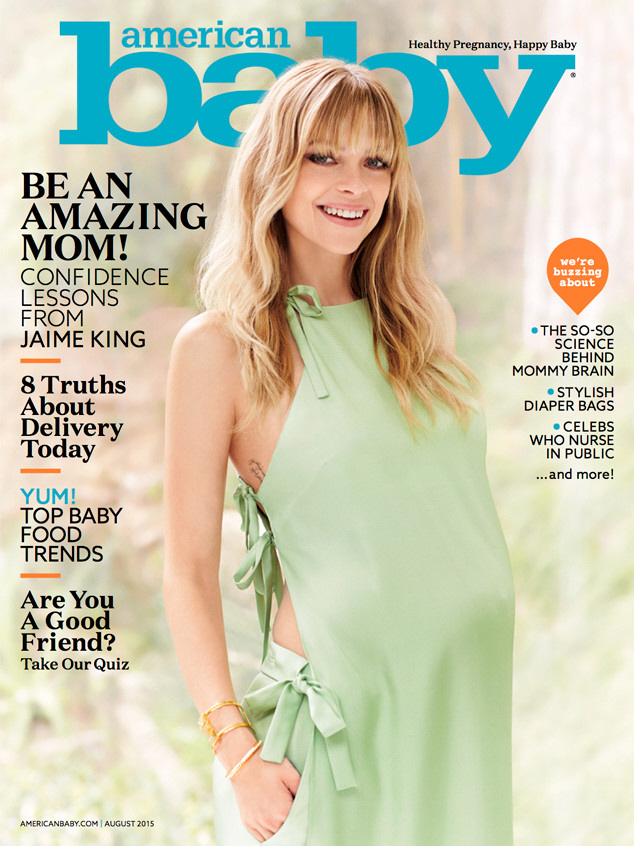 I guess I'm out of the baby loop, because I had no idea there was a magazine devoted to American babies called, obviously enough, American Baby. Somali baby? Not interested. Sri Lankan baby? Nope. Dutch baby? Go away! American babies only. So, the cover of the newest issue of American Baby is pregnant American model/actress/professional-friend-of-Taylor-Swift Jaime King. King is very pregnant with her second child and she's been giving a lot of interviews during this pregnancy, talking about body-shaming pregnant women and new mothers and how she "cried for five hours" after people criticized Kim Kardashian's pregnant body. This interview is more of the same. Some highlights:
Body image while pregnant: "Pregnancy is the ultimate symbol of womanhood, beauty and sensuality, so make it a celebration of creating life. You don't have to hide anything or try to suck in your belly. Why not put on things that are tighter, flashier, or more fun? Wearing formfitting clothes totally counteracts that voice inside of us that says, 'Ugh, I just want to lie down all day and sleep. I feel it's really important to feel good about yourself, and fashion is part of that."

She knows what it's like to be body-shamed: "I know what it feels like to be body-shamed. People have made comments about how I'm too thin and need to eat a sandwich. I've seen it happen with other pregnant women in this business too—we're either too thin or put on too much weight. But every woman's body is different. All that matters is that you're taking care of the nutrition for yourself and your child. Don't let other people get you down, and don't put other women down, either."

Asking ladies like Jessica Alba & Taylor Swift to be her children's godmothers: "I asked myself, 'God forbid anything happened to me, would she take care of my child as if he were her own? What kind of morals would she instill? Will she be backup support if for any reason my child doesn't want to come to me for something?' I looked for giving people whom I admire, and those two give more than anyone I've ever met."

She loves everything about pregnancy: "Probably because of how long it took me to get pregnant—seven years—and all that I went through with endometriosis and polycystic ovary syndrome."

Her son James: "He does not hold on to hurt feelings, so he' s given me a get-over-yourself attitude. Now when something bothers me, I think, 'I should be like James Knight and get over it in two seconds.. Parents can really learn from kids about letting go. Every time I look at my son, he makes me want to be a better person."
I have no interest in body-shaming any pregnant woman, although I do think Jaime sort of ignores the fact that some (not all) pregnant celebrities invite the general public into every part of their baby-making, pregnancy and childrearing and then freak out as soon as they get one piece of criticism. My general rule is to give pregnant ladies more of a pass for everything so even though I think it's sort of weird that Jaime King is, like, pregnant as a profession now, so be it. I do have a problem with this: "Pregnancy is the ultimate symbol of womanhood, beauty and sensuality…" If you feel beautiful and sensual during your pregnancy, God bless and good for you. But some women do manage to be womanly, beautiful and sensual without ever being pregnant. It seems like Jaime is "shaming" non-mothers and women who can't have children a little bit.
Can I shame her about those bangs though? Because she's a lovely woman but those bangs are atrocious.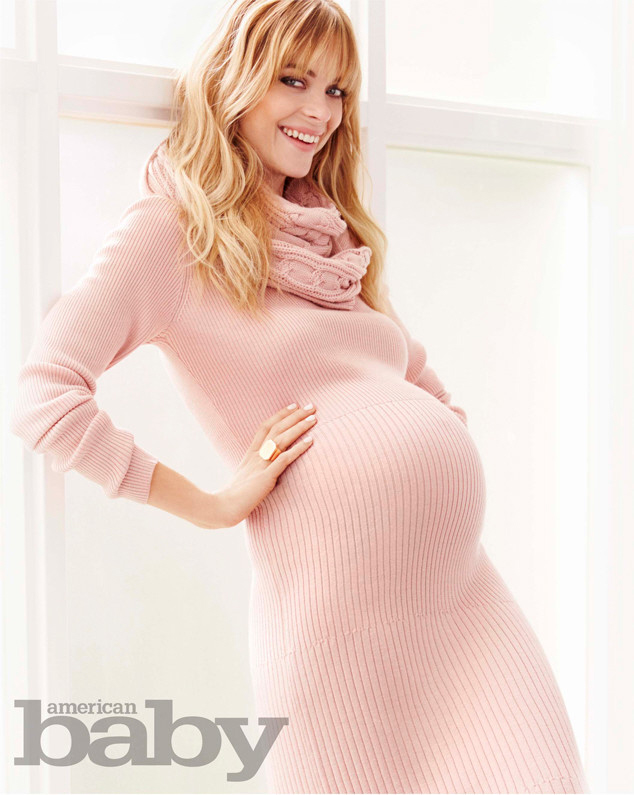 Photos courtesy of American Baby.