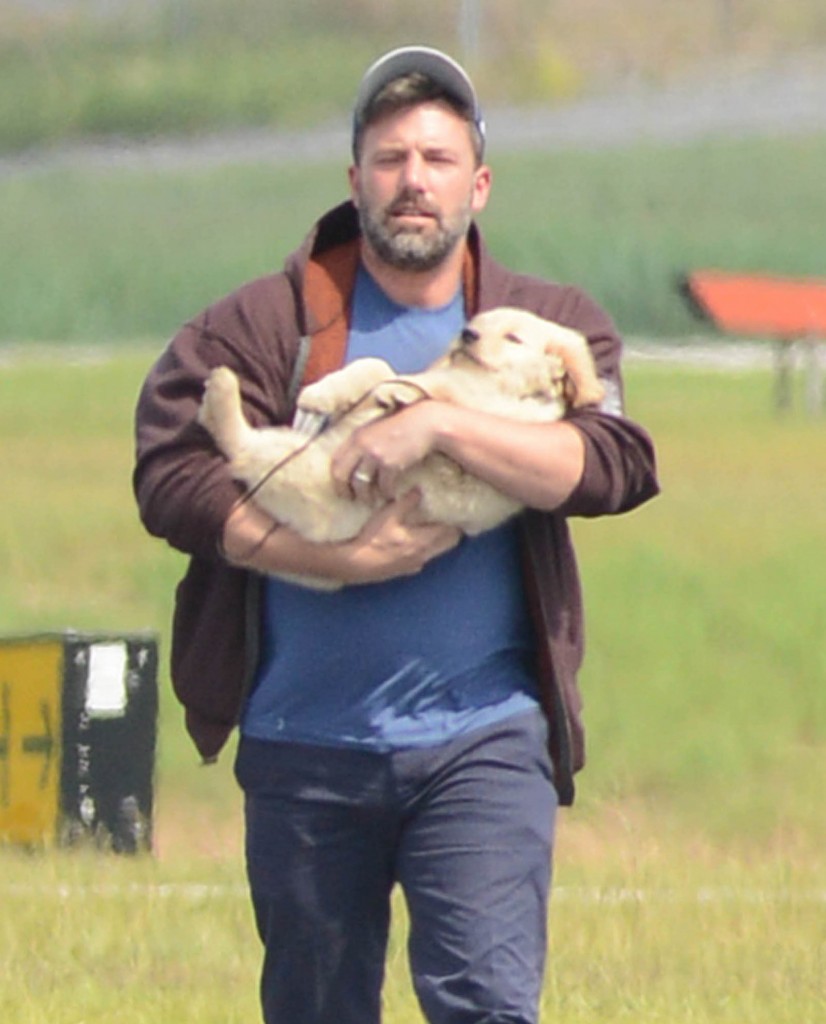 Here are photos of Ben Affleck out in Atlanta, still wearing his wedding ring, but more importantly carrying a beautiful, squeezable golden retriever puppy! Look at that sweet dog falling half asleep while while being cradled! What is this dog's name? I get the feeling he or she is about to be as famous as Finn. (No one can replace Finn, Finn is the star.) This dog is a clever new prop in a high profile divorce but it does not care at all and looks content as hell to be carried. I'm sure the Garner-Affleck kids love it to pieces too.
Us Magazine has a whole story about how the dog got adopted – on Jennifer's urging while Ben acted like a jerk. People Magazine lays it on thick with their usual publicist-fed lines about how the dog is a symbol of putting the kids first or something.
People Source: the dog is a sign
"It's their new puppy. It's a family dog. It's another sign they are working together to raise kids and be in a kind relationship. [The kids are] a big part of why they're still wearing [the rings]. They just want them to be okay."

US Magazine: Meanie Ben didn't want the dog at first
The puppy, meanwhile, has also been enduring the split after it was adopted this past May. As reported by Us in the June 29 issue, Affleck and Garner took their daughters to a dog adoption in the Pacific Palisades this spring, shortly before the high-profile couple announced their split in an official joint statement on June 30.

According to an eyewitness at the shelter, Affleck scowled at Garner when she encouraged their daughters to play with a litter of golden retriever puppies. The actor also was rude to a female volunteer.

"Ben was really short with her, like, 'Yeah, whatever,'" an eyewitness told Us at the time of Affleck's demeanor. Despite the tense family outing, the couple got their daughters a new puppy.
[From People and US Magazine]
So the puppy was Jennifer's idea, Ben didn't want it and now he's carrying it around like a little prince or princess. That's what dogs do to people. As hackneyed as it sounds to get children a dog as a consolation for mom and dad divorcing, the kids must get a lot of joy out of that puppy. The only thing this story is missing is an ID on the dog's name and gender. This PR piece was not written by dog owners because we want to know all about that dog. Maybe those details are being held back by Jennifer for the next story. First we get to see the dog, then we hear a cute story about how it did something adorable with the kids, little Chase or Wiggles or whatever it's called. The kids probably named it too, and there will be a story about that and the significance of the name. Wait for it, its coming.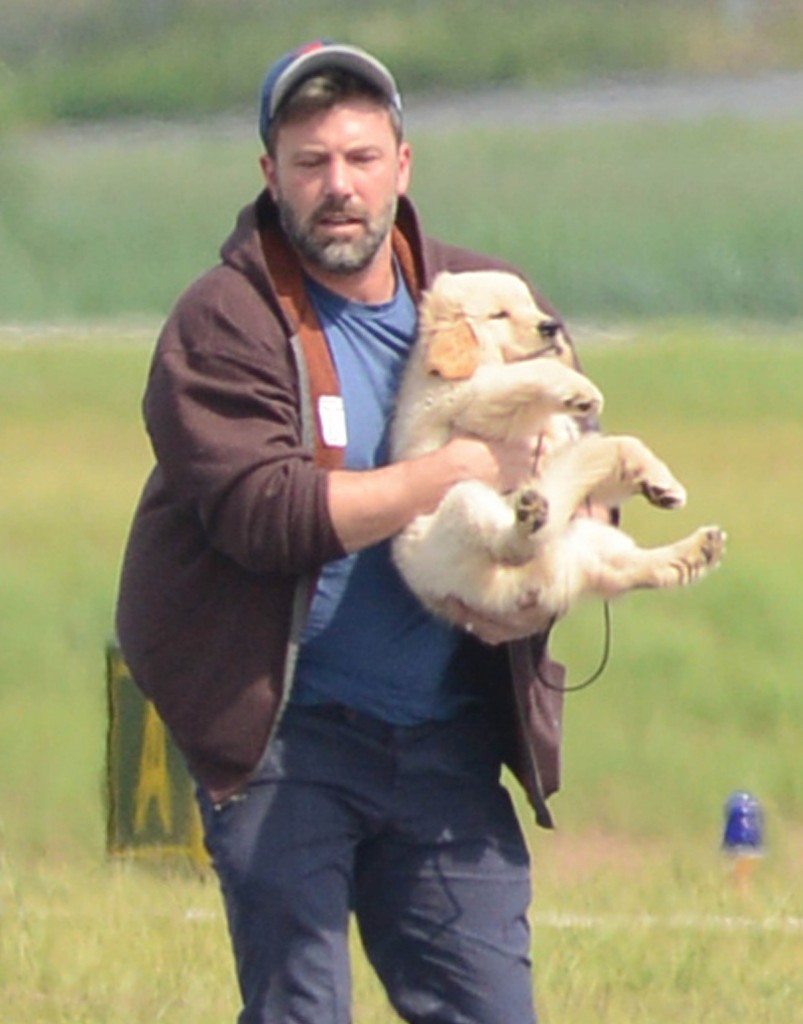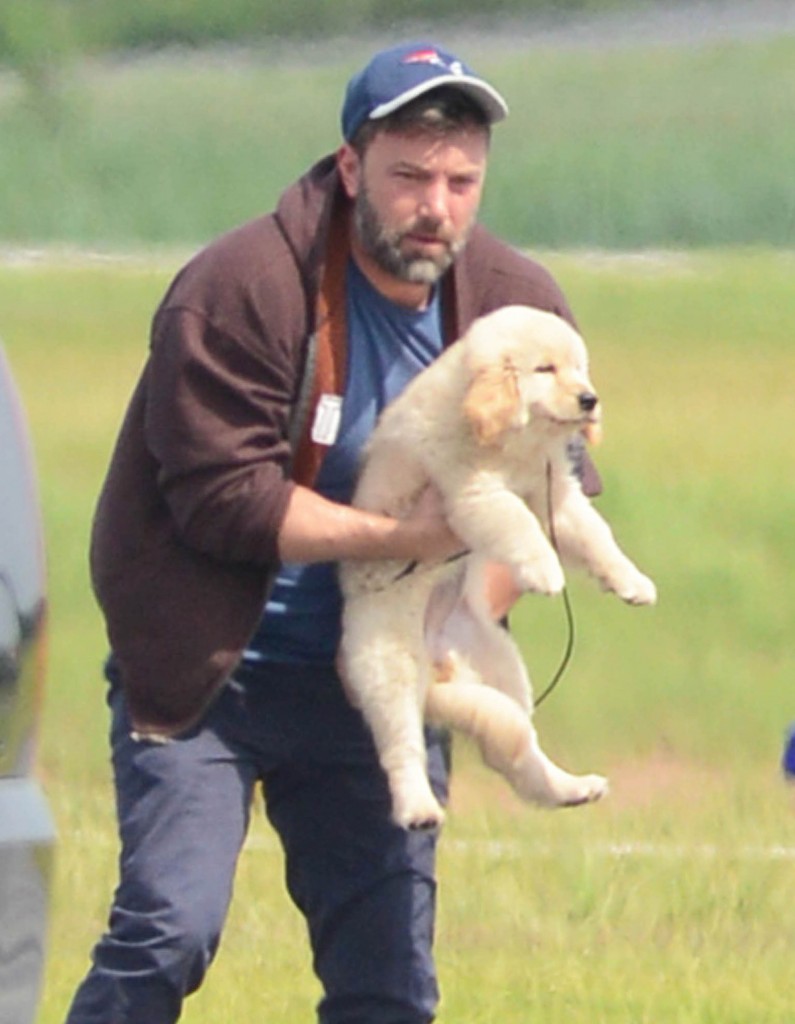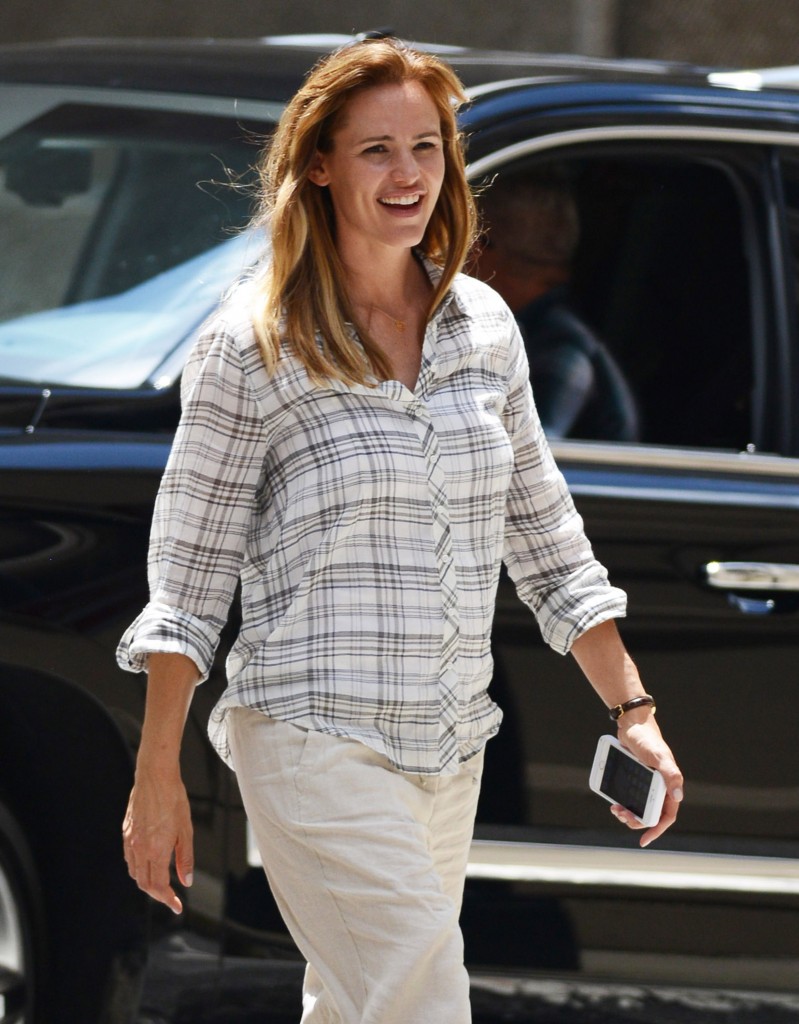 photo credit: FameFlynet. Garner is shown on the set of her movie, Miracles from Heaven, yesterday