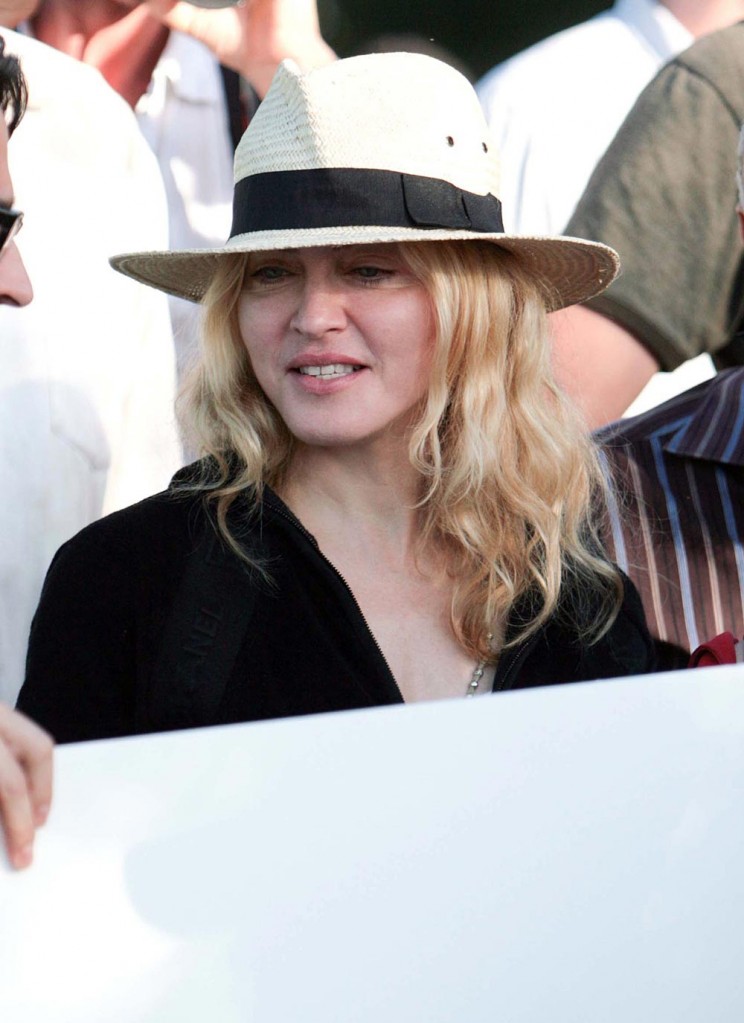 Madonna in the $2,800 sweatsuit. The Huffington Post has a better photo of the outfit
Madonna has come under a lot of well-deserved fire for jetting into poverty-striken Malawai with the intention of adopting a little girl, Mercy, who has a living grandmother who was hoping her granddaughter could stay in the country. If the adoption goes through this will be the second time Madonna has flouted Malawian adoption laws, which require adoptive parents to stay in the country for 18 months. In 2006 she adopted David Banda, who has a living father who could not afford to keep him. Madonna is starting schools, funding orphanges, and helping Malawai monetarily, but does that mean that she can leave with a child despite the objections of their family and the fact that she's breaking the law?
The Huffington Post points out a minor detail that seems to highlight the glaring issues of class disparity in this case. Madonna wore a Chanel sweatsuit to tour an impoverished school in Malawi. The sweatsuit was worth $2,800, more than ten times the average yearly income in the nation:
Madonna arrived in Malawi Sunday morning on her Gulfstream V in her bid to adopt a toddler girl named Mercy.

After arriving she toured an impoverished school but refused to talk to reporters. She was, in the words of the AP, "dressed casually" in a black velour tracksuit and white fedora. But that casual look costs about $2,800.

A look at the photos shows her dressed-down attire is a Chanel tracksuit, tone-on-tone labels blazing from her shoulder and the stripes down her leg. Huffington Post placed a call to the 57th Street store in New York Monday with a casual inquiry, and a helpful saleswoman priced a similar ensemble at $2,800.

A zip front jacket is $1,600 and the pants about $1,200. A cheaper alternative to the one Madonna wore in Malawi is the $1,200 pullover jacket. Currently the store is stocking the velour in gray. They also have the tracksuit in cashmere for several hundred dollars more. Chanel clothing is not available online.
[From The Huffington Post]
Of course Madonna can wear whatever she wants, and she's rich so she's entitled to buy a sweatsuit worth enough to supply water to several villages. There are two schools of thought on this adoption. One is that Madonna is bringing awareness to the conditions in Malawi, that she's spending money to ensure that things change, and that little Mercy will have a comfortable, privileged life with her and opportunities that she could never dream of if she stayed in Malawi. The other side is that Madonna is so insulated from the realities of the world that she thinks that she is just as entitled to a child with living family as she is to an insanely overpriced outfit.
Mercy is now staying with Madonna her three children and a nanny in a luxury lounge outside Lilongwe. David Banda, 4, saw his biological father for the first time in perhaps three years yesterday. David's father told the press that Madonna canceled a scheduled meeting with him during another visit to Malawai two years ago, although some reports have him meeting David briefly at the time. The judge ruling on Mercy's adoption has postponed her decision until Friday, but it's easy to predict that Madonna will get her way. She usually does.
Photo credit: Fame Pictures