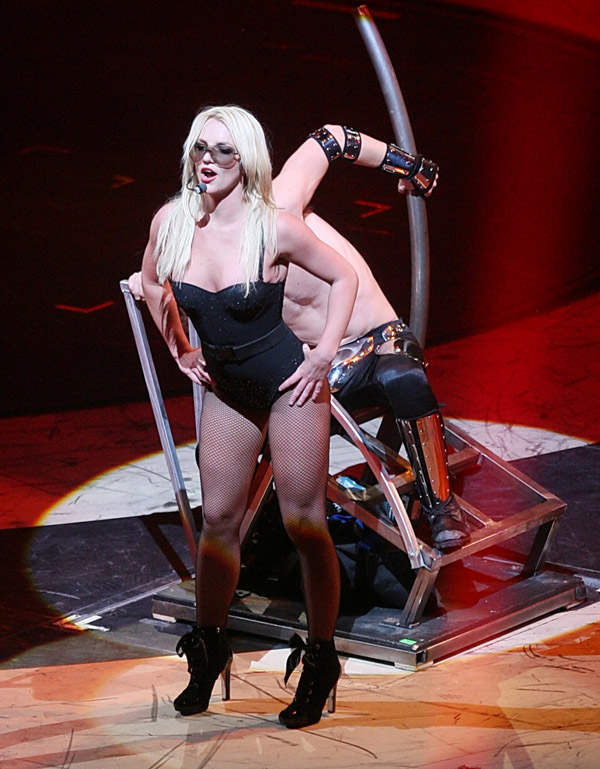 Britney Spears is said to have had a brief fling with a male dancer on tour with her. Britney, 27, got hot and heavy with a 21 year-old guy named Gio. Things were going pretty well for them, but then her dad stepped in and they quit seeing each other for whatever reason. It sounds like the relationship just ran its course:
When her daddy's away, Britney Spears plays … and how.

The pop star found an on-tour playmate in a hunky 21-year-old backup dancer while father Jamie was tending to business in L.A. late this month. According to a well-placed tour source, Britney's relationship with the hoofer was not that innocent.

"Britney was a bad girl," says our insider. "Literally as soon as her dad left, she started getting cozy with a dancer named Gio. It wasn't serious. They had a few romantic interludes, and she bought him a few things — a pair of shoes and some clothes — even though she's on an allowance."

But now that Jamie's back with the "Circus" tour and casting a watchful eye over his daughter again, Brit's romance has cooled. "Britney was definitely getting jiggy there for a hot minute, but they've slowed down since Jamie got back in the picture," says the insider. "It's basically over now."
[From NY Daily News]
I would say "good for Britney," but this is how she ended up with backup dancer K-Fed, who had a pregnant girlfriend at the time. It's probably for the best that she didn't stay with this guy, and he could have been a player.
Yesterday we heard a voicemail message supposedly left by Britney to an unknown lawyer in which she said that her father was threatening to take her children away if she didn't cooperate with his conservatorship. The release of the recording may have been retaliation by a guy who runs a Britney fansite, Breathe Heavy, which has been slapped with a copyright infringement claim from Jamie Spears. The site owner claims that Jamie is targeting him because he has consistently spoken out against Britney's conservatorship.
Whatever is going on with Britney and her dad, it's hard to see how she would have come out on top again if he didn't take over and weed out the negative influences in her life like Sam Lutfi and Adnan. She was being manipulated and drugged by Lutfi and there was little chance she could have escaped from him on her own, especially when she was driving around and staying in random hotels with Adnan. It's a miracle that guy never sold a sex tape of her. She has a penchant for hooking up with guys that are bad for her. At least this one was only temporary.
Britney Spears is shown performing in Washington on 3/23/09. Credit: INFphoto.com