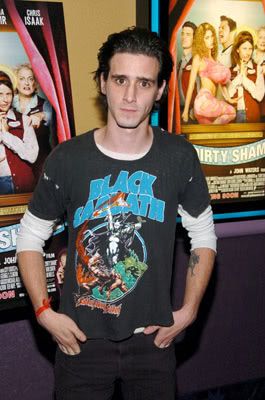 26 year-old James Ransone, who is currently featured in the movie "Inside Man" and has appeared on several episodes of CSI, heard a woman screaming in his apartment building and came to her rescue. He was horrified to see that she was about to be raped, and quickly took action:
He got to the vestibule in the nick of time.
"There was this Hispanic guy in a blue sweatshirt choking my neighbor and pulling his [sex organ] out,"
he told Page Six's Lisa Marsh. "I pictured my mom, my girlfriend and every girl I've ever loved and thought, 'Vengeance is mine.' "
The would-be rapist took off on Eldridge Street with Ransone – who at a slim 5-foot-9 is not exactly physically threatening – chasing after him.
"I looked north and south and saw him running," Ransone recalls. As he ran after the attacker, he passed a friend walking his dog and called for him to join in the chase. "I screamed, 'Follow me! This girl almost got raped!' "
Ransone caught up with the assailant as he entered a building on Allen Street. He broke a glass door to get at the perp and then cracked him on the back with the metal bar.
"I said, 'You rapist piece of [bleep]' and heard a crack when I hit his shoulder blade," Ransone says. "He mimed taking out a gun and said, 'Do you want to go to jail?' – and made a bee-line for the door.
"I cried, 'I'm not done with you yet' and kept swinging," Ransone says. Then the cops arrived and the attacker disappeared into the building. An arrest is expected soon.
Ransone said "he did what anybody would have done," but he clearly went beyond the call of duty. The police were congratulatory and told Ransone he would make a good officer. He's sure to get more work after his heroic act was profiled by Page Six.