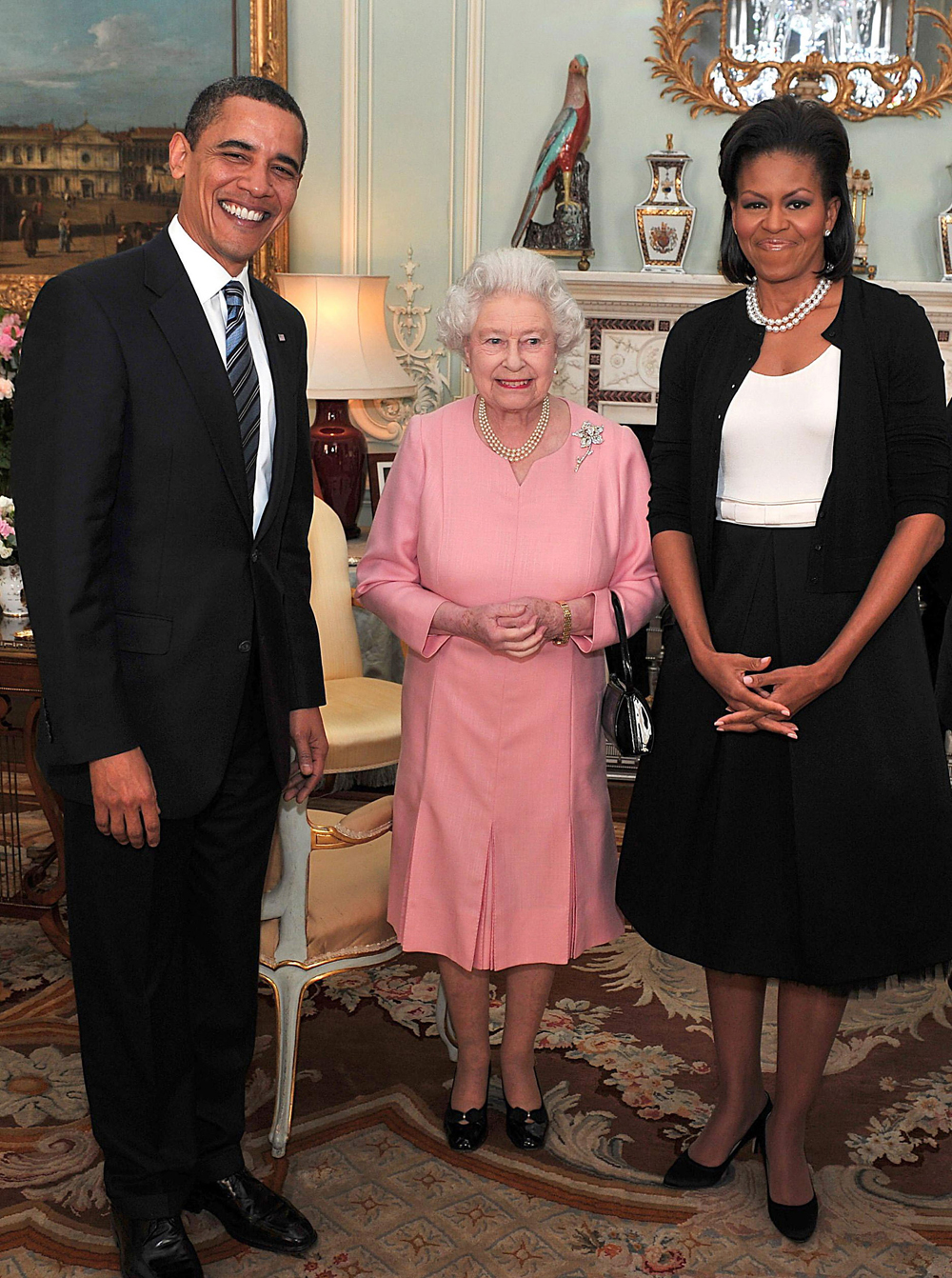 It looks like President Obama learned his lesson from the criticism he received by giving a bunch of DVDs to Prime Minister Gordon Brown when they first met. The Obamas arrived in London with some nice, thoughtful gifts for their hosts – gifts for both the Browns and the Queen.
The cable news channels are doing non-stop coverage of the G-20 summit (which actually doesn't start until tomorrow). In case no one saw the royal visit (or would it be the presidential visit to the royals?), Michelle wore black and white, with a lovely pearl necklace, while the Queen wore pastel pink.
Anyway, everyone is going crazy. I've seen CNN's special report on how the British people adore Michelle Obama. It was a bit of fluff journalism, and I was totally ashamed that CNN ran with it. But now People Magazine has a really good scoop – what the Obamas gave as gifts. The president gave the Queen an iPod. Which might be crass, but he also gave her "a rare 1951 printing of a 243-page Rodgers and Hart Songbook – signed by Richard Rodgers." Now that's more like it. So what did the Queen give the Obamas? A photograph of her with Prince Phillip. I was really expecting a Corgi puppy with a red ribbon.
So what do the new kids on the block give the woman who has everything?

On their maiden European tour as President and First Lady, Michelle and Barack Obama put a little of their signature youthful flair into what is usually stuffy old protocol: the exchange of gifts between foreign leaders.

For Queen Elizabeth? An inscribed iPod fully accessorized and loaded with the "ultimate Broadway" collection of 40 tunes, including "People" by Barbra Streisand, "Aquarius" by Ronald Dyson and songs from a wide range of shows from Gentlemen Prefer Blondes to Rent and La Cage aux Folles.

And just in case the Queen, 82, and her husband Prince Philip, 87, are more in the mood for a sing along á deux, the Obamas included a rare 1951 printing of a 243-page Rodgers and Hart Songbook – signed by Richard Rodgers – and including music and words to toe-tapping tunes from 22 Broadway shows and two films.

"It was a fun and very welcome gift," a palace spokesman tells PEOPLE about the iPod, which also contains photos of the Queen's state visit to the U.S. in 2007.

Returning the generosity, Her Majesty presented the Obamas with a silver-framed, signed photograph of herself and Prince Philip – the traditional gift often given to visiting heads of state.

The President and Michelle Obama had a private audience with the Queen and Prince Philip at Buckingham Palace on Wednesday afternoon – part of a series of high-level, closely watched diplomatic meetings for the Obamas. Their first stop Wednesday morning was 10 Downing Street, official residence of Prime Minister Gordon Brown, his wife Sarah and their two boys – identified in official U.S. trip documents as "Master John" and "Master James."

There were gifts for them, too. Mrs. Obama selected a personal style favorite for Mrs. Brown – a broach (to be specific, it was a "crochet black flower brooch with pearl accents"). John, 5, got a baseball bat signed by Derek Jeter, a baseball signed by President Obama and a book titled Classic Baseball.

For younger brother James, 2, there was a collection of 10 Dr. Seuss books. As for talks between the President and the boys? "We talked about dinosaurs a little bit in between discussions of Afghanistan and Iran," Obama said with a laugh. "So we've had a wonderful time."
[From People Magazine]
Wow, the Obamas really stepped it up a notch for gifts. Dr. Seuss books, a brooch, something signed by Derek Jeter. Much better than a sack of DVDs.
There was an old Time Magazine article that discussed the various gifts the Queen has given world leaders over the years. One of my favorite gifts was a special present she gave to Boris Yeltsin. The Queen and Yeltsin had bonded about gardens, and she gave him an intricate glass case full of seeds from her own Buckingham Palace gardens. That was a thoughtful present. Perhaps the Obamas will get something better next time.
Here are President Barack Obama, Michelle Obama, Queen Elizabeth II, and Prince Philip during an audience at Buckingham Palace today. Images thanks to WENN .