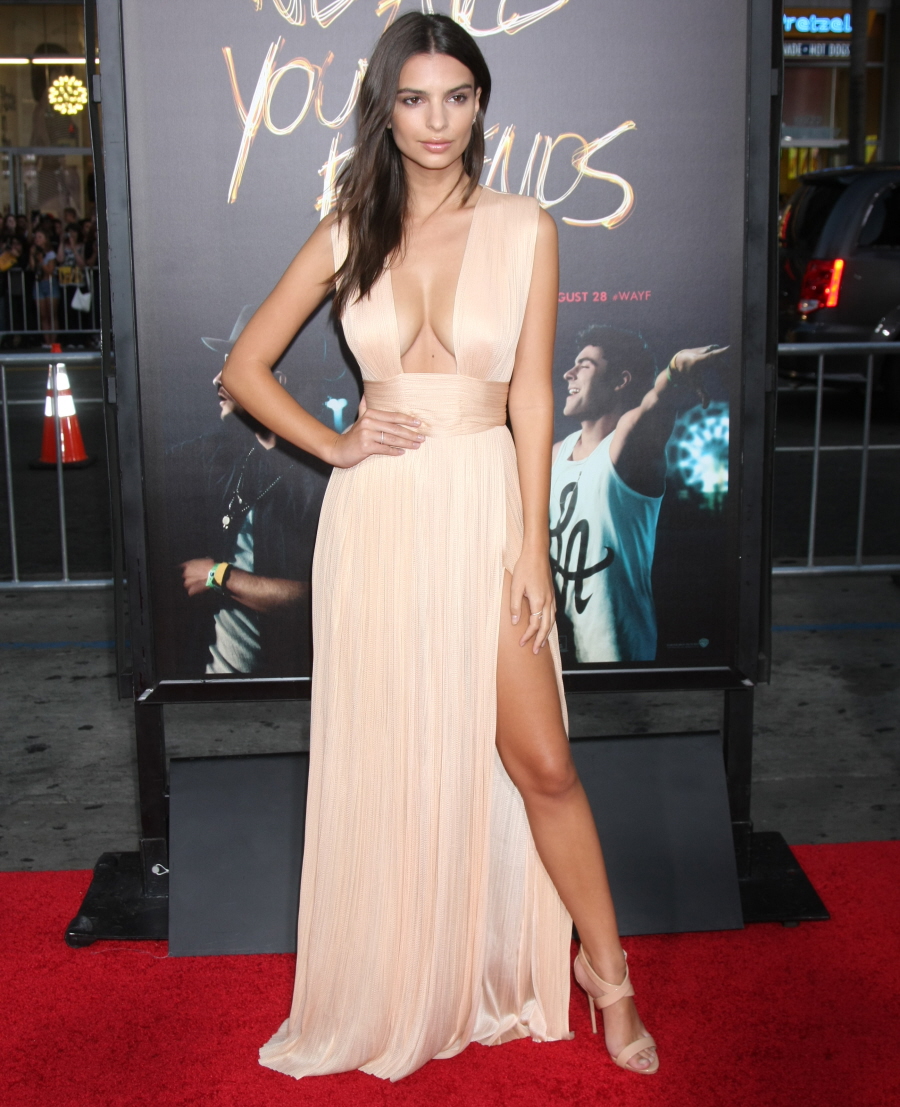 Here are some photos of Emily Ratajkowski at last night's LA premiere of We Are Your Friends, the Zac Efron movie where he plays a poor, downtrodden… DJ. Emily wore her most reveal ensemble of the promotional tour, this Maria Lucia Hohan gown with a big side-slit. Emily tried to work her leg like Angelina Jolie at the Oscars. Does she pull it off? I think she does. The gown honestly reminds me of something Kim Kardashian would pour herself into, so… I don't know, I think Emily could have done better.
Meanwhile, Emily has a new feature in The Editorialist. Her media pieces for this press tour have been pretty good – she got the cover of Harper's (a Bazaar off-shoot), she got the cover of British GQ and she got an interview in the New York Times. Emily has "arrived" to a certain extent. The world is her oyster. You can read the full Editorialist piece here. Some highlights:
She's not all about "being seen": "It was never so much about being in 'Hollywood.' I really enjoyed doing theater as a little kid. I was obsessed with Cats and would put on shows for my parents when I was five years old. Every home video turned into a musical theater performance."

Working on 'Gone Girl': "[On set,] David basically told me to not think. It's counterintuitive because you do all this research and think about how you want this character to come off and then you get on set and basically need to let that all go."

On her co-star Ben Affleck: "It was monkey see, monkey do. You see how this person is doing it and you rise the occasion."

Liberal parents: "My parents were pretty liberal. They gave me a lot of space to be a kid so by the time I got to college, I was pretty bored with the idea of going out."

Her style icons are Natalia Vodianova & Bianca Jagger: "I evolved out of the 90s floral dress and lace up boots era. It's all about being a little sexy but also being comfortable. I like how men's stuff looks on me and I play with that a lot."

What she wants to do next: "It's a hard question. It depends on the story and character. Complex and dynamic female roles in my age range don't come around that often. If I could choose anything for my next movie, it would be someone who has nothing to do with being pretty or attractive. I'd love to play a role that surprises people."
She said something similar to the NYT, that she wants her next role to have nothing to do with prettiness or beauty. She also cites Cate Blanchett and Rooney Mara as her industry role models. While I think she's probably never going to break out of the "pretty ingénue" typecasting mold, I don't really hold her career goals against her. A lot of pretty women say "I wish people would cast me as something other than 'the pretty girl'," and the problem is a lot larger than the roles Emily specifically is up for and will get. Meanwhile, it's good that she's still modeling, you know? Because even though white women with great boobs will always have a place in Hollywood, Emily's not going to become our next Meryl Streep. As for the Ben Affleck stuff… Ben made sure to spend a lot of time "coaching" Emily. I think it's interesting that she doesn't have anything else to say about him in this piece.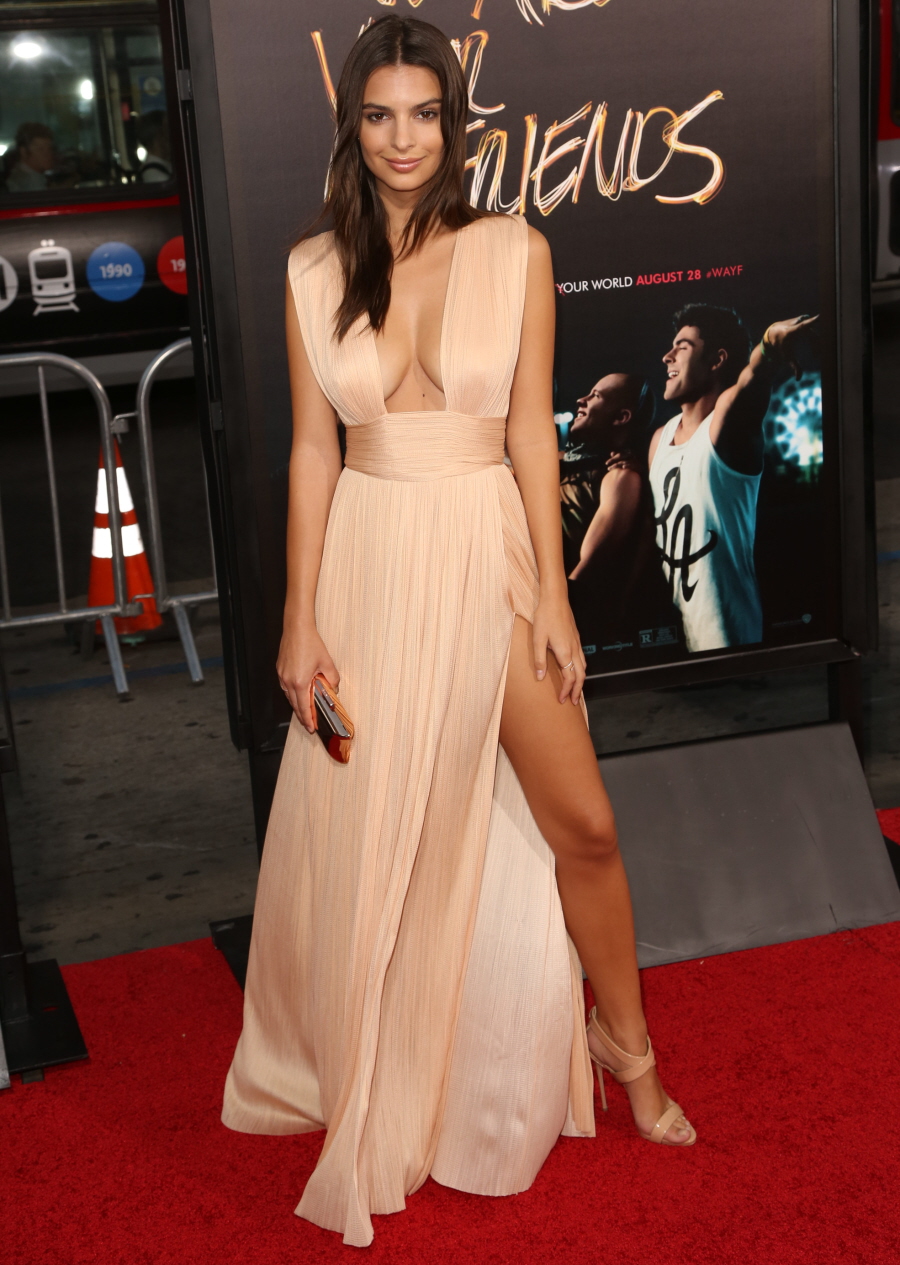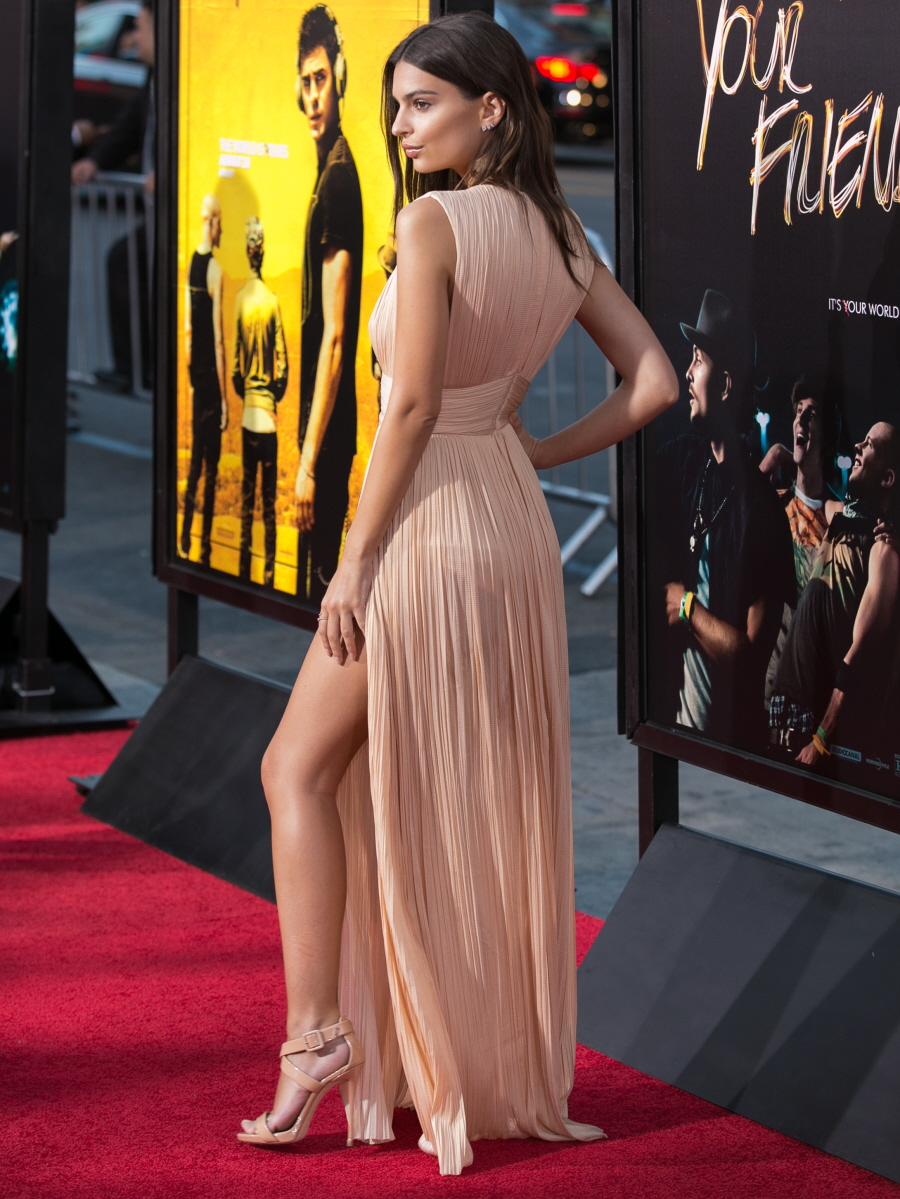 Photos courtesy of WENN, The Editorialist.