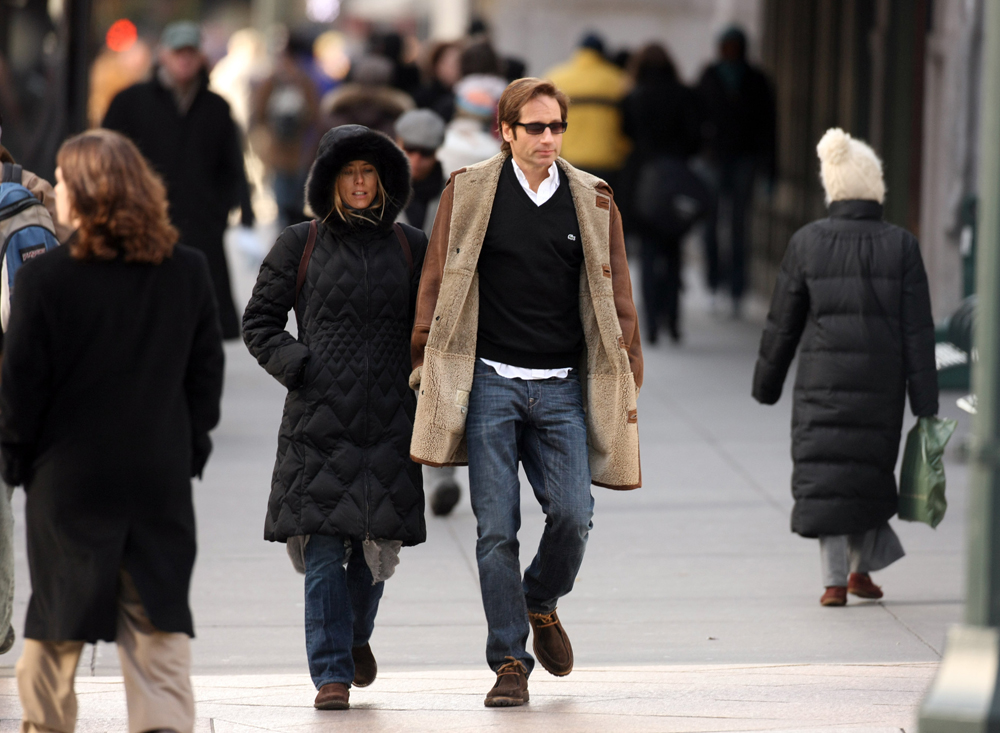 One of Hollywood's coolest couples has been having a rough time, but if new reports are to be believed, they could be on the mend. "X-Files" star David Duchovny and his wife Tea Leoni, who seemed rock-solid after more than 10 years together, were separated last year after reports that David had checked into rehab for sex addiction. There were also rumors that Tea was seeking comfort in the arms of her co-star, Billy Bob Thornton. It was a sad situation, especially for the couple's two children. But recently, David and Tea have been spotted out together, holding hands and seeming very close again. And now, The National Enquirer is reporting that not only have the couple reunited, but they're planning to have another baby.
"Can you say bundle of joy for David Duchovny and Tea Leoni?" say pals.

The separated couple, who've been married for more than a decade, recently reconciled during a spring break getaway to the Caribbean island of Mustique with their two children.

David and Tea have been working on fixing their broken relationship for some time, a source revealed. But with David's history of sex addiction, there were trust issues they had to resolve.

"Little by little they've managed to work through them," continued the source. "And the fact they still see each other often in New York City helped."

David and Tea have maintained separate apartments close to each other in Manhattan, where they split time with their kids, Madelaine, who turns 10 this month, and Kyd, 6.

"There were still a lot of feelings between Tea and David," said the source. "They never actually filed for formal separation – I don't think they ever wanted the marriage to end.

"It just took a romantic holiday with their kids to finally bring them to their senses."

David knows that Tea has always wanted another child. And now that she's 43, David, 48, knows there's no time to waste.

"To win her back, he played his trump card," said the source. "He promised if she were not pregnant in a year they would look into adoption."

Tea took David back "on probation" last fall, says the source, but wasn't convinced they'd be able to get past their problems.

"Tea wanted proof that David's number one priority is family," added the source. "And with him committing to expanding the brood, Tea feels like she can trust him again."
I have always liked this couple – they seem so cool and sexy. I was so bummed when I heard they were breaking up. But I have seen the recent photos of them hanging out, and they really do look like they're still in love. I don't know about the baby thing, but I sure hope they can make it work. Having a baby to save a relationship is never a good idea. Make sure the marriage is solid again first!
Here are David Duchovny and Tea Leoni out and about in New York City on December 8th. Images thanks to INF News and Features.