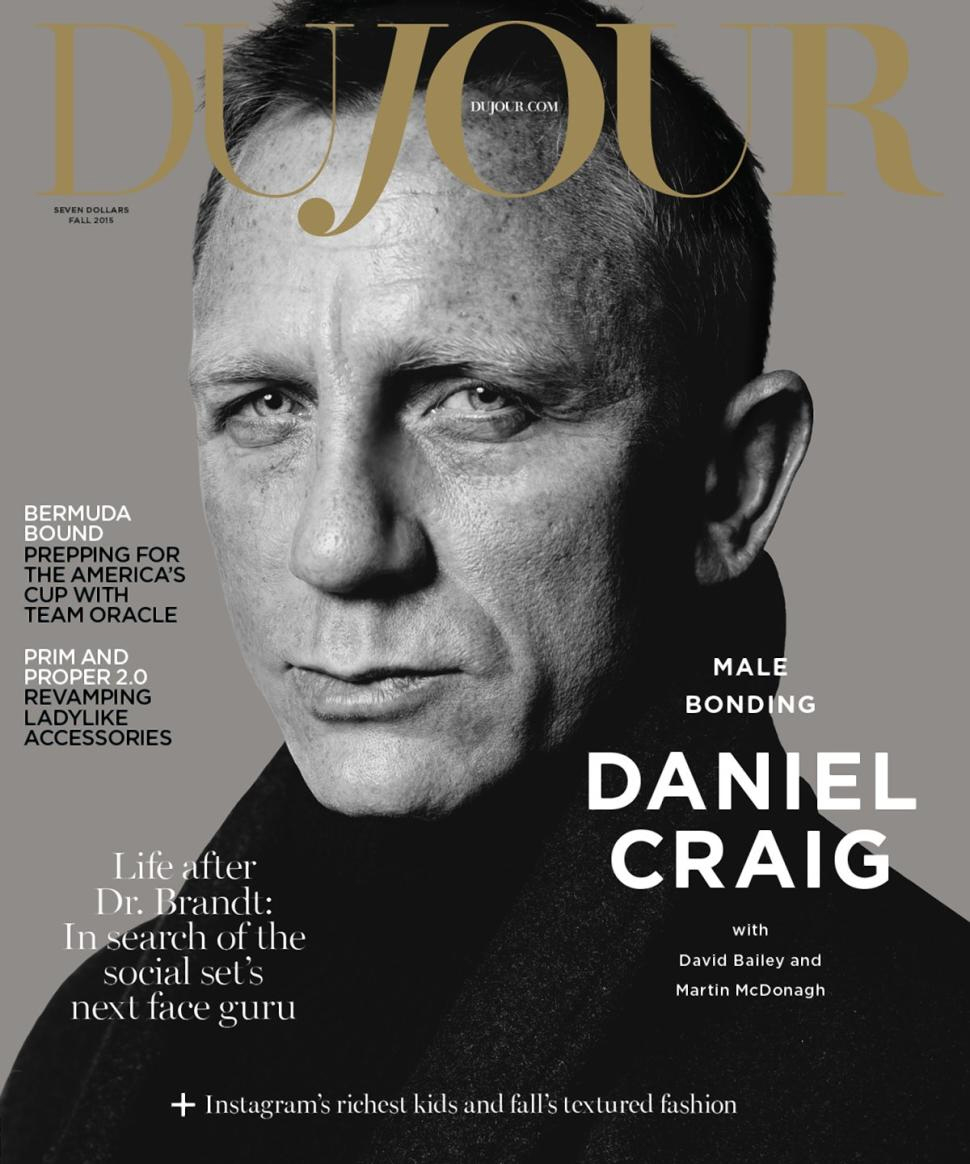 I have a love/hate relationship with Daniel Craig, mostly because I know he's perfectly capable of being funny and charming in interviews, but most of the time his public façade is set to "curmudgeon." Daniel covers the new issue of DuJour Magazine – the photos are good/striking although I think Daniel looks kind of rough in the cover shot. In the interview, Daniel moves between "giving" and "sour" freely, but he does make some news here and there. Like, he doesn't give a crap who will be James Bond after him. He likes playing Bond but it sounds like he's sort of ready to move on. You can read the full piece here. Some highlights:
Whether he's nervous about the stunt work: "You always get nervous a bit. There was this part where I'd fucked up my knee halfway through shooting, which curtailed a lot of the serious action stuff. I'm so f–king gung ho about wanting to do every stunt I can, I had to ask, "What can I do, and what can't I do?"

Whether he likes to go to pubs/bars: "Bars are hard, but that's more because of mobile phones. I'll do autographs all day long, and I'll even do a picture at the end of an evening. But if I'm being photographed all night long in a bar, that pisses me off. If you ask, I may say yes, but come up to me and say, "Would you like to take a photograph with me?" If you're f–king sneaking photographs of me … it's human nature, you're sneaking something! I'm being f–ked with! But people don't see it as a problem. Maybe I'm delusional. I mourn [pub privacy] slightly. I like to have a drink, and I love pubs and I love finding new pubs and places to socialize. But that has a limit on it now."

Why he doesn't have a Twitter: "What, and get abused? I have no idea. I don't go on the Internet."

Who he admires: "On a flight to New York recently, Alicia Keys and Desmond Tutu were on the plane. I didn't go up to them. I smiled at Alicia Keys, but I couldn't look Desmond Tutu in the eye. I wanted to go up to him and fall at his feet. It was one of those situations where I blew it completely."

How he deals with hangovers: "There's this thing called Pedialyte. It's basically a diuretic; you give it to kids who are dehydrated. If you wake up in the morning and you've got one of those on standby and you down the whole lot… you can carry on drinking!"

How he learned about Pedialyte: "Mark Wahlberg. Who I don't know, but I was told that's what Mark swears by. It's the difference between life and death as far as I'm concerned. "

Whether he seeks out directors to work with: "My wife is brilliant at that. We see a movie and the next thing you know, she's having lunch with the director. I'm like, "How did that f–king happen?" But she just gets in touch and says, "I'd love to have a drink with you." I don't do enough of that; I wish I did. I really like directors, and I like talking about work."

He won't do Broadway again: "I'd like to do some theater in New York. I've done Broadway and I was happy with that, but I don't want to do Broadway anymore. The audience is all over 50, on the whole, and I think new faces and cheaper tickets are the only way forward. And it's never going to happen.
He actually makes a few references to his "wife" Rachel Weisz. I mean, I'm not putting "wife" in quotes sarcastically, I mean he only calls her "my wife," never "Rachel." There were rumors about their marriage a few months ago, so I hope they are still going strong and whatever happened was just some temporary blip. As for mourning pub privacy… I think this is a bigger deal for British people? Like, Brits like their pubs, they want to be able to go to a pub and have a quiet night and that's very important to them. Americans aren't really the same.
As for Daniel downing Pedialyte to combat hangovers? That's a really weird hangover cure.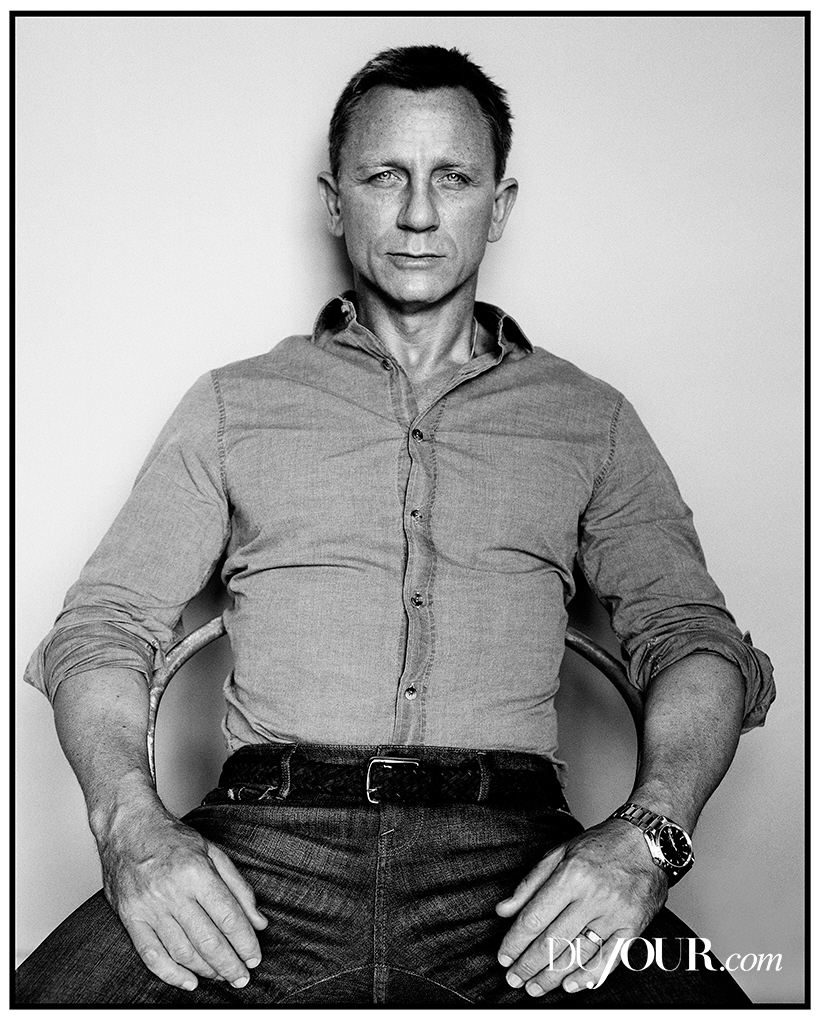 Photos courtesy of David Bailey/DuJour.