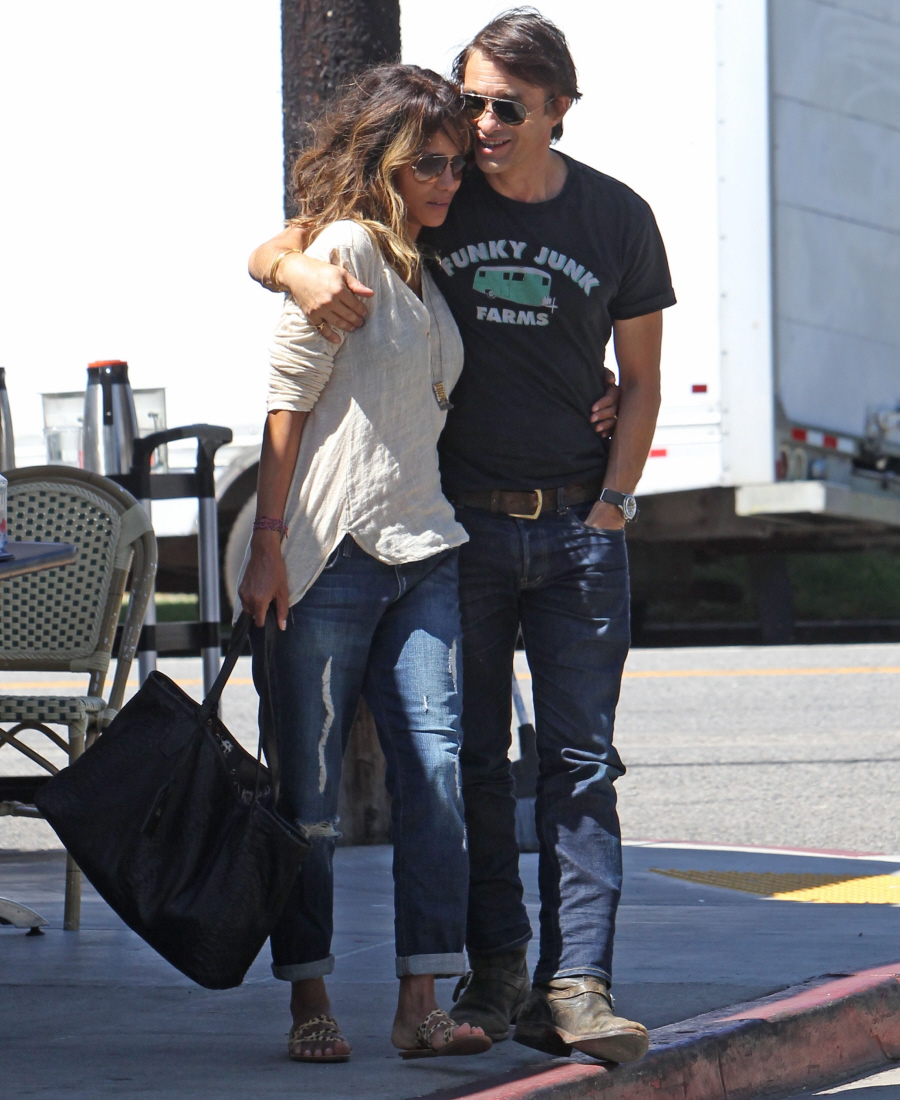 Well, well, well. It looks like several months of breakup stories have finally started to get to Halle Berry. Halle spent the weekend in LA doing happy-family photo-ops with her husband Olivier Martinez and the kids. Literally, that's what they did all weekend! Somewhere (at a farmers market), Jennifer Garner is nodding her head in agreement with this strategy. Ride it 'til the wheels fall off and then when the wheels are off, leak photos of Olivier with the nanny! The Garner Method ™.
Anyway, Halle wants you to know that it's fine. She wants you to know that those shenanigans with her engagement ring and wedding band are over. She wants you to know that she and Olivier are not living separately because he's a violent, intemperate psycho. She wants you to know that she won't be filing for divorce any time soon. "Soon" being a relative concept, I suppose. And because obvious photo-op is obvious, People Magazine now has an "eyewitness" confirming that Olivier and Halle are totally in love. Or whatever.
Halle Berry and husband Olivier Martinez like their breakfast with a side of P.D.A. The couple, who just celebrated their second wedding anniversary in July, shared an al fresco breakfast at eatery La Conversation in Los Angeles on Saturday. Berry, and Martinez, both 49, ordered croissants and coffee, according to an eyewitness.

"They used to be regulars, so it was fun to have them back," the witness told PEOPLE. "They seemed fine. Olivier ordered for them."

Another source told PEOPLE the couple returned to Berry's nearby home in Beverly Hills after the meal and were both wearing their wedding rings, despite recent reports of relationship trouble.

"The seemed okay and were affectionate," the source said.

On Sunday, the French actor and Berry spent a family day in Malibu with their son Maceo, and the Oscar winner's daughter with ex Gabriel Aubry, Nahla,7.

"Halle and Olivier relaxed on the beach with the kids and also visited the Malibu Country Mart for lunch," a source told PEOPLE. "They had fun with the kids and wore their wedding rings. They seemed happy."
While I've always hated Ring Watch, I paid attention to Halle's Ring Watch just because there seemed to be something legitimately there, especially with her (fake?) story about "losing her engagement ring" and never getting it replaced. And now an eyewitness comes forward with a first-hand account of Halle and Olivier wearing their rings? It feels weird.
But the point of all of this is still the same, pap stroll or not, happy-family photo op or not. The point is that Halle and Olivier really aren't breaking up. Right now. Even if this was some strategic public relations move, it still has the same effect of saying that they are still together. For now. We'll see how long it lasts, but I guess we won't have to add Olivier and Halle to the Summer of Splits.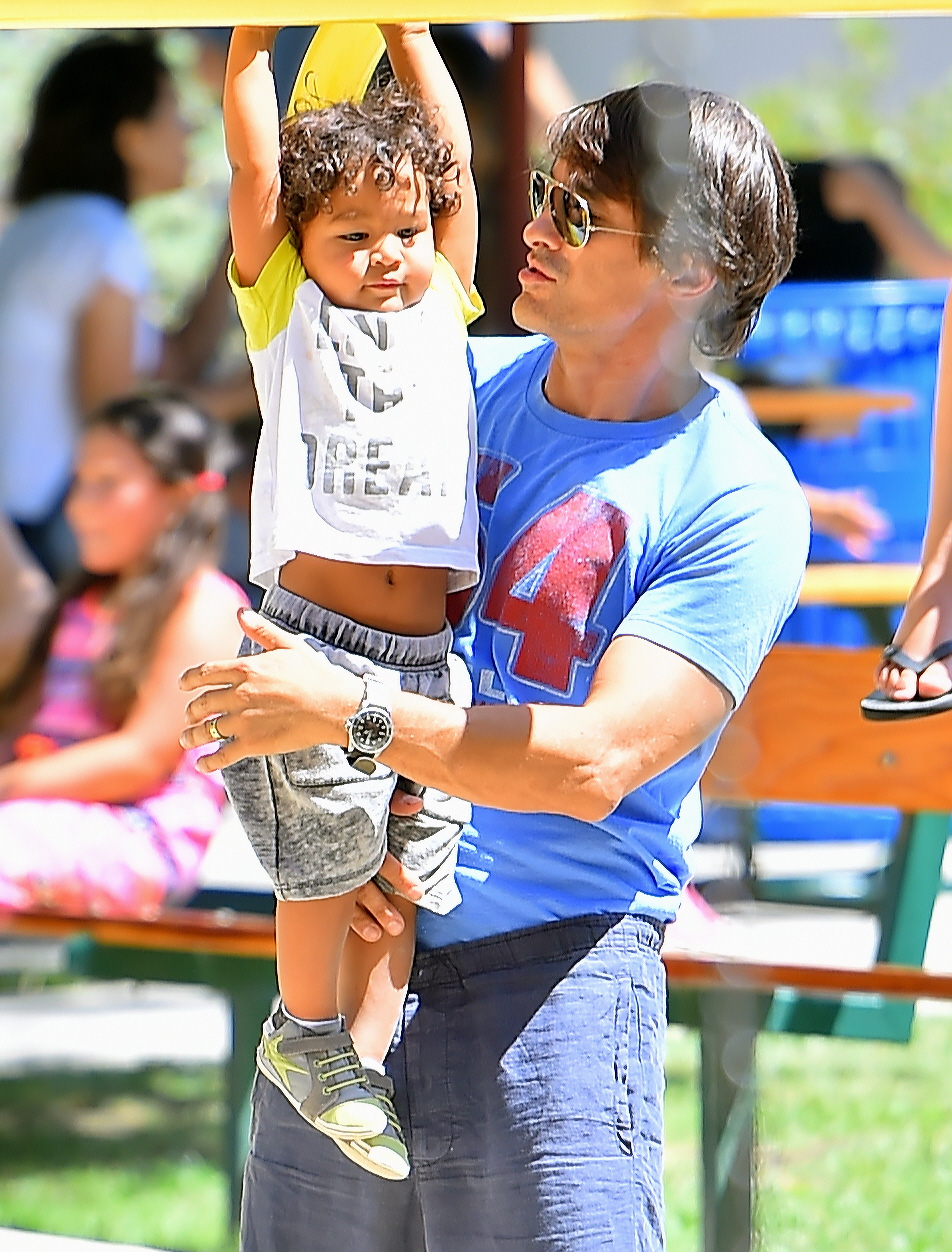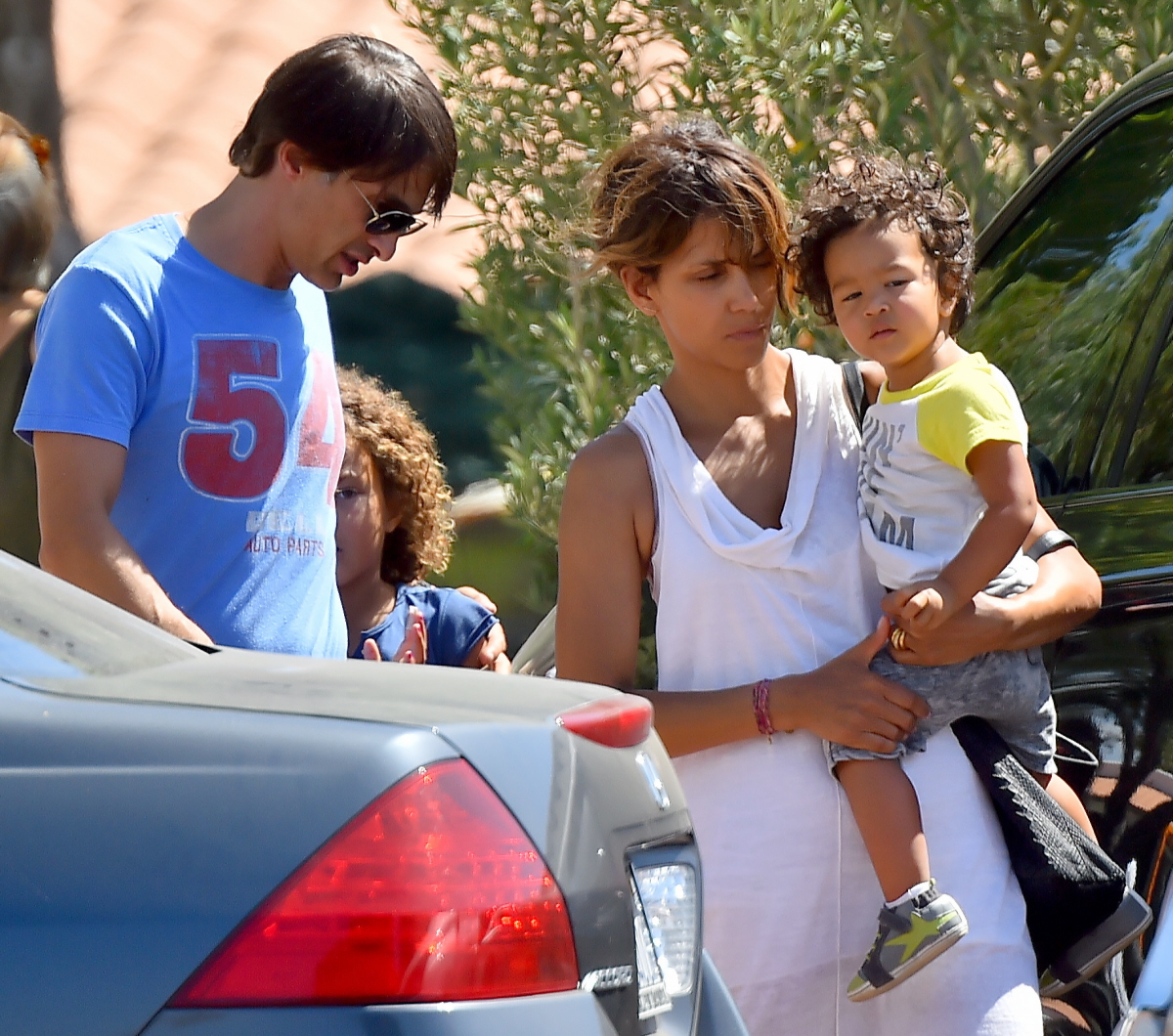 Photos courtesy of Fame/Flynet and WENN.