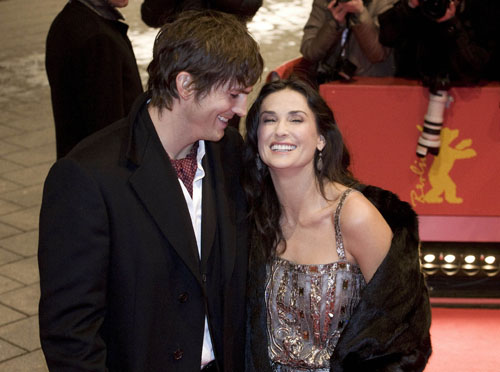 Demi Moore's teenage daughters are said to be fed up with the foolish, immature way their mom and her young husband are carrying on online. Moore and Kutcher sometimes twitter back and forth, giving fans a stream of texts on their privileged lives, gripes and intimate chat. This is said to be embarrassing for Moore's three daughters, and the tipping point came when Kutcher twittered a cellphone pic of Moore's butt in a bikini when she was bending over ironing for him. Rumer, 20, Scout, 17, and Tallulah, 15, had a talk with their mom and step dad and told them to cool it.
Demi's girls… staged a family intervention after their stepdad posted a picture on the social networking site Twitter of their 46-year-old mom bending over in a bikini…

And an insider revealed: "Seeing their mom and stepdad act like teenagers makes the girls cringe! They think their online exchanges are embarrassing and uncool…"

The last straw for Demi's daughters – Rumer, Scout and Tallulah – was Ashton's candid snap of the "Striptease" star's bottom.

"The girls freaked out when they saw Demi's butt in the air," revealed the insider. "They sat Demi and Ashton down and told them they needed to curb their immature behavior.

"Demi said it was just innocent fun, but Rumer shook her head in frustration and said, 'Grow up, Mom!'"
[From The National Enquirer, print edition, April 16, 2009]
This could be true because I checked out Moore and Kutcher's Twitter accounts and they seem to be focusing on other things rather than each other at this point. That may be because they're both in France while Kutcher is filming Five Killers and don't have the need to keep in touch online when they're together. If anything their Twitter texts show that they don't have issues in their relationship and are madly in love with each other. You can see how that kind of modern PDA by their parents would embarrass any teenager.
Demi and Ashton are shown at the Berlinale Festival on 2/11/09. Credit: WENN.com