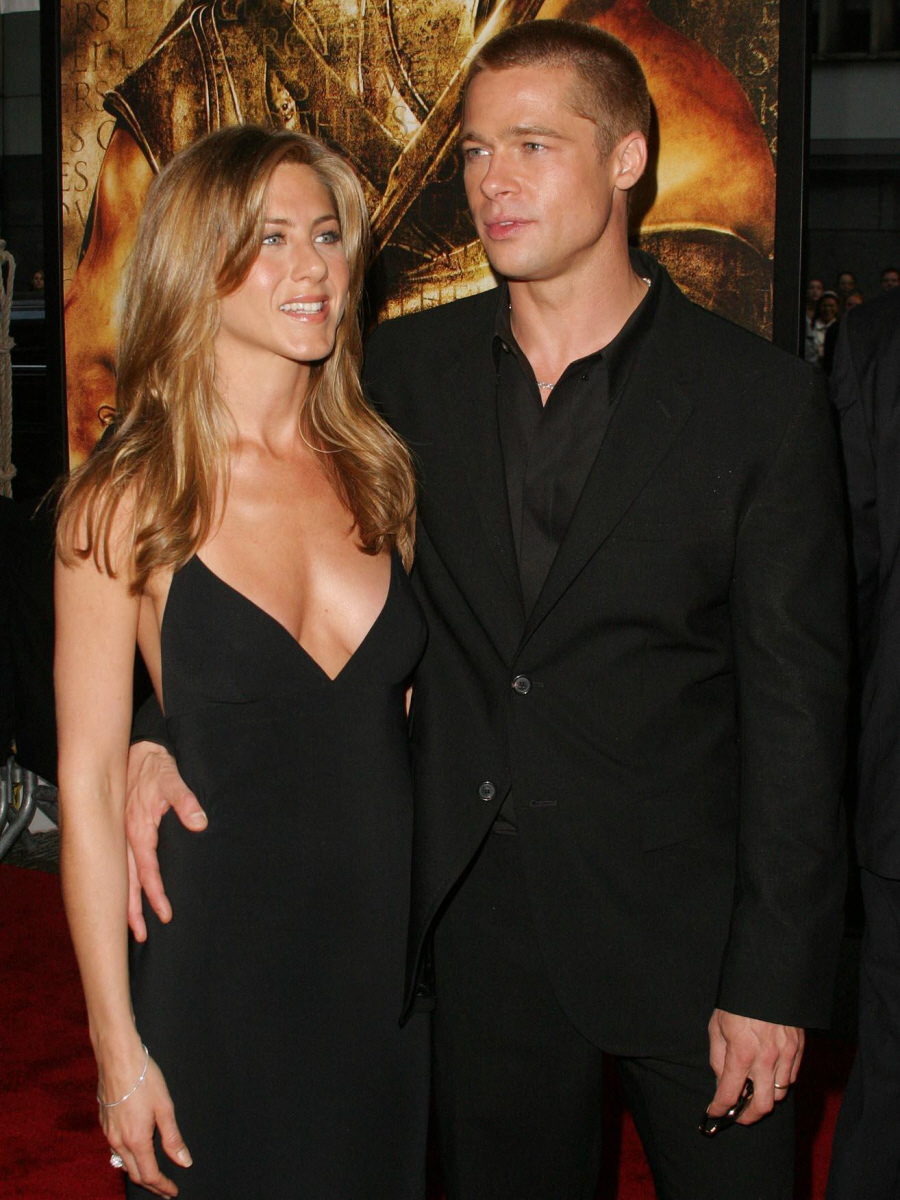 I was pleasantly surprised by how little vintage Uncool Bermuda Triangle gossip there was around Jennifer Aniston and Justin Theroux's wedding. Even back last year, when Brad Pitt married Angelina Jolie after nearly 10 years together, there was some talk of "poor Jen" and "did Brad call Jen to tell her that he was getting married?" That didn't really happen when Jennifer and Justin married last month. Obviously, Brad wasn't invited and I doubt Jennifer gave Brad a heads up. Why would she? But obviously, Brad heard about the wedding. So, according to the National Enquirer, he sent her a nice vase full of sunflowers as a wedding gift. Which just pissed off Justin. Dramz!
Brad Pitt sent ex-wife Jennifer Aniston a wedding present that's already rocked her marriage to Justin Theroux!

"Brad bought the newlyweds a big Baccarat Crystal vase filled with sunflowers, and sent it over with a note of congratulations," said an insider. "But Justin is definitely no fan, so it'll be surprising if the vase ever makes another appearance inside their home!"

That's a bummer for Brad, who was hoping that a happily-married Jennifer would help the public forget his famous breakup with the "Friends" star – and help stop rumors about Brad's own troubled marriage to Angelina Jolie.

"But," the source added, "that vase came just from Brad, so we're wondering if Angelina even knows about it!"
Did Brad wait to send the vase until after Jennifer and Justin came back from their honeymoon? I ask because I think Justin went straight to Austin, Texas post-honeymoon, and Jennifer quickly traveled to Atlanta to begin shooting Mother's Day. Of course, Brad still could have sent a gift of flowers or a vase or whatever, but I'm just saying… if he sent to Bel Air, Jennifer didn't get it, and it's doubtful Justin pitched a hissy about it.
Meanwhile, Justin was in NYC on Wednesday, strutting around in a skull t-shirt. Season Two of The Leftovers premieres on October 4. And yes, I'm almost positive that Lainey's recent spray-on-hair blind item is about Justin Theroux and his bald spot.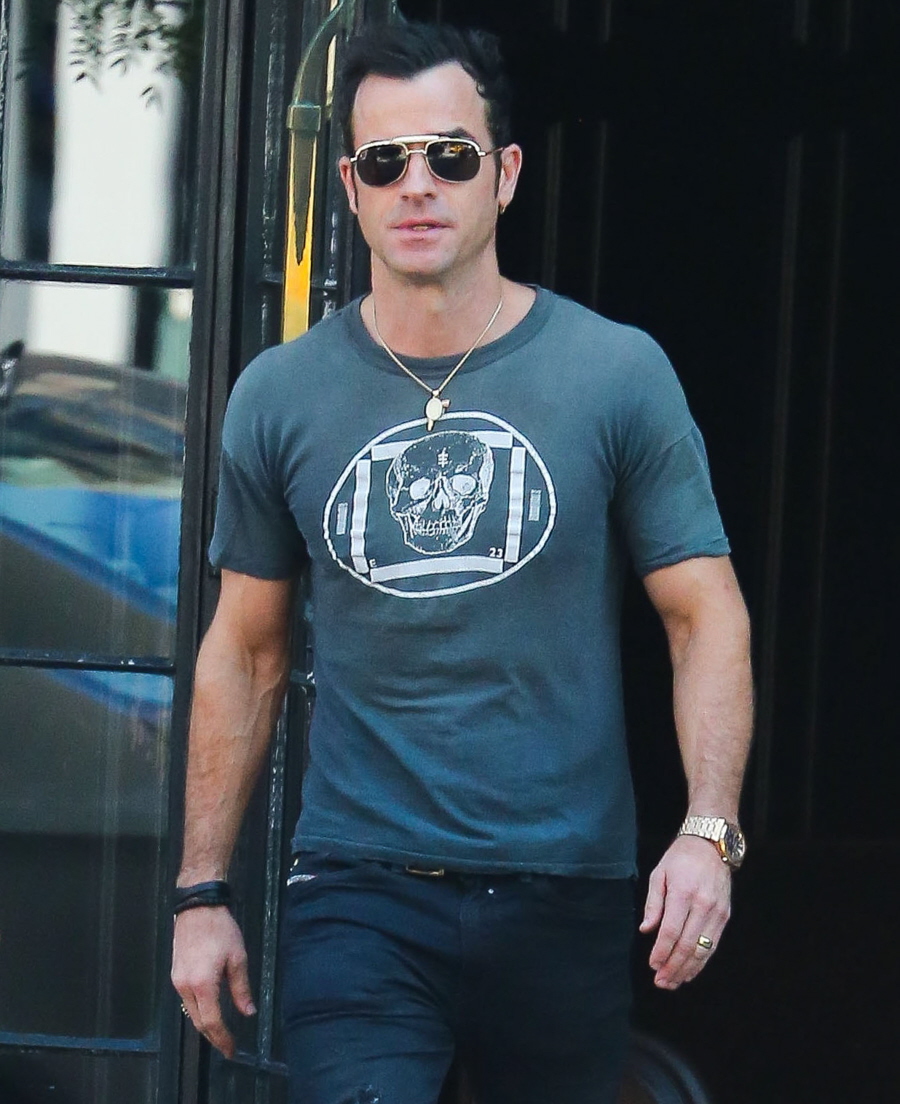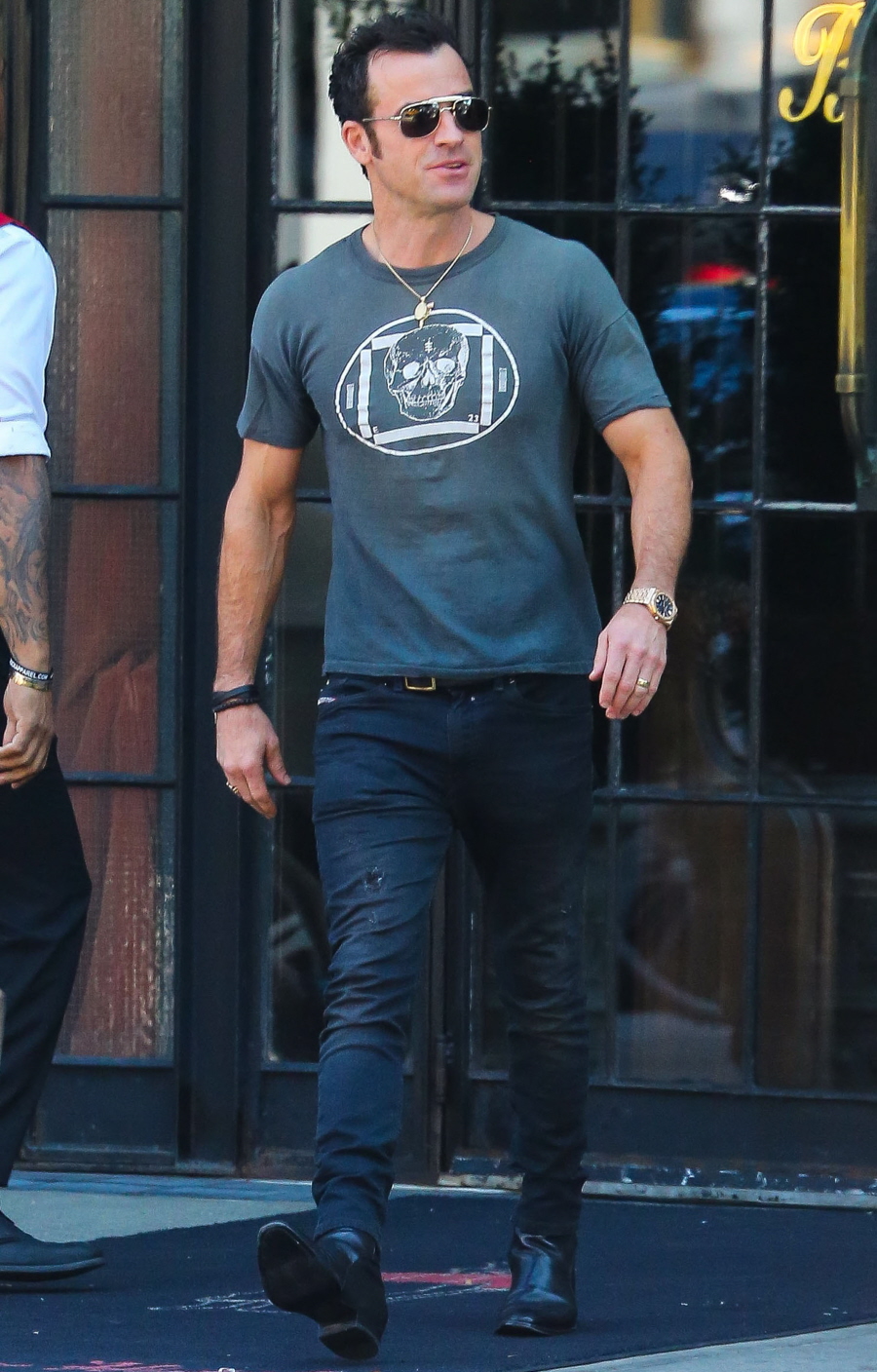 Photos courtesy of Fame/Flynet and WENN.