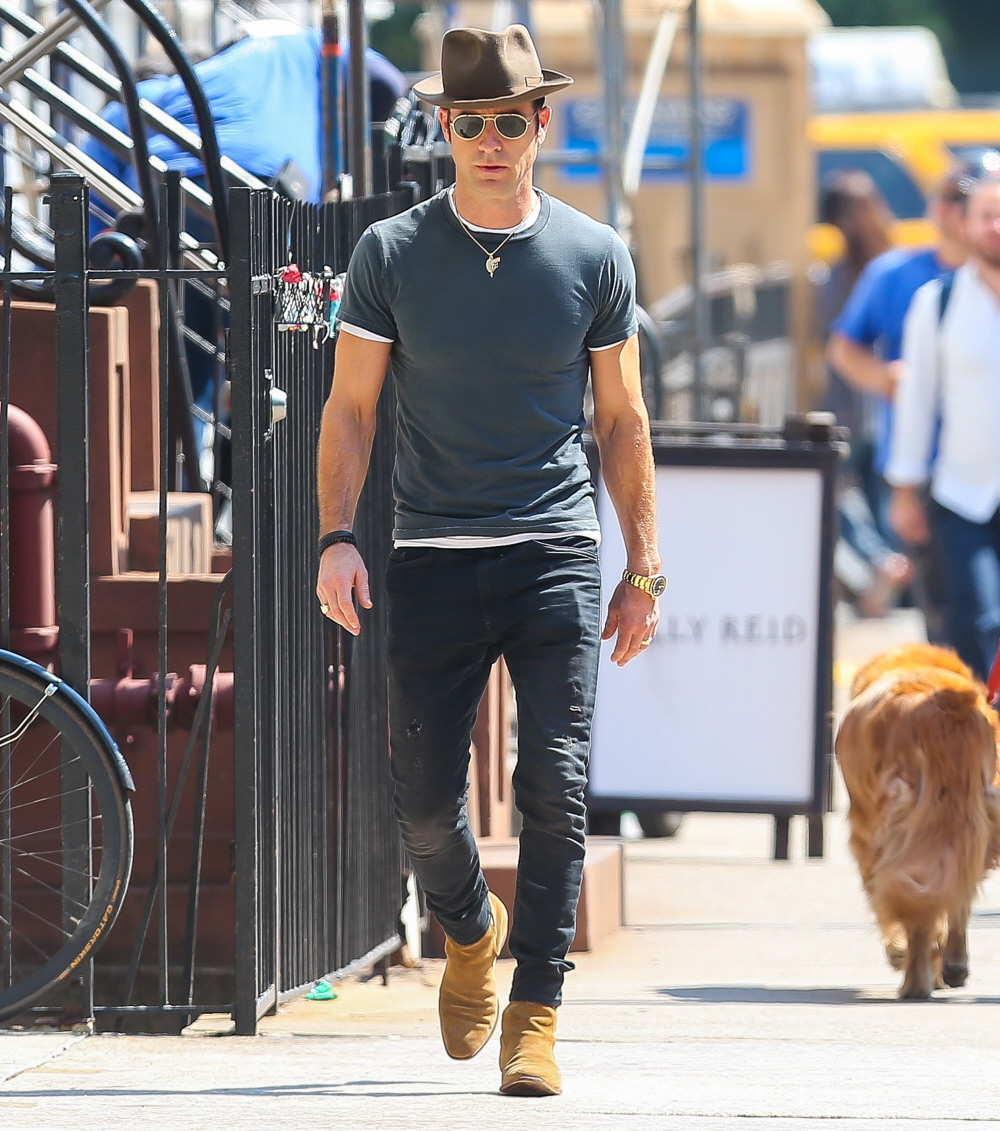 Here are some photos of Justin Theroux struttin' the streets of New York on Friday. What happened to his combat boots? Did he finally burn them in a cleansing fire along with his Jorts of Doom? And why does he like such a narrow trouser? Hm.
I don't know if he's in NYC to do some promotional work for The Leftovers Season 2 or what. The season premiere is October 4, so it would make sense if he's in town right now for interviews and stuff. It also makes sense that he didn't want to be in LA during Emmy Weekend, especially considering The Leftovers Season 1 was completely shut out of the Emmys. Poor Justin! His new team at CAA made sure that he was included in all of those Best Actor panels and everything. Anyway, Justin has a new interview with the NYDN:
It's all wedded bliss now, but the pre-nuptials gave Hollywood hunk Justin Theroux the jitters. Theroux, 44, who stars in HBO's "The Leftovers" (returning Oct. 4) says his wedding to Jennifer Aniston was made even more stressful than it would have normally been because the pair had to keep it secret to avoid paparazzi.

"I wouldn't say it was fun to plan," he tells The Daily News. "Part of the fun of planning a wedding is telling people and we had to keep it under wraps."

But once the deed was done he felt a shift, he says.

"I noticed it almost immediately," he says. "It was like your blood pressure goes down two PSI. It's not like life is completely different. It's a beautiful thing."

And despite swirling rumors, he says that he and his wife of six weeks are happily married. Theroux who, we met in the basement of his pal's SoHo restaurant, says he's heading back to Texas to continue filming his HBO drama. Today, though he blends right in with the downtown crowd outside — he's wearing a fedora, a safety pin in his left ear, jeans and a dark T-shirt — Theroux admits that he's now more easily recognized on the street. So much so, that people grab him in grocery stores. But he knows New York City. and recalls that when living here in the 1990s, he had a grungy basement flat on Mulberry where the 6 rumbled past. Now he lives in Bel Air and recently was in Rome filming "Zoolander 2" with his friend and co-writer Ben Stiller, who discovered him.

At the moment, Theroux says he's excited about "Leftovers" on which he plays Kevin Garvey, a small town police chief.

"I am deeply sympathetic to him," Theroux says. "He finally gets his wish of a family. Like anything you wish for, it is not entirely what you wished for."

Talk about the police chief's new family leads to the one question he's not ready to answer: Does he and Anstison want their own kids?

Theroux takes a long drink of water and just smiles.
Oh, so clever! The Emotive Eyebrow is such an ENIGMA, wrapped in a riddle, wearing ball-suffocating jorts. At least Justin is getting the baby questions now too, and it's not just poor Jennifer Aniston. As for how not-fun it was to plan the wedding… if it was so stressful and extra, why not just tell people they're coming to a wedding? I mean, why was it so hush-hush? Blah.
Also: like a gift from the heavens, the paparazzi managed to get some photos of the back of Justin's head. Now I'm obsessed with trying to figure out what happened to his bald spot! Remember this photo of his bald spot in 2011, which could clearly be seen as he publicly embraced Terry Richardson? So what happened? Plugs? Mini-wiglet? Or is Lainey's blind item about his "spray-on hair" for real?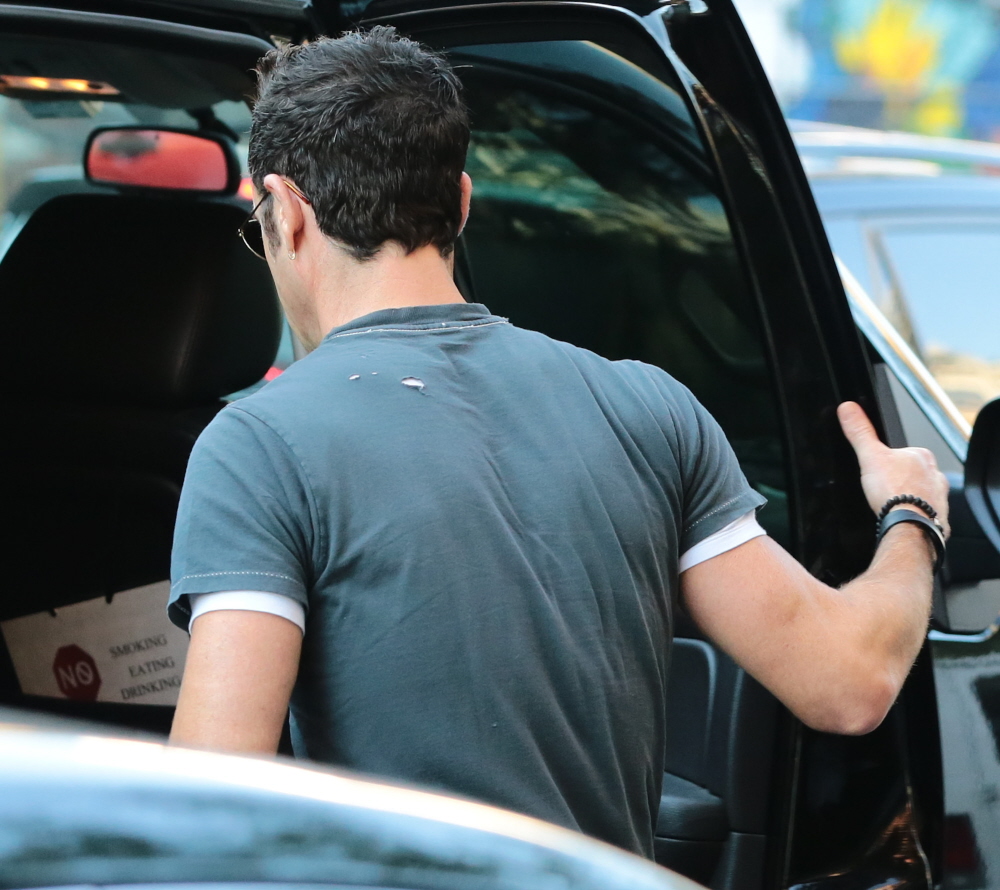 Photos courtesy of Fame/Flynet.