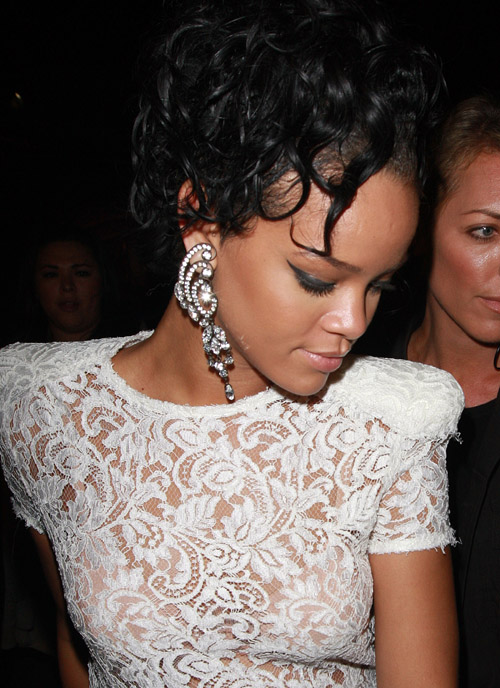 For all the efforts to reunite accused batterer Chris Brown with his girlfriend/victim Rihanna since the Feb. 8 attack that left her face bruised and bloody, it looks as though she is trying to move on without him. After an attempt by Brown to reconcile with Rihanna by getting her to meet him at Diddy's Florida estate, many believed that she had taken him back. But the two have not been seen in public since a few days before the court hearing in which Brown plead not guilty. Now, new reports say that Rihanna has broken off all ties with Brown for good, in order to save her career.
The wedding is off!

Rihanna has called off the wedding to Chris Brown, pals say – and the multitalented beauty has embarked on a new chapter of her life!

"There was definitely a wedding in the works, but Rihanna had a change of heart and told Chris the last thing she wants to be is his wife," a close friend told The Enquirer. "She's still got the diamond engagement ring that Chris gave her, but she pulled the plug on their engagement."

And after she gave Chris the boot, the 21-year-old singer "made up her mind she was going to concentrate on becoming a film star and went out shopping for a Beverly Hills mansion," another pal told the Enquirer. "Rihanna knows she's got the looks and talent for movies, and she's decided to do everything in her power to become a movie star."

Rihanna's 1-year-long romance with 19-year-old R&B Chris Brown blew up on Feb. 8 when he allegedly beat her mercilessly. He's been charged with two felony counts, and faces up to 56 months in prison if convicted.

As the Enquirer reported in our March 30 issue, Chris proposed to Rihanna with a $54,000 engagement ring from chichi jeweler Van Cleef & Arpels when the couple retreated to P. Diddy's mansion in Miami shortly after the incident. But with Chris now out of her life, Rihanna has reportedly been making the rounds of Hollywood hot spots and showed up with "The Hills" star Frankie Delgado at Delux on March 26.
[From The National Enquirer, print version, April 13, 2009]
RIHANNA is embracing life as a singleton by toasting her split from CHRIS BROWN in New York, according to new reports.

The pop beauty has frequented fine eateries in both Los Angeles and New York over recent weeks, calling on pals to help her overcome her post break-up blues.

The Disturbia star – whose ex-boyfriend Brown is awaiting arraignment on charges he assaulted Rihanna – last night sat down for a meal at swanky Manhattan eatery Da Silvano with a cluster of girl friends.

Her latest dinner date comes after a private party she hosted at Los Angeles restaurant Giorgio's on Sunday, during which guests reportedly toasted her split from Brown.

A US source said: "People close to Rihanna have drilled it into her head that if she stays with Chris her career will be over.

"At the dinner party there were about 10 toasts made, including one to the fact she's about to land the cover of a major fashion magazine."
Rihanna certainly has made a point of hitting up the nightclubs wherever she goes. Perhaps it's a big "F-you" to Brown, who is only 19 and isn't legally allowed in most of these clubs? Anyway, hitting the town with your best girlfriends sounds like a pretty normal way of getting over a bad breakup. I did the same thing when I was her age. Of course, I didn't have to do it under the microscope of the paparazzi. Whatever happens with Chris' legal issues, I sure hope these reports are true. Rihanna can do better than some overrated punk-ass bitch who gets his jollies punching women in the face. I hope she does become a movie star, and that Chris is stuck on the sidelines, watching his ex-girlfriend's star rise. I can't really think of a better revenge, can you?
Photos of Rihanna at Delux nightclub. Credit: Fame.