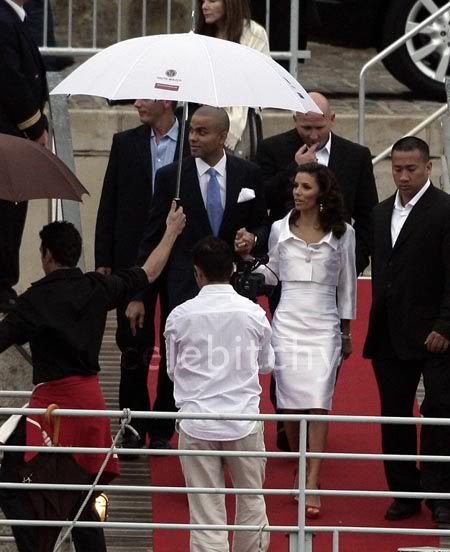 Eva Longoria and Tony Parker got married today – 7/6/7!!
This is all in preparation for the big 7/7/7 wedding, which takes place on, er, Saturday the 7th. French law requires them to be married in a civil ceremony before a religious ceremony. (My husband says we should have done this, to double the consummations.) This makes for a busy week, what with two weddings and a trip to Disneyland. Not to mention the trip to Mont Saint-Michel, a 6th-century medieval citadel, and the his-and-hers bachelor party.
Paris Mayor Bertrand Delanoë will officiate personally at the service, which is to be held at the City Hall in Paris's 4th Arrondissement, according to sources at City Hall.

The private ceremony will be attended by some friends and family, including the parents of both Longoria, 32, and Parker, 25, according to a source.
In other Desperate Housewives news, Marc Cherry is said to be considering a musical episode to boost flagging ratings.
Marc Cherry, producer-creator of ABC's "Desperate Housewives," wants to keep things blooming, ratings-wise on Wisteria Lane. Cherry is considering a musical episode, and Teri Hatcher, at the least, is up to the challenge. She's done a good deal of warbling, including a Chicago production of "Cabaret" a few years back, and, recently, a slinky, semi-secret stint in a Hollywood nightspot. Those who've seen Hatcher in her singer mode, say she is impressive — sultry and sexy. As for the rest — Nicollette Sheridan recently sang a duet with her beloved, Michael Bolton, on his last CD.
Teri Hatcher sultry and sexy? Somehow I can't imagine that middle aged botox crazy stick figure as sexy. Still, the musical episode of Buffy is going to tour as a stage show, and the ER episode was hugely popular. But has anyone heard this Michael Bolton duet?
Eva Longoria and Tony Parker are shown at their pre-wedding party last night on a boat in the Seine river in Paris. Thanks to SplashNews.