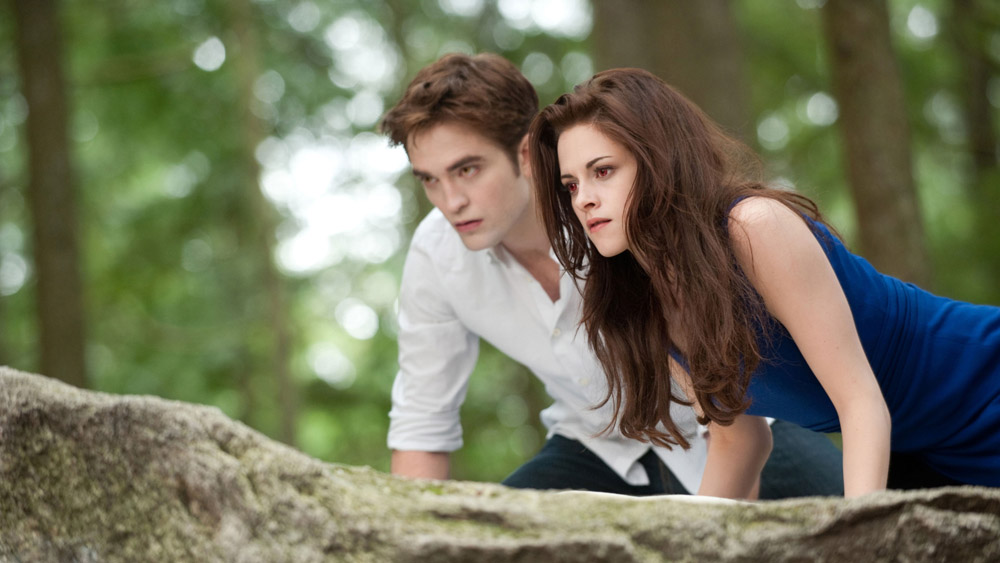 Can you believe that it's been 10 years since Twilight came out? It doesn't seem that long ago, maybe because the book didn't get popular right away and they kept churning out movie sequels for years. It was inexplicably popular, perhaps due to the crop of 'tweens that were ready to be introduced to the magic of supernatural romance. Author Stephenie Meyer knows those women have grown up and she wants to reach a whole new generation with her yearning stares and awkward dialogue. She's accomplished that by switching the genders in the book and re-releasing it. Because women can be stalking, controlling cradle robbers too.
In honor of the 10th anniversary of her best-selling vampire romance, Twilight author Stephenie Meyer has written a 442-page reimagining of the novel that made her a publishing sensation. This time around, she's switched the genders of her protagonists. Yes, it's true. In the new tale titled Life and Death: Twilight Reimagined, Bella Swan is now a boy named Beau (short for Beaufort) and the brooding Edward Cullen is now Edythe. Meyer is expected to discuss the project in more detail during an appearance Tuesday morning on Good Morning America.

Meyer explains in her foreword to the anniversary edition of the novel that she decided to go with the gender bending to underscore her position that Bella isn't a "damsel in distress" as certain critics have charged. Rather, the author insists, the character is a "human in distress," or as Meyer calls her, "a normal human being surrounded on all sides by people who are basically superheroes and supervillains." Meyer also takes issue with the criticism that Bella was "too consumed with her love interest, as if that's somehow just a girl thing." The author mentions, too, that Beau is "more OCD" than Bella was and that he's "totally missing the chip Bella carries around on her shoulder all the time."

Meyer says writing the piece was "fun, but also really fast and easy." According to the foreword, the rewrite allowed her to correct some errors that always bothered her and to re-edit the piece for grammar and word choice issues. She also altered some elements of the mythology for consistency.
It's not a bad idea. I mean The Host got a movie but it didn't do well at the box office, and that's the only book Meyer has written beyond the Twilight series. She may as well stick with that series. I wonder, though, why she's not telling more vampire-adjacent stories. There are all sorts of Cullens and Cullen offspring who could have their own spinoff series with fresh material. It seems very limiting to just switch the genders and re-release Twilight. It will make a lot of money with a minimum of work, though, and that's probably her objective. I just hope my kid doesn't want to read it. He's 11 and he's already graduated to better, more mature books like Harry Potter and The Hunger Games. Is Meyer trying to reach boys as well? She has three sons but said that they haven't read her books yet.
Meyer went on Good Morning America yesterday to make the announcement of the 10th anniversary edition and the new gender-swap story, titled Life and Death: Twilight Reimagined. She explained that it "really is the same story," but that the "further you get in the more it changes because the personalities get a little bit different." At the book's heart, though "it's just a love story. It doesn't matter who's the boy and who's the girl it just works out." She also hopes that younger readers will "be reintroduced." So now it's "Edythe" who's the sparkly seductive one. Bella wasn't biting her lips for nothing.