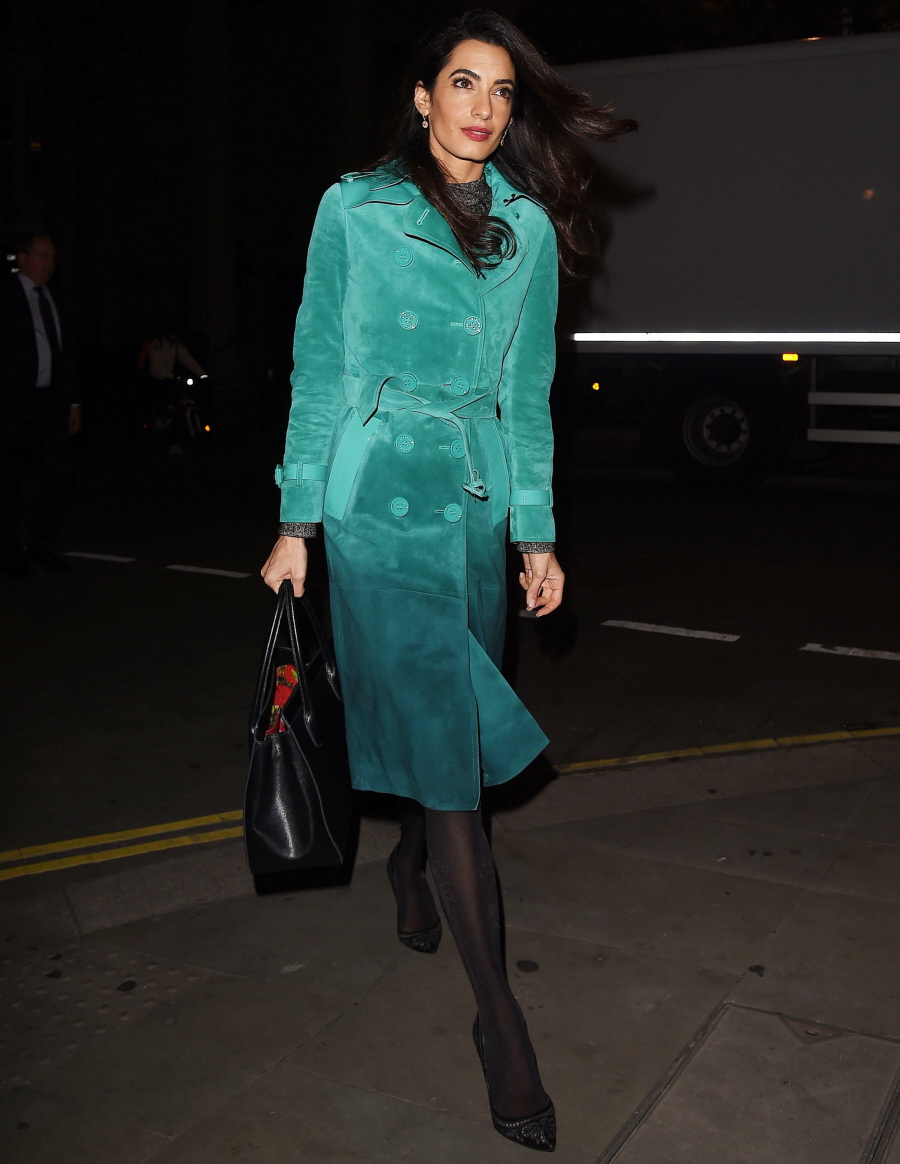 Amal Clooney has been enjoying her time back in her hometown of London for a few weeks now. I believe George Clooney is still with her in London, and they've been going out with friends and she's been doing interviews and press conferences on behalf of her ongoing cases. I believe – and I could be wrong – that she's much more comfortable in London. Like, she thinks of it as her home turf, she's lived there for years and she's probably happiest there, as opposed to New York, LA or Como.
Anyway, Amal was spotted last night outside of The Frontline Club, where she was meeting up with her client Mohamed Fahmy, who was recently released from Egyptian jail (Fahmy is a Canadian journalist who was falsely imprisoned on terrorism charges). But instead of discussing that, all of the media outlets are talking about Amal's crazy Burberry coat! It's soft suede and it retails for (NO JOKE) $6400/£4200. I love looking at Burberry coats because they're beautiful, but I cannot imagine spending that kind of money on a COAT. Now we know why George didn't give Amal anything for their anniversary: she's spending his money like crazy. She's blowing his millions on coats, thigh-high lace boots and blowouts. Speaking of, the National Enquirer has another hilarious take on the Clooneys' marriage.
George Clooney has cruelly dumped wife Amal on the eve of their one-year wedding anniversary, sources told The National ENQUIRER.

"The honeymoon is definitely over," said a friend, "and George has ditched Amal and gone back to hanging out with his drinking buddies while she's buried in her court duties. When he proposed, the deal was struck on very clear terms. This is a marriage of equals, and Amal takes her work far too seriously to make compromises, so the only way it can work is if George fits his schedule around her," a source claimed. But now that businesslike arrangement is crumbling. "It's a nightmare for George, and he wants out," the source said.

According to an insider, the 54-year-old heartthrob's marriage was a sham from the start, based on a "wedding contract" that the superstar regards as not worth the paper it's printed on, sources told The ENQUIRER.

"To George, his marriage certificate is just like any other contract," an insider revealed, and contracts can be renegotiated. "Unfortunately, at this point a renegotiation means a $220 million divorce!"

The ENQUIRER reported that the actor's next move will be into politics, and to achieve that he needed a glamorous, powerful wife — and it seemed Amal fit the bill.

"It was more like a contract deal than a romance for George; he believes he can get out whenever he wants. "It seems like Amal is finally wising up to the fact that her marriage is one giant sham that's going to dissolve in a $220 million dustup."
The rest of the story is basically just a recap of the Enquirer story from July, wherein George spends his days wondering how "The Amal Experiment" blew up in his face so badly. While I've always believed that most of George's romantic entanglements involved a contract with generous terms, I also believe that George really wanted Amal to be "different." He thought he was playing it so smart, and the PR campaign around Amal in the beginning really reflected that. He was trying something new: dating someone who was "his equal." But yeah, it wouldn't surprise me if George was getting tired of it, or will get tired of it soon enough.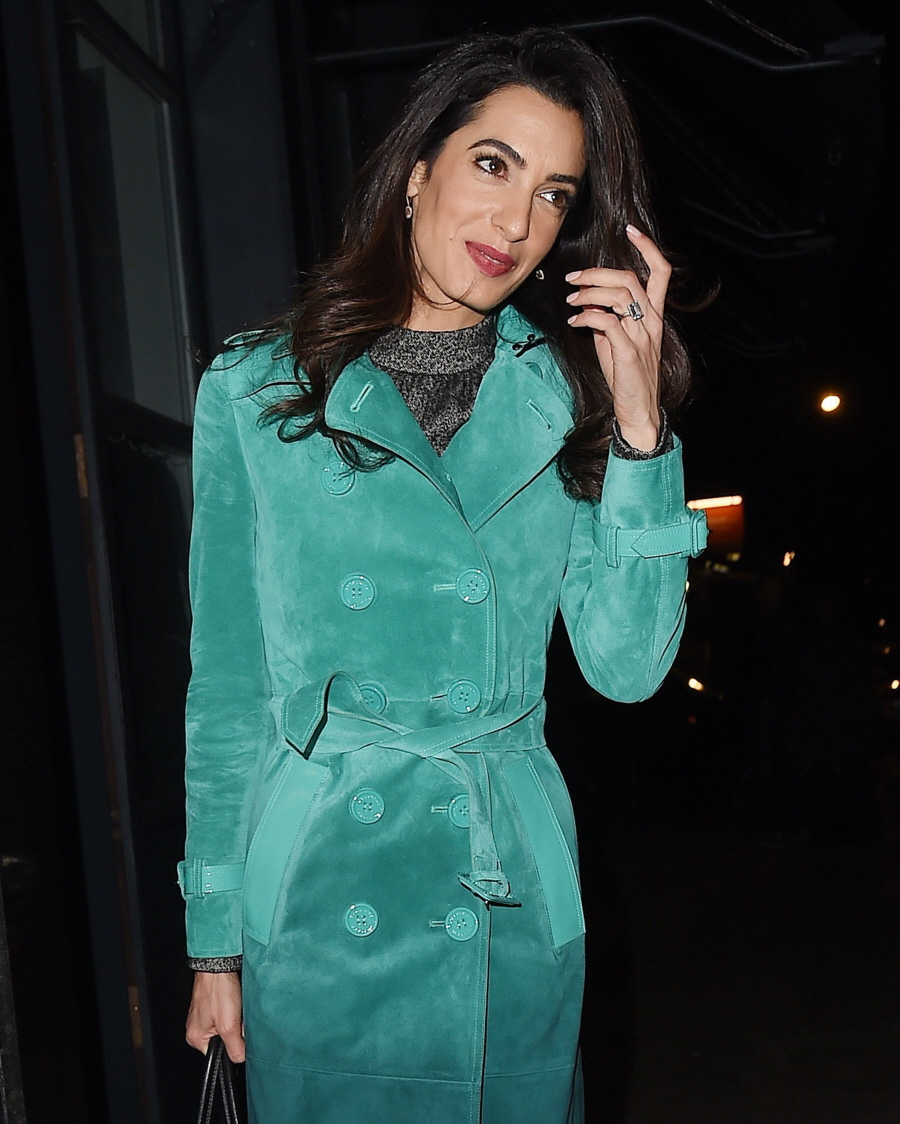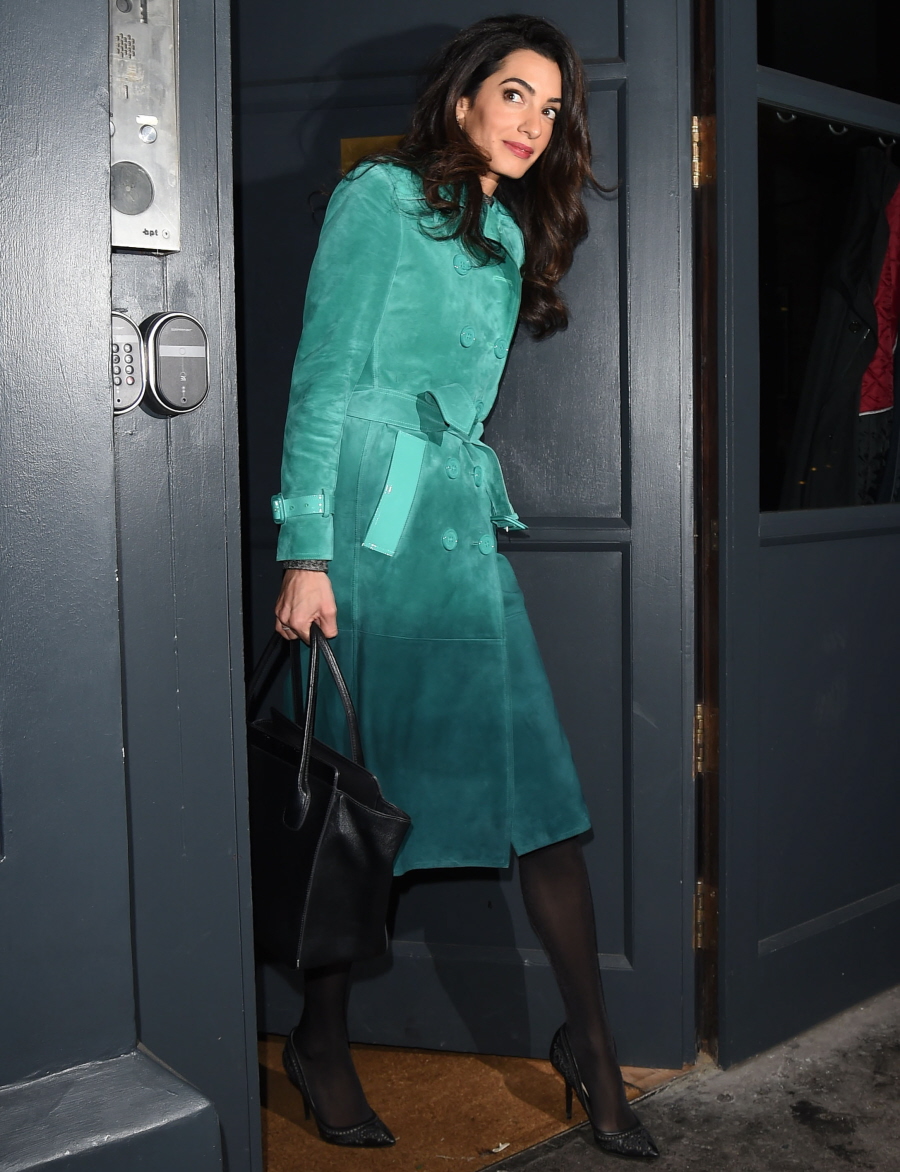 Photos courtesy of Fame/Flynet and WENN.