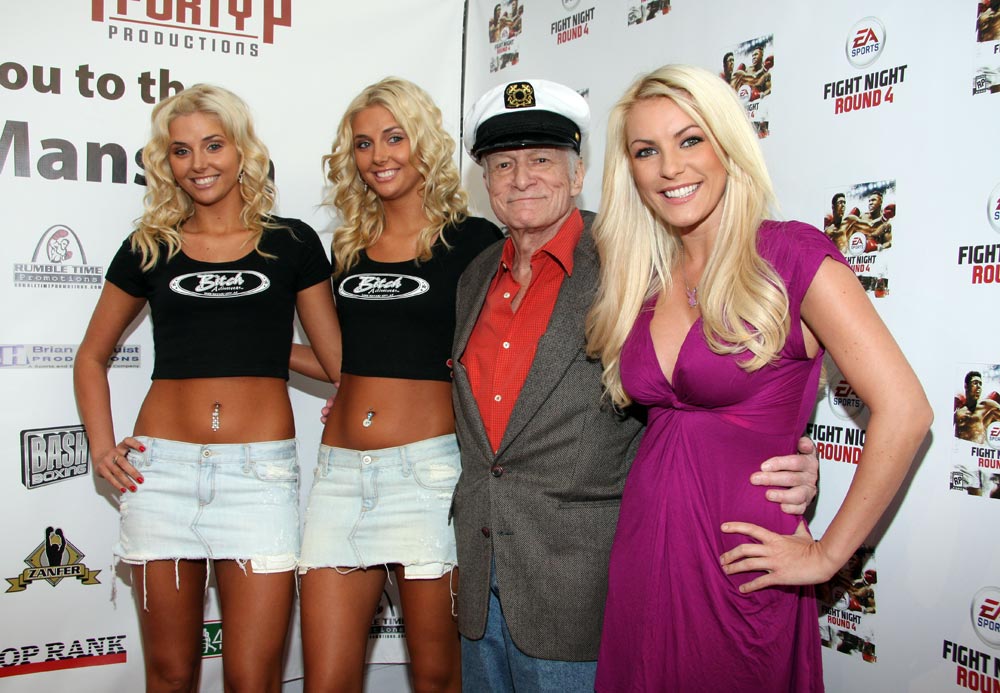 Hugh Hefner's three ex-girlfriends all showed up to help the aging men's magazine magnate celebrate his 83rd birthday this weekend in Las Vegas. His former number one girlfriend, Holly Madison, confirmed that she hasn't seen Hef since their split, and also added a little detail that made it seem like obligations to her reality show also motivated her appearance. Madison said that it was her "first time filming 'Girls Next Door' as a single lady," so I guess we know why she showed up. Kendra Wilkinson and Bridget Marquardt were also there with their boyfriends:
The American Country Music Awards certainly brought a lot of extra buzz to Las Vegas over the weekend, but what really had temperatures soaring was Hugh Hefner's 83rd Birthday at the Palms Resort & Casino. The festivities kicked off Saturday afternoon with a Palms Place pool party, hosted by (wait for it) Hef's former flame, Holly Madison.

"I haven't seen him since I left the mansion," Madison told Tarts before his arrival. "And it is my first time filming "Girls Next Door" as a single lady so that's exciting."

But Madison wasn't the only ex girlfriend who came to celebrate the special day, surprisingly Kendra Wilkinson and Bridget Marquardt also strutted in (with their new lovers) to help Hef and his three new leading ladies Crystal Harris, Karissa Shannon & Kristina Shannon spice up Sin City and the birthday boy couldn't have been more beside himself.

"As you can tell I am very, very happy. To celebrate my birthday with new girlfriends and former girlfriends is perfect, its wonderful," he said. "I've had a life well-lived with so much satisfaction, I enjoy just looking back."

(Speaking of which, we couldn't help but keep a close eye on how the new and the old bonded and while chances are they probably aren't necessarily BFFs, things appeared to be very civil and no claws came out!)

However when we asked what Madison missed most about mansion life her response was a love affair of a different kind.

"The zoo, the mansion has a fantastic zoo with birds and monkeys — I used to work in the zoo a lot and was really close to the zoo staff," she said. "I fancied myself as an amateur zoologist."
[From FoxNews]
Holly was the third contestant voted off "Dancing with the Stars" this season on March 31 in a double elimination. She told Fox that she's ruled out appearing nude again and that her next career move is a reality show she's developing "about me and my friends here in Vegas."
There are also some quotes from Kendra, who said she won't do another nude spread unless her fiance shoots it for her. Bridget Marquardt provided some sexy entertainment by singing happy birthday to Hef Marilyn-style. Last year Pamela Anderson came in topless to serve Hefner his birthday cake.
Interesting that the article barely mentions the new trio of bland way too-young girlfriends, 19 year-old toker twins Karissa and Kristina Shannon, and 22 year-old San Diego State coed Crystal Harris. People don't know them yet so there's not much interest in them, but they're also incredibly boring compared to Hef's last three girlfriends. In an E! interview I saw of them all in January, Crystal seemed kind of dumb while the twins just sat there giggling idiotically. No wonder the reality show will continue to feature Holly, Bridget and Kendra. There's only so much mileage they can get out of the "creepy old dude with barely legal girlfriends" angle.
Hugh, Bridget and Kendra are shown at a party for Bridget's show "Bridget's sexiest beaches" on 3/11/09. Credit: Mavrixonline. He is shown with his current girlfriends on 3/21/09. Credit: WENN.com. The exes are also shown in September, 2008, Credit: PRPhotos