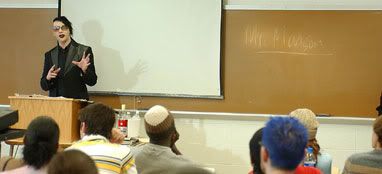 MTV's college channel, mtvU, has a popular realtiy series called "Stand In" that has celebrities and musicians making surprise visits as college guest lecturers. Featured celebrities include Marilyn Manson, Madonna, Cameron Diaz, Snoop Dogg and Bill Gates:
"Stand In" appearances are shrouded in secrecy to preserve the element of surprise for the students and also to avoid inciting a circus. But many times, the celebrities are as surprised as the students.
When Marilyn Manson arrived at an Arts in Society class at Temple University – armed with a bottle of absinthe, the legendary green muse that inspired legions of artists from the French Impressionists to Ernest Hemingway – he was shocked at the appearance of the teacher, a young gentleman with bright blue hair.
"Are you the teacher?," he said. "This guy looks more f-ed up than I do." (Incidentally, Manson's is the most viewed of all the "Stand In" segments.)
"Stand In" strives to match celebrities with subjects they're able to teach, and has actually turned away requests from celebrities. It's widely popular on mtvU, and is offered on demand on the channel Uber. You can also watch episodes online. It will premiere on MTV proper on 3/5.
You know that if that happened in your school it would be on one of the days that you slept in with a hangover.