Yesterday, Kaiser linked to the story of Jimmy Fallon's latest accident, which happened on Saturday night as Fallon celebrated some award from the Harvard Lampoon (which is the university's humor mag). No one (not even Fallon) disputes how he was holding a bottle of Jaegermeister when he tripped (over a random girl) and fell. That stuff rocks your world, and this isn't like Fallon hasn't been similarly injured before. He nearly lost a finger a few months ago. People's official word was that "everything is totally fine" because they were celebrating. He meant to be drunk while he was partying his butt off with a bunch of college kids who gave him an award (maybe so he'd drunkenly give them internships). That's what these college awards usually are — a chance to rub drunk elbows with celebrities.
Fallon addressed the story on last night's episode of The Tonight Show, and he stuck to the script because that was the script. He really was partying his tush off with college kids. Radar says that NBC and Lorne Michaels are very concerned and considering an intervention, but the source paints Fallon as a high-functioning drunk:
An insider told Radar that NBC Entertainment chief Bob Greenblatt and Tonight Show Executive Producer, Lorne Michaels, "have recently had several very frank and honest conversations about Jimmy. Lorne is extremely protective of Jimmy, obviously. Does Jimmy like to party and have a good time? Absolutely, and there late nights of going out with the crew after the show finishes taping, but it's not every night."

"Jimmy shows up for work, on time, and is always a professional," the source continued, but there's still growing concern. "The NBC family adores Jimmy, but Bob is monitoring the situation. If he needs to intervene, it will be done."

As Radar reported, Fallon's increasing clumsiness is starting to raise eyebrows. In his latest drinking-related incident, Fallon was in Cambridge, Massachusetts, this weekend accepting the Elmer Award for Excellence in Humor from the Harvard Lampoon when witnesses say that he tripped while holding a bottle of booze and sliced his hand.

"He was definitely drunk," an eyewitness told Radar. "At first people thought it was a joke when he fell since he had hurt himself before. After he fell, the police helped him up. He immediately started yelling, 'More Jaeger! More Jaeger!'" since he broke the bottle of Jaeger that he was carrying, the source continued. "Eventually someone brought him more Jaeger."
Then a Fallon source is quoted as saying "Jimmy is totally fine." Eh, I'm not really buying it, are you? When I say something is "fine" in relation to my health, I'm usually trying (and lying) to shut down the matter. No one is even arguing about how Fallon constantly hits the bottle, just that it's okay. It's FINE. I hope Fallon doesn't seriously injure himself before he gets help. Playing ping pong other dumb games with celebrities may make Fallon want to drink, but it's pretty obvious that there's a deeper problem here.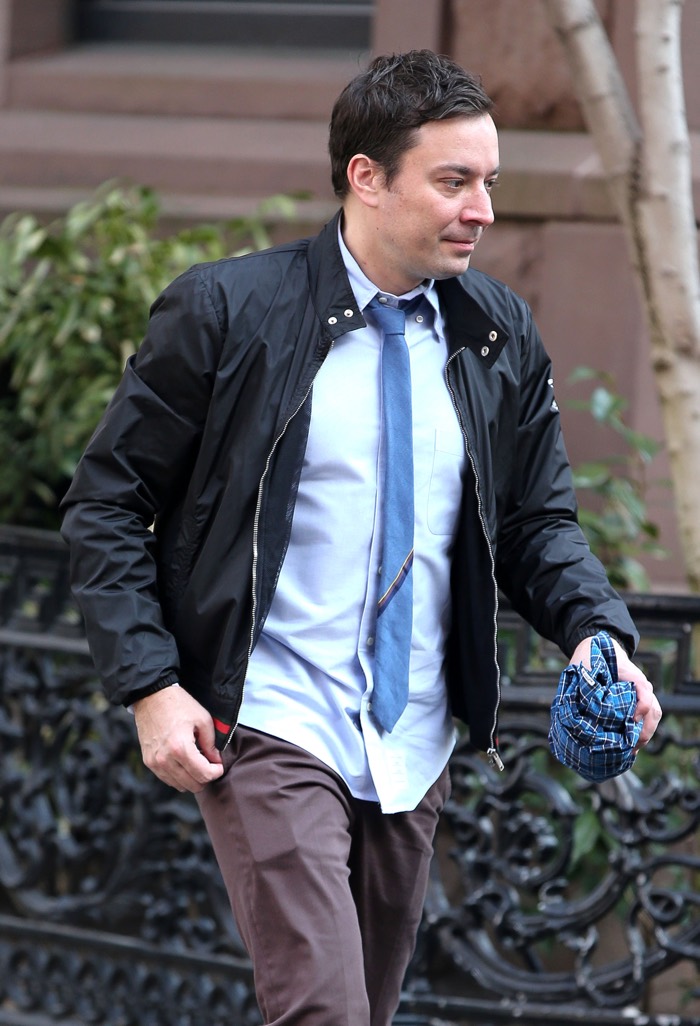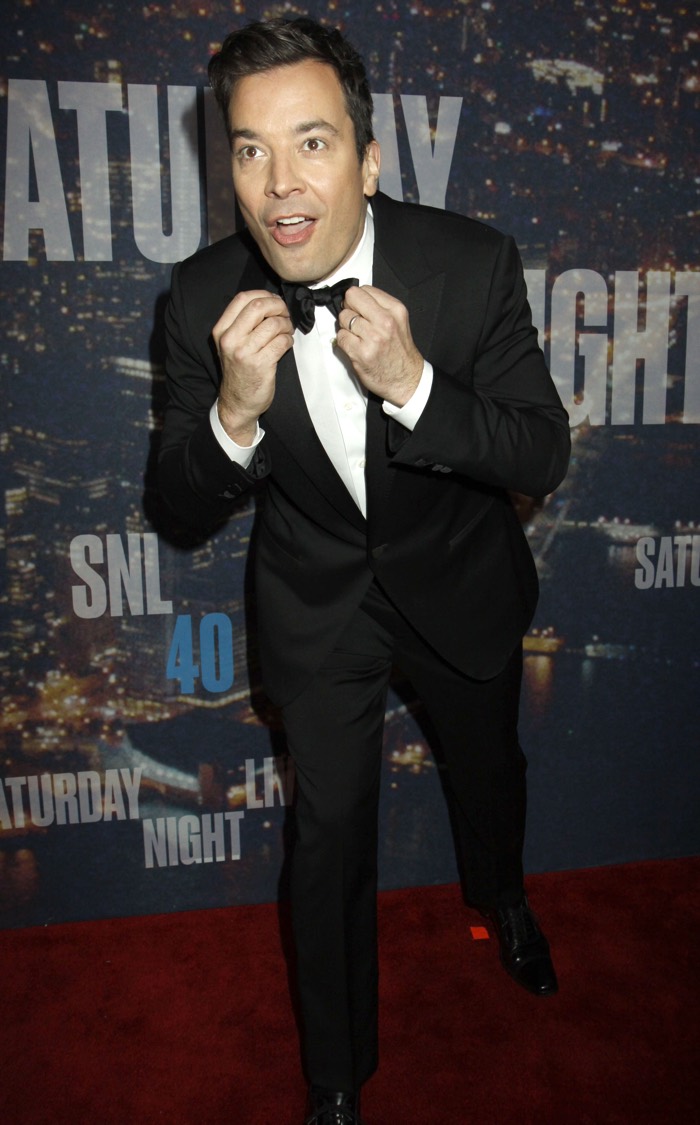 Photos courtesy of Fame/Flynet