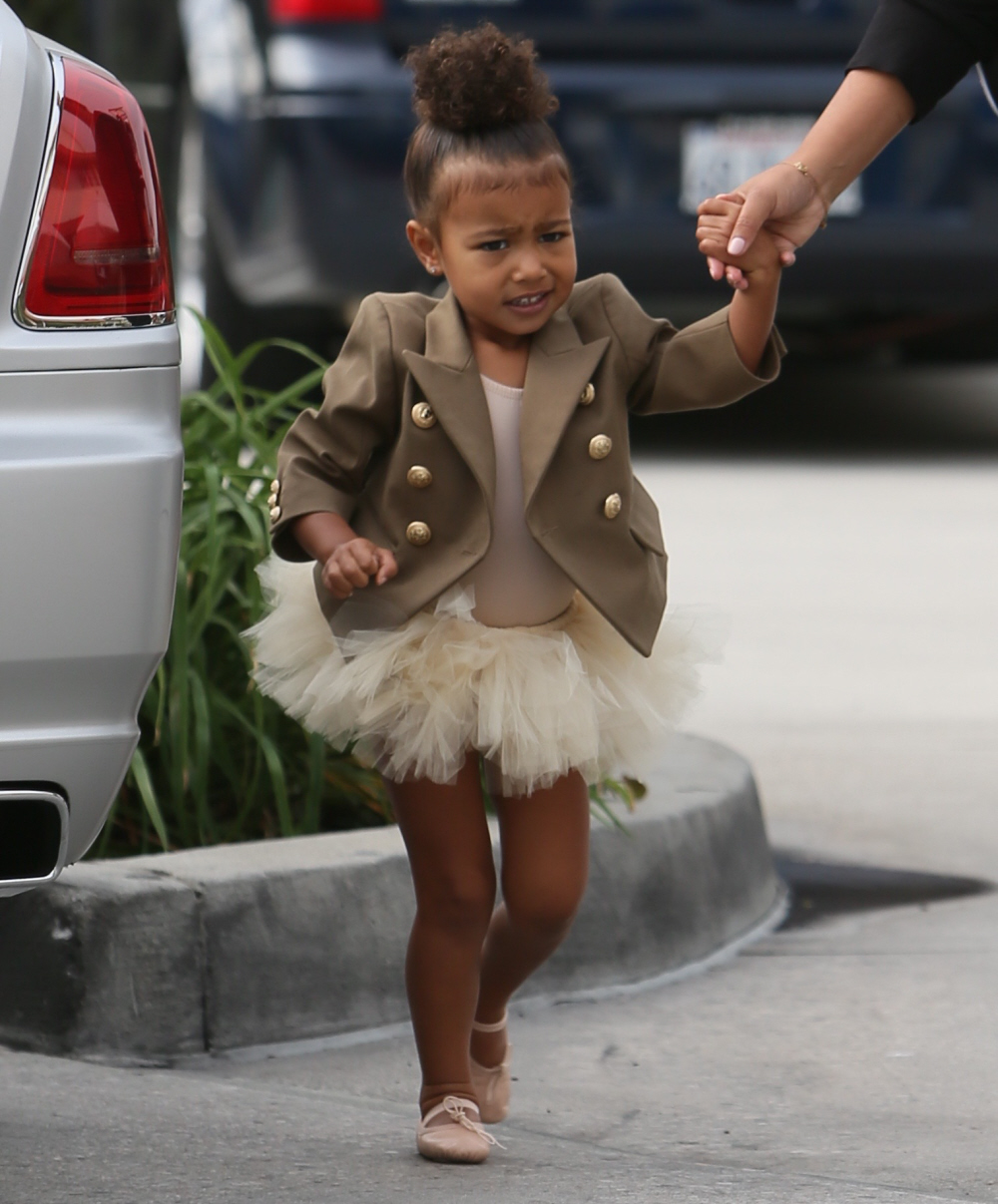 There are few subjects more sensitive than the discussion over a child's hair. I get it. People have strong feelings about children's hair and the role of the parents. There's always a division between people who believe that kids should be able to decide what they do with their hair versus people who believe that the parents should dictate a child's haircut/style. I learned all of this while discussing Shiloh Jolie-Pitt's series of shaggy bobs years ago. And now we're going to discuss North West's hair, because her hair is apparently causing a lot of debate among fans.
These photos are of North and her nanny yesterday in Tarzana. North takes a ballet class and Kim Kardashian always says that North is ALL ABOUT ballet and wearing her tutu and she loves it. Usually, she takes the class with her cousin Penelope Disick, but I think North went solo yesterday and I guess Kim was busy, so the nanny took North. When North goes to ballet, she almost always wears her hair in a high, tight bun/puff. In fact, North's hair is almost always worn up. She's rarely allowed to let her beautiful, curly hair run wild. Which upsets some fans.
While the 2-year-old is often photographed going to-and-from ballet class, this isn't the only time North West has been seen wearing that high and tight ballerina bun. North's hair is pulled back nearly every time we see her, basically because Kim Kardashian hardly lets her wear it down—especially since it got long enough to slick it back into a bun.

But Kim's choice to tightly pull back on her tot's delicate strands every single day is causing a stir among KUWTK fans. Not to mention, the slicked-back 'do is slowly starting to resemble the stress on her strands—and facial expression!

During an appearance on Jimmy Kimmel Live, the 35-year-old mother referred to her daughter's hair as a "crazy afro." This term sparked an internet debate, commenting as to whether or not Kim was reacting negatively to her daughter's ethnicity. From the looks of it, the fashionable tike may not have a say in how her hair is styled for quite some time if Kim and Kanye West have anything to do with it.
I do think both Kanye and Kim have a lot to say about what North wears and how her hair is styled, so I think it's fair to "blame" them for this. I find it hard to believe that North would be telling mommy and daddy "pull it tighter, I want a tighter bun!" I also wonder if North's tight (too-tight?) hairstyle might be a reflection of what Kim likes in general. Kim loves a center part, however unflattering, and she loves to slick back her hair into some kind of tight and horrible style. For Kim, there's the "Croydon facelift" aspect of it – some women believe that pulling your hair back into some tight hairstyle is like giving yourself an instant facelift. Of course, if you apply that logic to a little girl, it's sort of absurd. So… tempest in a teapot or is this really a thing?
Oh, and North was apparently telling the paparazzi "no pictures please!" That's something she's probably heard from her mom?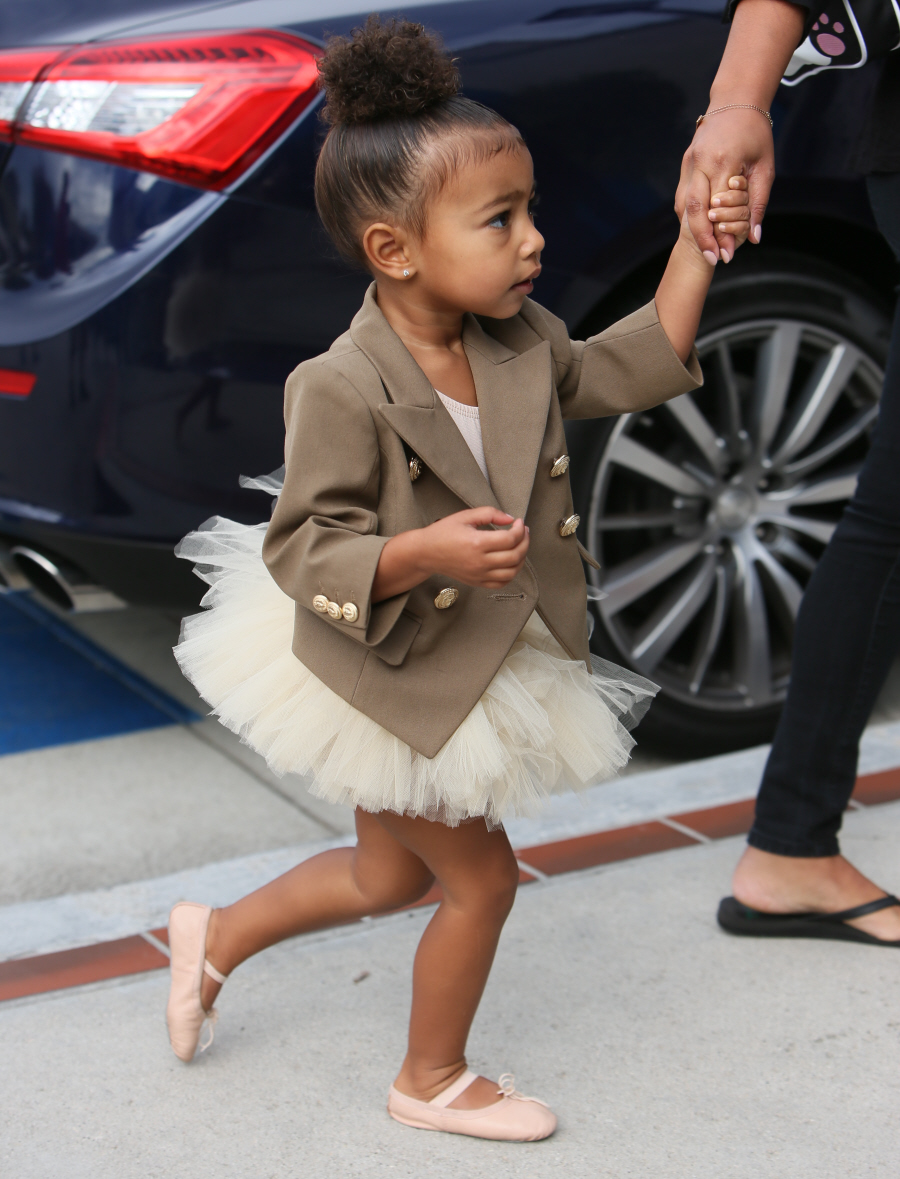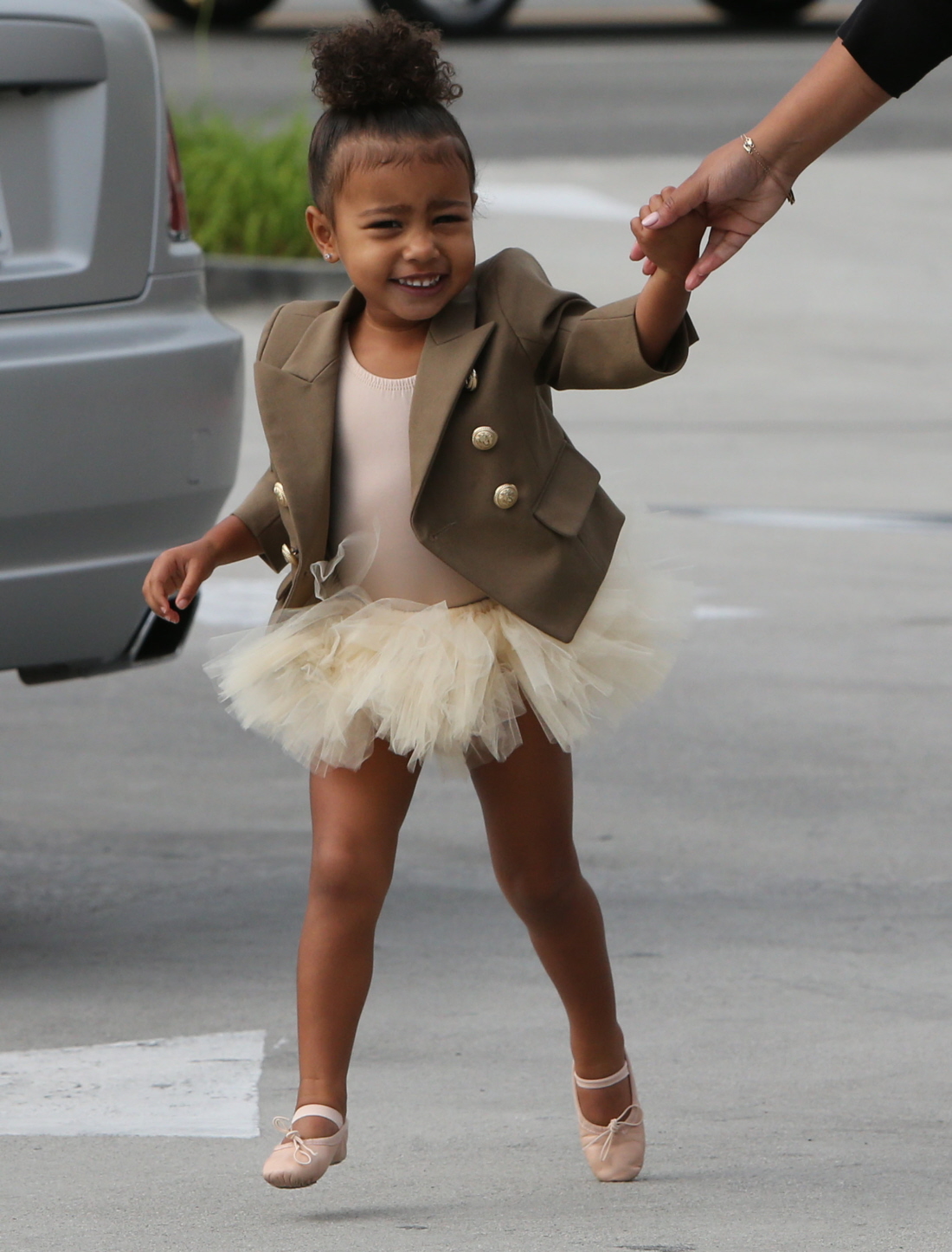 Photos courtesy of WENN, Fame/Flynet.