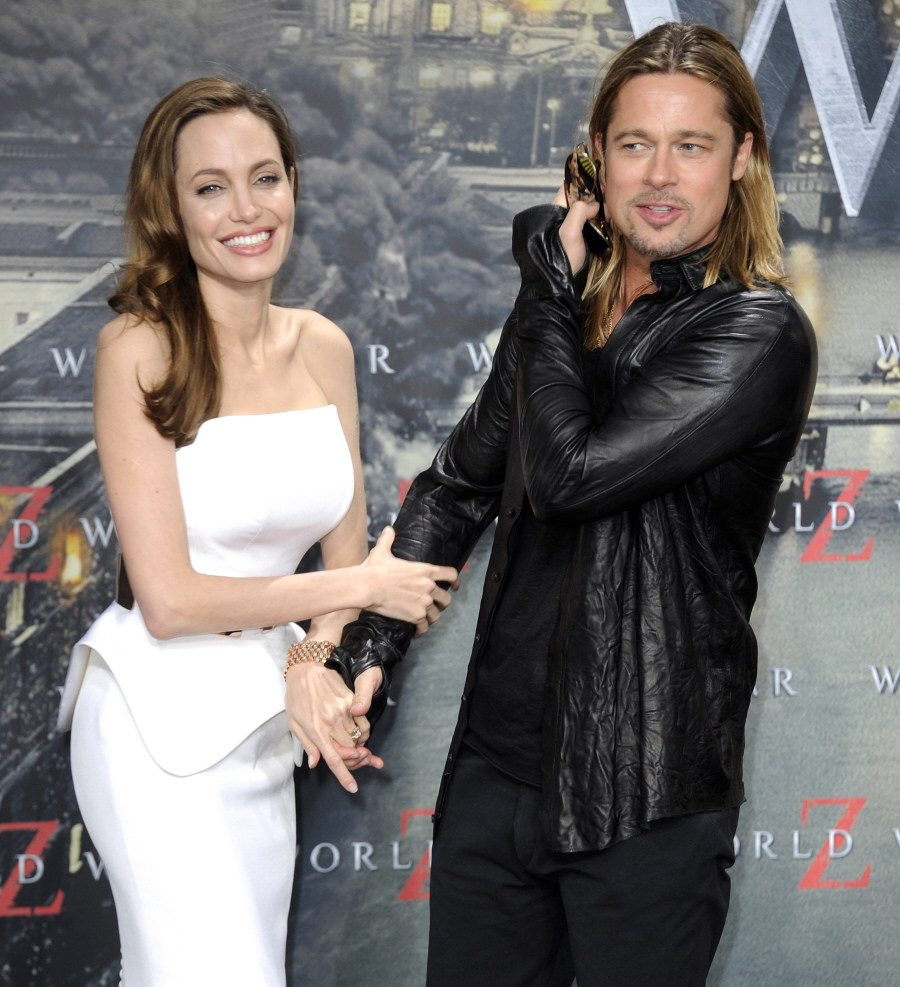 As we discussed on Sunday, Angelina Jolie and Brad Pitt sat down for a pre-taped joint interview with Tom Brokaw for Today. There's actually an interesting history for Angelina in particular with the Today Show – she used to give her exclusives away to her friend Ann Curry, but since Curry's departure, Angelina has ended up befriending Brokaw. Jolie and Brokaw did a handful of interviews and special programming for the Unbroken promotion.
Anyway, the first quotes released from Today were about their film, By the Sea, and how the dysfunctional on-screen couple is not Brad and Angelina in real life. They also discussed Angelina's medical choice to undergo a double mastectomy and have her ovaries removed. Today has released more quotes:
Angelina used some of her mother's doctors: "We had some of the same nurses, some of the same doctors. So, the doctor that did my ovary surgery was my mother's doctor. And apparently my mother had said to her, 'Promise me you will take Angie's ovaries out.' So when we kind of got together, we both had a big cry, and she said, 'I promised your mother, and I gotta do this."'

Bereavement is central to the story of 'By the Sea': "We can't say what the whole film is about, but a lot of the film was when I went to visit my mom in the hospital, when she found out she had cancer the first time, she was gonna have her ovaries removed, (and) she was very upset, feeling like…they're taking out her parts that were female, and there was a woman down the hall who was wailing. I later found out it was a young woman who had not had children yet, and that put everything into perspective."

When Angelina got a bad blood test back this year, Brad says: "I was out in France, and Angie called me and I got straight on a plane to return. Seeing my wife have to be her strongest and knowing that it's the scariest news is terribly moving. And not being there is a horrible feeling."

Early onset menopause: "Every woman is different when they go through menopause, and…I didn't know emotionally how I would feel. I knew the breast would be a bigger surgery and physically changing. The ovaries is more, your hormones changing and your emotions changing, but it's different. You feel different."

Brad on Angelina's lack of vanity: "There was no vanity to my wife's approach. It was mature. 'This is our life and we're gonna make the best of it.' There was a strength in that. It was just another one of those things in life that makes you tighter, and she was doing it for the kids, and she was doing it for her family so we could be together."
One of Marcheline Bertrand's dying wishes was that Angelina have her ovaries removed? Damn, that got me teary. And Brad flying home immediately? Yep. This is a real marriage. They just happen to be two of the most famous people in the world.
I'm including the video below. Around the 7-minute mark is when I really started crying, when Brad talks about her strength in dealing with the surgeries, and then Angelina talks about what his support meant and still means. If you stay to the end of the video, even Brokaw seems sort of enamored of them, especially Angelina.
Screencaps courtesy of Today, additional photos by WENN.