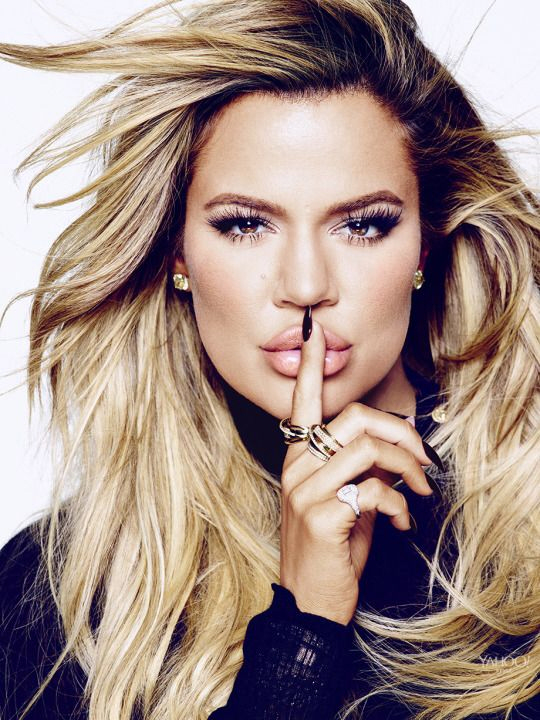 Much like Khloe Kardashian's People Magazine cover last week, Khloe sat down with Yahoo Style for a big interview just before Lamar Odom was hospitalized. Khloe was set to promote her book, a rel="nofollow" href="http://www.amazon.com/gp/product/1942872488/ref=as_li_tl?ie=UTF8&camp=1789&creative=390957&creativeASIN=1942872488&linkCode=as2&tag=celebitchy-20&linkId=F7MMEXMCJOKQDSUK">Strong Looks Better Naked, right around now, although she's canceled a lot of appearances and events for the promotion. Still, the interviews are still coming out, and most of them are broken into two parts – pre-Lamar-breakdown and post-Lamar-breakdown. You can read the full Yahoo piece here. Some highlights:
If the reality show ended: "If the show were to end tomorrow — not to be ungrateful — it wouldn't matter to me, because I have my foundation. I have friends I've had for 15 plus years. I have my core values still going on, and it's about family and loyalty."

Becoming known as The Fat One: "Before the show, I always felt really good in my own skin. But people called me 'the fat one,' so I would almost beat them to the punch: In interviews I was like 'I know I'm the funny fat one.' I remember the first blog I ever saw of myself was on Perez Hilton, and it was bashing me so horribly that it haunted me. I always thought I had a pretty normal body — I could have lost weight six years ago, I could have done all of that. I don't want to do something for somebody else."

Her shell changed, that's all: "I've been so dope this whole time. I'm a good person. I've only changed physically."

A hope that she'll find love: "I mean, I don't know. I'm dating, obviously. James. But I haven't really spoken a lot about him. I've learned from experience you just never know what happens in life. I've chosen to keep things closer to my heart until I figure it out. I love hard, I love who I love, and I don't make any qualms about it. And I can't wait for that to happen. I think I was so open and honest about my relationship with Lamar — which I don't regret for a second; it was the best time of my life. But because you can't just show these wonderful things and then not show the other stuff — like 'Oh! Lamar disappeared!' I had to explain I was going through a divorce, and people appreciate that and relate to it. And we also had a great love story, so I think people want to see that for me again."

After Lamar's hospitalization, she's cut back on social media: "It's so bizarre to me that I had to make an announcement on my app about why content stopped. Even to do that, I literally had to be talked into it — why do I have to post something informing people that I'm not posting anything? It was just bizarre to me. It's silly how much you do focus on social media when your life is just kind of fluffy or whatever, and now it's the last thing on my mind… If you look at my past with him, I've always been more private. So for me, keeping this private is a big deal. I've seen a lot of people talk about it, and I think they shouldn't; you shouldn't talk about a medical situation unless you're around it."

Her thing with James Harden: "Right now, at this moment — I can't even tell you what's going to happen in 30 minutes, which I've learned recently — but James and I are great, and we're on a great page. As of this moment, he's been very supportive. He and I are doing just fine."

Less is more? "Not everyone needs to know everything about you — I know that sounds crazy coming from me. There's already so much access to [my family], I wanted to keep a little percentage of my life just for me."

Her future with Lamar: "There is so much more medically and emotionally that we have to go through in order to even think about anything romantically. This is a very serious situation with a lot of layers. He has a long road ahead of him, and I will be there by his side. I will always love him unconditionally. That will never waver coming from me."

Whether she wants "little Khloes": "I mean, there has to be eventually! . Kim's trying to talk to me about freezing eggs but I'm like, Bitch, how old do you think I am?"
Khloe is 31 years old, in case you're wondering. I consider that "too young" to freeze your eggs, although I don't even think Kim's advice is all that bad. Khloe is very much about "living in the moment," which means she's not planning for future of her fertility. I'm just saying – why not freeze her eggs? She has the means to do so and it would just be one option to have. As for the rest of it… I never thought I'd hear a Kardashian say that less is more, or that the whole world shouldn't see every part of your life. Pigs must be flying.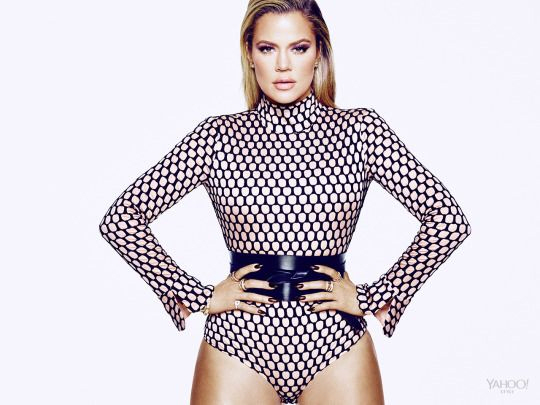 Photos courtesy of Yahoo Style.