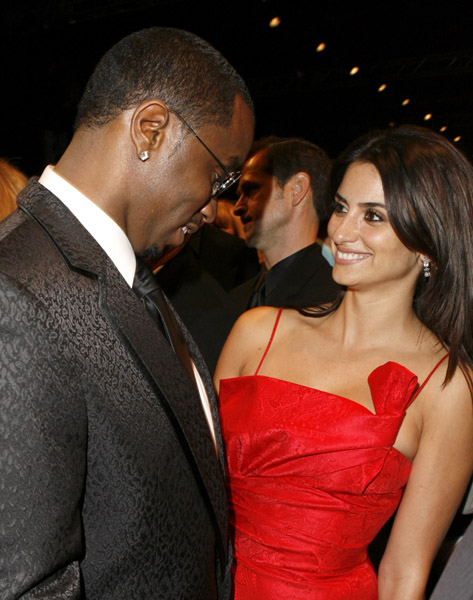 Penelope Cruz must be hard up if she's resorted to hanging out with Diddy, who was recently dumped by his longterm girlfriend and the mother of three of his children, Kim Porter. Star Magazine reports that Diddy was trying to make the moves on Penelope Cruz while they were out at an event in LA on June 23rd. Pharrell tried to win her away without success, and Diddy ended up taking Penelope to Prince's concert afterwards:
Diddy and Pharrell Williams fought like third-graders for Spanish spitfire Penelope Cruz's attention at the Bombay Sapphire dinner on June 23 at Mr. Chow's in L.A. When Pharrell spotted Diddy and Pen getting cuddly, he rushed over – and she wound up wedged in the middle! But Diddy did win in the end. After dinner, he escorted the blazing beauty to Prince's concert at the Roosevelt hotel.
[From Star Magazine print edition, July 16, 2007]
How much sake did Penelope Cruz have to drink before she made the wise decision to let Diddy take her somewhere? Maybe they were both headed there anyway and went as friends. Still, I would pick Pharrell over Diddy anyway. Maybe it's his baby face, but he seems like a much nicer guy. Compared to Diddy, just about anyone is a nicer guy.
Meanwhile The National Enquirer reports that Penelope's ex Josh Hartnett and model Helena Christiansen are more than friends. There was a story a short while ago that Helena was trying to set Josh up with her friend Rosario Dawson, but he nixed that idea in favor of dating Helena himself. She's even said to be taking Josh to Copenhagen to meet her family:
At first Helena planned to fix Josh up with her close plan… Rosario Dawson…

"But before Helena could play matchmaker for Rosario, Josh made it clear that he wanted to date Helena," said [a] friend.

Josh's attorney denies that he's romantically involved with Helena. But she's already invited Josh to Copenhagen later this summer to meet her family, said the source.
[From The National Enquirer print edition, July 16, 2007]
I can see Josh and Helena lasting, but Penelope doesn't seem like the type that can stick to a long term relationship. Maybe that's why Diddy is so keen to get with her.
Thanks to PopSugar for the header image, which is from the Armani fashion show in February, 2006.