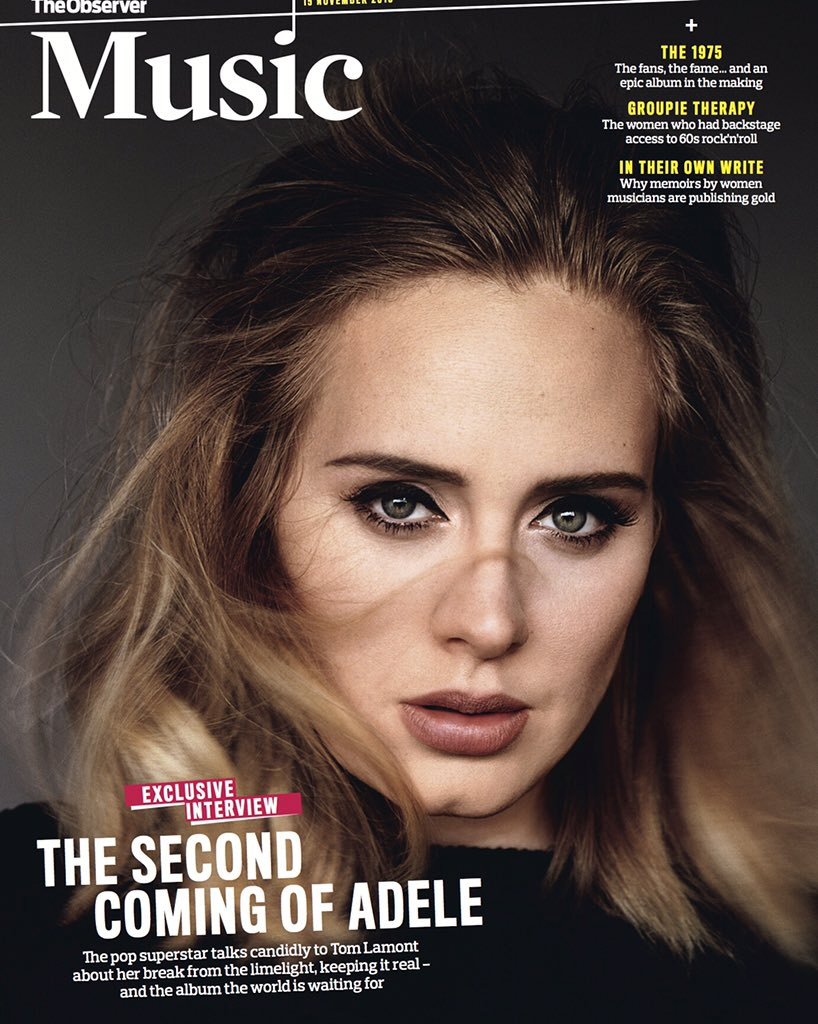 I love Adele. That's no secret. But I hate that every single magazine just uses headshots of Adele for their covers. It's a long-established editorial "solution" for when your cover subject is larger than a size 2: don't show anything below her shoulders. Anyway, Adele covered and guest-edited the most recent issue of The Observer, which was out last Sunday. I didn't cover it sooner because only one quote was released from the piece – this is Adele on fame/celebrity: "It's very easy to give in to being famous. Because it's charming. It's powerful. It draws you in. Really, it's harder work resisting it. But after a while I just refused to accept a life that was not real." Sure. Adele also has a new interview with the New York Times, which you can read here. We are now just ONE WEEK away from the release of her new album. I can't wait!
She cries while singing her songs sometimes: "In order for me to feel confident with one of my songs it has to really move me. That's how I know that I've written a good song for myself — it's when I start crying. It's when I just break out in [expletive] tears in the vocal booth or in the studio, and I'll need a moment to myself."

She didn't know if anyone wanted her to come back: "I was like, 'Oh, no, I've missed my window. Oh, no, it's too late. The comeback's gone. No one cares.'"

The success of the last album, 21: "I was scared. It got so out of control, the last album. I was a bit frightened for a while to step back into it… I didn't think I had it in me to write another record. I didn't know if I should. Because of how successful '21' was, I thought, 'Maybe everyone's happy with that being the last thing from me. Maybe I should bow out on a high.' As time went on, I realized I had no choice. I have to write more music for myself, and there's nothing else I want to do."

She used to wallow in sadness: "I just used to let myself drown. If I was sad, if I was confused — which I would say were the running themes for most of my records so far — I'd just go with it. I'd let myself fall apart, and I'd sit in darkness, and I'd feel sorry for myself, and I wouldn't accept any help to get out of it, in terms of going out with my friends to cheer me up, or staying busier. No! I loved the drama of it all. How I felt when I wrote '21,' I wouldn't want to feel again. It was horrible. I was miserable, I was lonely, I was sad, I was angry, I was bitter. I thought I was going to be single for the rest of my life. I thought I was never going to love again. It's not worth it…. Well, it was worth it, because, obviously, of what's gone on. But I'm not willing to feel like that to write a song again. I'm not."

What's changed for her: "I haven't got time to fall apart. I'm the backbone for my kid, and I want to be there for him. And I want to be there for my boyfriend as well, and I don't want to bring them down with me for my art."

She doesn't want to be famous for the sake of being famous: "If I wanted to just be famous, like be a celebrity, then I wouldn't do music, because everything else I've been offered would probably make me more famous than I am just with my music. Commercials, being the face of brands, nail varnishes, shoes, bags, fashion lines, beauty ranges, hair products, being in movies, being the face of a car, designing watches, food ranges, buildings, airlines, book deals. I've been offered everything. And I don't want to water myself down. I want to do one thing. I want to make something. I don't want to be the face of anything."
That last quote is fascinating, isn't it? That's why I brought up the Observer quote at the beginning, which made me roll my eyes at Adele a little bit the first time I read it, but I think I understand what she means now. It would be "easy" for her to fall into the same kind of modern pop-star path, where stardom is barely about music and more about branding, endorsements, advertisements and anything else. It's remarkable that someone so young had the tenacity and self-awareness to turn all of it down and just say "No, my focus is on making music."
This NYT also has a great quote from Adele's friend and collaborator Ryan Tedder about how many songs Adele gave away when making this album. Tedder said: "The girl has probably thrown away easily 20 hits off of '25' that will at some point wander away, maybe into other artists' hands." It's true. Sia already has a hit single ("Alive") from a collaboration with Adele that was intended for Adele's album. I would very much like to hear The Rejected Songs From 25: The Album.
Here's Adele's performance of "Hello" at the NRJ Awards.
Photos courtesy of WENN.