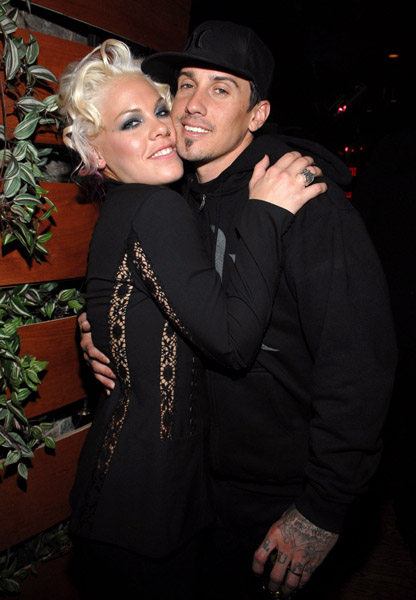 It looks like Pink and Carey Hart are giving their romantic relationship another go. Carey tells The Sun that the couple is "working sh*t out". Total swoon… if you like obscenity. Which I do, so hurray!
After Pink and Carey split, it really seemed like they would be one of those rare couples who stayed close, or even got back together. They really seem to love each other, even when Pink is writing somewhat aggressive lyrics about their break-up. Personally, I loved that song "So What". That's the one that starts out, "Guess I just lost my husband, I don't know where he went!" The Sun has more:
Pop star PINK's ex-husband CAREY HART yesterday told The Sun they are giving their relationship a second chance.

Pink, 29, divorced motocross bike racer Carey last year and wrote No 1 hit So What about the split.

But they remained close and the singer — real name ALECIA MOORE — even offered to give Carey away if he re-married.

Carey, 33, confirmed the relationship was back on, saying: "We're working s*** out, I admit it. She's just totally normal and low-key."

Pink even said after the split their future might involve "beach babies and sunshine".
[From The Sun]
Some will disagree, but I've always thought Pink was pretty cool. In interviews, she seems much more thoughtful and kind than her public persona as a hellraiser. Pink has a true, honest-to-goodness feminist streak, too. Not the kind of feminist streak that some of the other pop stars have, either – like "I'm a feminist because I take off my clothes, y'all!" I was happy when Pink and Carey got together, because they really seemed to compliment one another. It's good to know there's a chance for a reconciliation… I mean, "work sh*t out".