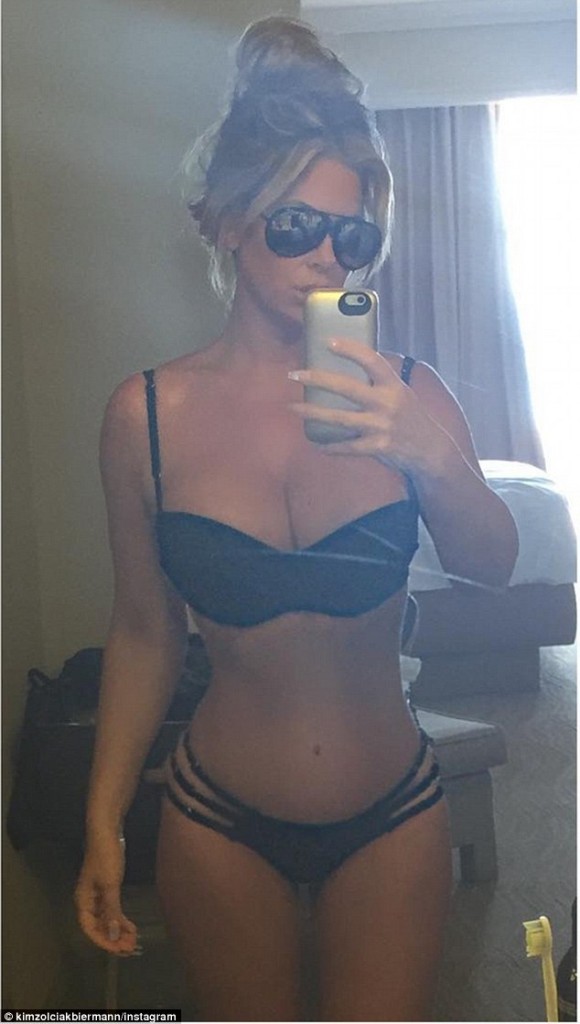 Real Housewives of Atlanta alum, wig aficionado and "singer" Kim Zolciak is on the defensive after some bikini pics surfaced that might have been altered in Photoshop. Might have? I know, who are we kidding, right?
On Friday, the 37-year-old mother of 6 and former Dancing with the Stars contestant posted a bikini selfie from her vacation in Cancun, Mexico. She and her hubby, 30-year-old Atlanta Falcons defensive end Kroy Biermann, were in Cancun celebrating their 4th wedding anniversary. The photo, which has since been deleted from her Instagram account, credited her slim and trim physique to sports nutrition shakes and water. Kim also shared (and later deleted) a photo – "borrowed" from Arielle's Snapchat – of she and daughters Brielle, 18 and Ariana, 14 all posing in skimpy swimwear. As for a caption, Kim boasted that "it's all in the genes." Well…paparazzi shots taken the same weekend tell a slightly different story, with Kim not looking quite as slim and trim – a little piña colada bloat perhaps?
Kim's Instagram followers let her have it, with comments calling her an "attention whore" and the fact that she's posing sexually with her daughters "disturbing on a whole new level." It's probably not gong to earn her any "Parent of the Year" awards, that's for sure.
This is not the first time Kim's been accused of Photoshop abuse. Photos of her with an impossible to achieve in real life thigh gap showed up on her Instagram and drew the ire of fans and professional graphic designers alike.
As a result of this most recent attack, Kim once again returned to Instagram to give her haters a piece of her mind, as well as a slightly blurry look at her (supposedly not Photoshopped and certainly not sucked in) tummy. In the brief video – which also features her daughters again mugging and attempting to look cloying and seductive – Kim lashes out at her critics with an obscenity-laced rant. Here's what the queen of eloquence had to say:
"I just have to comment again how The Daily Mail and TMZ are full of s**t and show you what I really look like. I'm not a bulls**ter. I don't have to f**king bulls**t. So f**k you!"
Great example to set for the kids there, Kim. But really, she's an attention-seeking reality personality. Much like many other attention seekers in tinsel town we know (cough…cough…Lindsay Lohan…), Photoshop can pretend to be your best friend, but can turn out to be your worst enemy. We thought she'd know this by now. What disturbs me the most is that she's a role model to anyone. Watching her young daughter posing and trying to look well beyond her years as her mother goes on a public, foul-mouthed rant makes me sad that there's even one other young girl aspiring to be more like this woman. She's had 6 kids and in the pap shots she looks fine. She should own it.
Here's the video where Kim calls out The Daily Mali and TMZ. She swears a lot so it's NSFW: