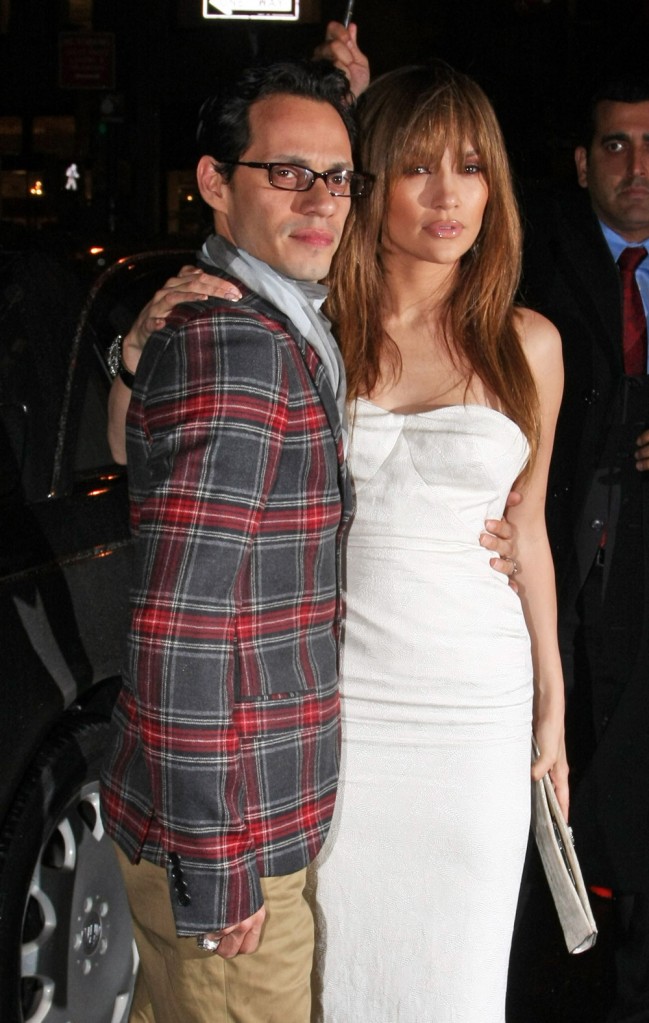 One of my favorite daydreams is to imagine what my house would look like if I were extraordinarily rich. How I would decorate, what I would do with all of that space in my fabulous Georgian-style mansion. I would design a fantastic office for myself, and maybe even a meditation room, though I don't meditate. I just like the idea of a meditation room with richly stained floors. Diane von Furstenberg has one like that, so I'm copying. But would I devote a room to dolls or wrapping paper, as Candy Spelling did? Nope. Would I devote a room to wigs, like Jennifer Lopez? Uh, no.
According to Star Magazine, J.Lo has made herself a "wig room" in her Long Island mansion. She doesn't even let Marc in the room to see her fabulous wigs, either, although I can't imagine why. Why would Jennifer not want Marc around her wigs? And why would Marc want to be around her wigs? There's also a source who is talking up the wigs, saying they are "the best hairpieces money can buy." As opposed to the best hairpieces money can't buy, I suppose.
Jennifer Lopez has found herself in quite the hairy situation at her luxurious crib!

The diva has so many expensive wigs that she's devoted an entire room to them in the Long Island, N.Y., mansion she shares with her husband, Marc Anthony.

"Jennifer keeps the door locked and hardly ever lets anyone in the room, not even Marc," a source tells Star of the beautiful space decorated in caramel and gold tones. "The shelves on the walls are full of plastic heads holding the best hairpieces money can buy."

The wigs filling the fashionista's hairy haven cost thousands of dollars, the source adds, because each is exquisitely crafted from real human hair.

"Jennifer spares no expense when it comes to her looks," the insider explains. "Since her actual hair is shoulder-length and fairly thin, the wigs allow her to always be experimenting with new styles."

And she's not afraid to go all out!

"She has short, long and superlong looks, but clip-on buns are one of her favorite tricks," notes that source. "Hers are so elaborate, they seem to take on a life of their own!"
[From Star Magazine]
I'm not bashing Jennifer for wearing hairpieces. Every star wears wigs and weaves and whatever else these days. But I am criticizing Jennifer for devoting a whole room to her wigs… and for not letting her husband receive some pleasure from them too. Marriage is about sharing, Jennifer. If Marc wants to play with the wigs, you've got to let him. These are the foundations to a solid relationship.
Here are J-Lo And Mark Anthony at the Topshop store opening In NYC last Wednesday. Images thanks to Fame Pictures .