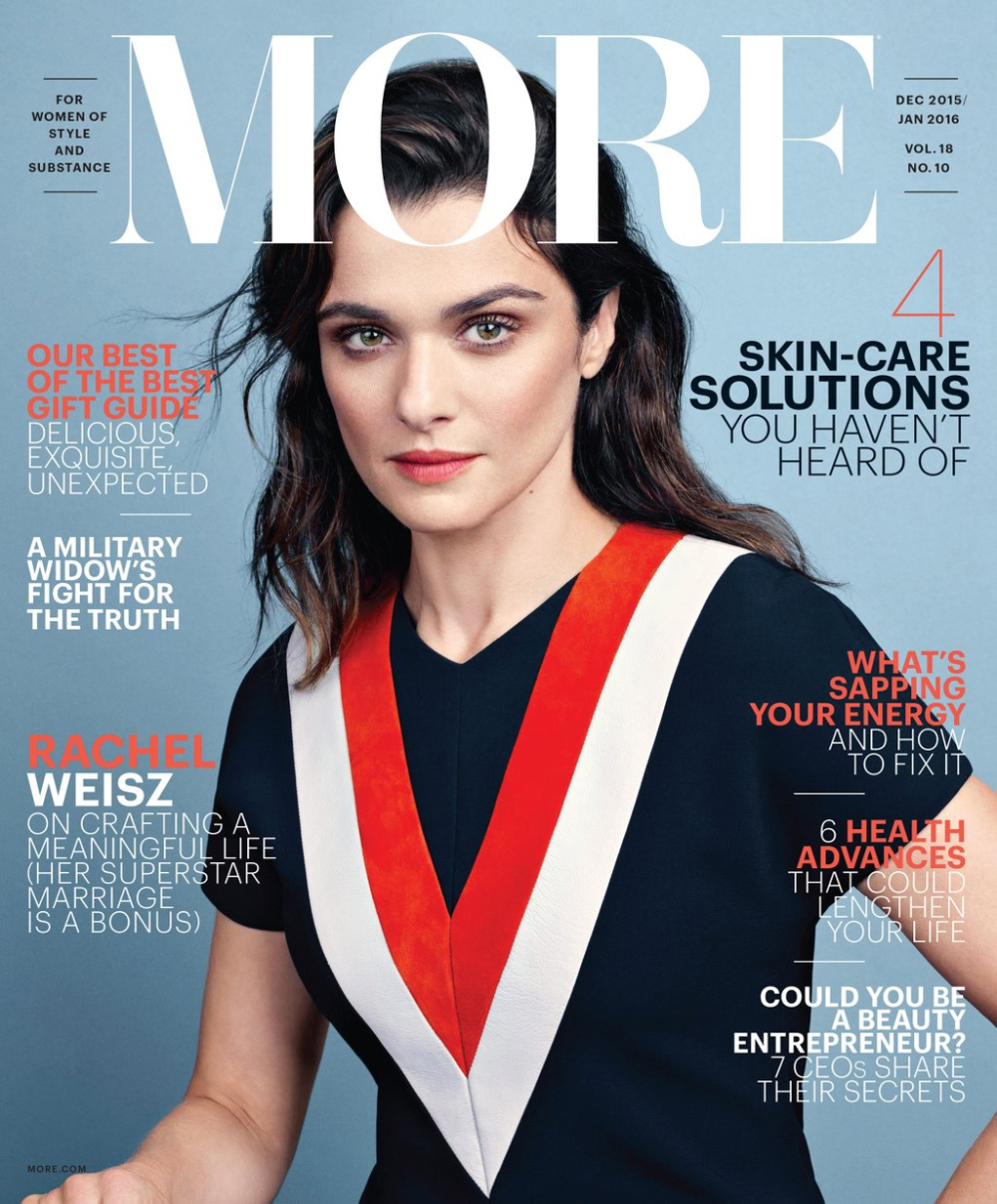 I love Rachel Weisz. I know some of you think she's meh, but I really enjoy her. She's sassy, funny and interesting, and she's getting Daniel Craig's business on the reg. What's not to love? Rachel covers the new issue of More Magazine and the Englishwoman ends up chatting about American politics. Um, is she an American citizen now? Oooh, I just looked it up – SHE IS!! She talked about it back in 2012, saying: "I did it because I thought I would go back to England for a while and lose my green card. I'm not going back now but being a citizen means I can vote here which is exciting, not just being an outsider. When I come back into the country now and they stamp my passport they say 'Welcome home, Ma'am.' I think that's a lovely formality. No one in England would say that, would they?" That answer is so much better than Emily Blunt's shenanigans.
Anyway, I did know that Rachel and Daniel have a place in New York (I think they have a Manhattan apartment as well as a country home), which means Rachel is a New York voter. And she's going to vote for Bernie Sanders! Well, well. Some highlights from More:
On how roles for women in Hollywood differ from roles for men: "Men get the more complex roles. Things have become too glossy for women. We have to be 'likable,' which is not very likable at all. It's hard to like someone who's just sweet. You want a real person, one who irritates you and mystifies you and frustrates you and makes you cry. You want everything from a character. Not to just stand there and look nice. Likability is code for 'Shut up and look good.'"

Keeping her marriage private: "He's just too famous. It would be a betrayal. You have to protect your marriage. When you're young, you tell your girlfriends everything. One of the great pleasures of not being an adolescent is that you don't have to share everything. When you're married, that door closes. The audience goes, and you're in your own life."

On her support for Bernie Sanders: "As far as I can tell, Sanders is the only person talking about the poverty divide. And saying mums should have 12 weeks' maternity leave to bond with their children. I come from Europe—I believe we should pay more taxes and have the state look after those who fall through the net. Isn't that what Jesus would do?"

On how she feels about this time in her life: "Well, everybody's aging, and we're all going to die. Getting older, there's a reality about mortality, but it's hard to be young, too. It's hard to not know who you are. My twenties were painful at times. Now I have wisdom and experience—I know what interests me in a way I didn't before. I'm much more focused on what matters to me. I waste less time. There's a huge relief in that."

On her advice for aging gracefully: "I once did an interview with a friend, and she said, 'Don't you think Botox should be banned, like steroids for athletes?' I said, 'Yeah, yeah!' And that became this quote of mine, when in fact I think people should do whatever they like, whatever gets them through the day."
You know what I think? I think some people in other countries are a little bit jealous of how much fun Americans have with our political process. Like, voting in Canada sounds boring. Voting in England seems dull. Voting in America is full of drama! Of course Rachel wanted to come here to vote! Meanwhile, it's feeling more and more like Bernie Sanders has a lot of the Hollywood Lefty support lined up. I mean, some celebrities are pro-Hillary, but it does feel like most of the "cool" celebrities are Feelin' the Bern. Now Sanders has Rachel, Mark Ruffalo, Nikki Reed, Patton Oswalt, Jeremy Piven (seriously?), Will Ferrell and Belinda Carlisle. I'm not even making that up. You can see some of Sanders' celebrity endorsements here.
Photos courtesy of Getty, cover courtesy of More Magazine.