The Hollywood Reporter informs us that E!'s The Soup, hosted by the venerable Joel McHale since 2004 and originally called Talk Soup in it's first iteration, way back in 1991(!) with host Greg Kinnear, will air its final episode this December 18th. (If you're doing the math at home, the show had a two year hiatus, from 2002-2004, so it technically aired for 22 years.) This just makes me want to watch every episode of The Soup I can get my hands on in that time. You always think you have enough Joel McHale to go around, until you realize he's not going to be there as scheduled every week. *rewatches Community from the beginning*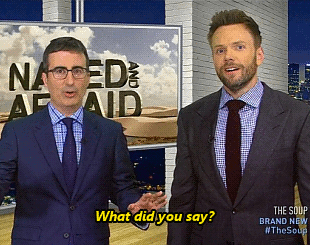 After 12 years, Joel McHale is bidding farewell to The Soup.

The news comes after a lengthy run, during which the affable actor-comedian has balanced the E! series with a busy schedule that's included film work and several seasons on Community. In recent years, he's also hosted both the ESPYs and the White House Correspondents Dinner, raising his profile along with questions about his future with the cable clip show.

McHale's final show, which will also mark the series' last, will air Dec. 18. In the weeks leading up to it, the host is expected to reflect on the franchise's most memorable moments. E!'s prior iteration, Talk Soup, premiered in 1991 with Greg Kinnear as its then frontman. Other emcees followed, including Hal Sparks in the late '90s and Aisha Tyler in the early aughts, before McHale took over a rebooted version in 2004.

"We are incredibly proud of the long-running success of The Soup. [The show] has delivered countless laughs and unforgettable episodes, and we are grateful to the talented team's fearless wit and clever approach week after week," E!'s exec vp programming and development Jeff Olde said in a statement Wednesday, adding of its host: "Joel took the show to new heights for more than a decade, and his irreverent humor and unique brand of comedy as captured so perfectly on The Soup will be missed."

To be sure, The Soup has long had a complicated relationship with its host network, which often serves as the butt of its jokes. (Hello, Kardashians.) Though never a Keeping Up with the Kardashians-sized juggernaut, the KP Anderson-run clip show has long generated enviable buzz and proved largely consistent, even as it bounced around the schedule…

"I loved doing The Soup for all of these years (86 to be exact) but am excited to solely focus on my acting career now," McHale said. "Thanks to all who watched and thanks to Kim Kardashian's ass for all that it's done for me and my family."
This makes me wonder if the show is ending for business purposes, like it wasn't making enough much ad money to justify the cost, or if McHale wanted out finally. I saw a show on Hulu called A Day in The Life with Joel McHale (they have episodes with other celebrities too) and he just seemed so busy. Joel has The X-Files coming out too! That premieres on January 24th and I cannot wait.
I used to watch The Soup, but something weird happened where my DVR was taping every single airing instead of just the new episodes and I stopped. (Blame Comcast.) Plus, as lame as this is to say, it started to feel like work to watch it. They would make awesome pithy jokes to stories I'd covered and I'd feel inadequate, like I should have come up with that. Some of their ongoing jokes fell flat for me, like mankini, but overall it was a great show that found real gems on television, particularly some of the most bizarre reality shows, and came up with clever memes. They weren't afraid to be obnoxious and edgy or to call out the Kardashians and I appreciated that. I shouldn't talk about The Soup like it's dead already, we have a few weeks left! I'm not going to pour one out for The Soup yet, I'm going to pour that into a glass on Friday night and laugh my ass off. I've taken it for granted for too long.
At least this move opens Joel up for a Community movie. I haven't heard anything, but I will gladly spread that rumor.
Both of these videos are not exactly safe for work.

This is what I'm referring to in the title