Dwayne The Rock Johnson had a terrible pet tragedy in September when one of his adopted French bulldogs, Brutus, ate a poisonous mushroom and passed away. Before that incident, he had to save Brutus and his brother, Hobbs, after they jumped into his pool. All of this happened right after he adopted the dogs, so he had to deal with a lot of stress and sadness in a short period of time.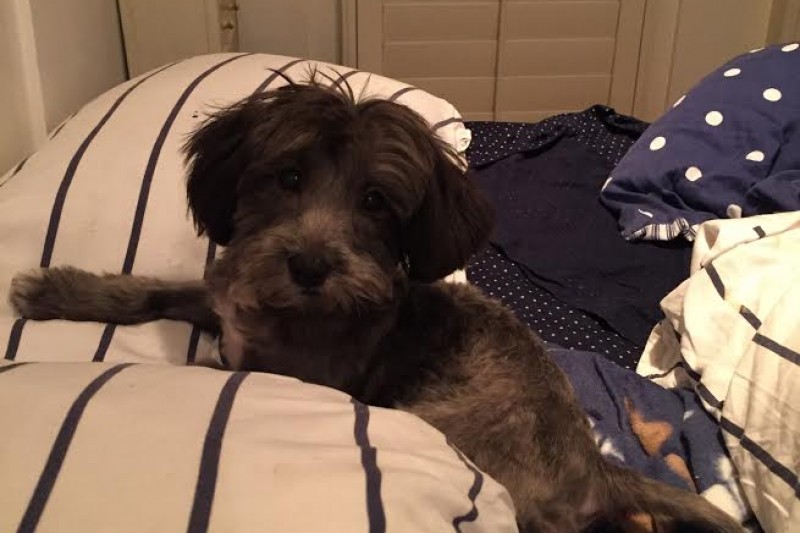 We know The Rock is a pet lover with a big heart, and he recently proved that again by donating money to a rescued dog who has a grade 5 heart murmur. The sweet black dog, above, was abandoned at the North Central Shelter in LA with wire wrapped around his mouth. The shelter removed the wire and gave the puppy stitches, but more medical examinations revealed that he had a heart murmur which may require surgery to fix. The organization Saving Spot Dog Rescue took the puppy in, named him Dwayne after The Rock because they want him to be a fighter, and started a GoFundMe page to help pay for his medical expenses. Actress Michelle Trachtenberg alerted The Rock to the issue, and he stepped up with a nice donation. Here are their tweets in order.
This puppy named after @TheRock was tortured, abandoned! He needs our help for life saving surgery https://t.co/dluEbN2smL @SpotRescueDogs 💔

— MichelleTrachtenberg (@RealMichelleT) November 24, 2015
This is rough to read about. Poor lil' pup abandoned w/ a wire wrapped around his mouth. I'll help. Stay strong pup. https://t.co/amEAOSn2yO

— Dwayne Johnson (@TheRock) November 24, 2015
Thx buddy. Lots of good people chipped in for the lil' guy. Plus the pup has the Coolest. Name. Ever. 😂🙏🏾 https://t.co/jHKOGzQwbQ

— Dwayne Johnson (@TheRock) November 26, 2015
The Rock gave $1,500 dollars and of course raised awareness for this cause. The GoFundMe campaign for Dwayne has been fully funded. Saving Spot writes in an update that they are so grateful to The Rock and that the additional funds will go to help the other dogs in their care. I love a good happy ending.
Did you guys see the National Dog Show yesterday? I was rooting for the black French bulldog, Ruby, with the smooth chihuahua as my second pick. Spoiler – the dog with the best hair, the skye terrier Charlie, won. You can see the video highlights here.
Here's a cute video The Rock posted with his dog, Hobbs, wishing everyone a happy Thanksgiving! That lazy dog is just not getting up.
Oh and The Rock was named Man of The Century by Muscle and Fitness Magazine. He shared this workout video and inspirational story about his motivation for getting fit at 14.
Bonus photo of Dwayne. You just know that this dog will get a good home.