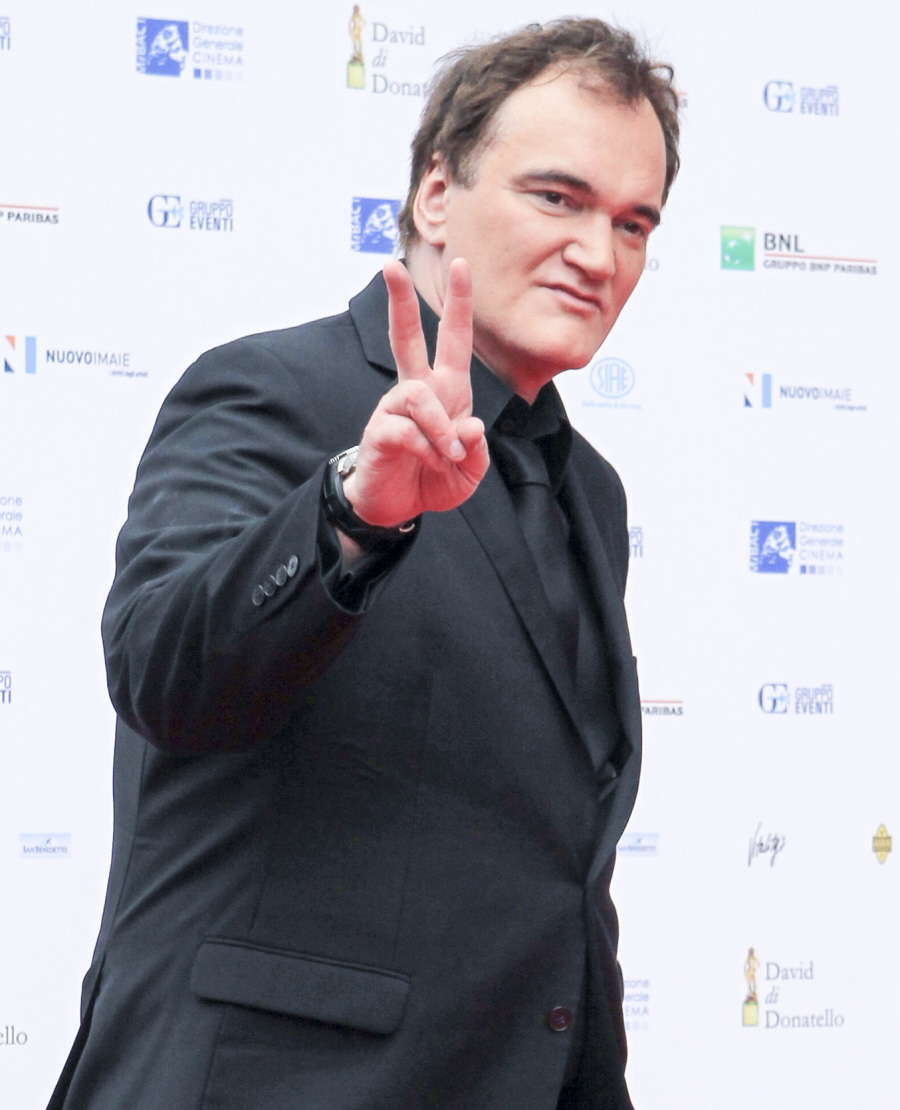 In what has become one of the most nonsensical stories of the awards season, Quentin Tarantino is still pissing off police officers around the country. QT attended a Rise Up rally back in October, and when he spoke at the rally, he referred to certain cops as "murderers." Those cops he was referring to? Those were the cops who actually shot and killed unarmed civilians. QT has clarified his statement, but police unions around the country are set to "protest" his new film, The Hateful Eight. The controversy has become quite heated, and the NY Post has taken sides, running multiple stories about "cop-hater" Tarantino. Over the weekend, the Post ran yet another story, this time saying that Tarantino has been lying for "decades" about doing some jail time for unpaid tickets.
Quentin Tarantino — under fire for recent comments about police violence — has claimed for decades that, as a young man, he served time in a Los Angeles County jail. One problem: The LA County Sheriff's Department has no record of the filmmaker ever being in its system. At The Post's request, the department searched its files back through the 1980s, when, according to Tarantino, he would have been incarcerated.

"A check of Los Angeles County Sheriff's Department jail records revealed no evidence that Mr. Tarantino was ever incarcerated in our jail system," said Capt. Christopher Reed of the Sheriff's Office. Tarantino used to tell the story as evidence of his outlaw bona fides. But on a recent episode of "Real Time with Bill Maher," Tarantino, now 52, recounted it again to claim solidarity with police protesters — that he understands what it means to be frightened of cops.

"Back when I was in my 20s and broke, I was a little scared of the cops, all right?" Tarantino told ­Maher. "And oftentimes, I had warrants out on me for traffic stuff that I never took care of and everything . . . I'd get stopped, and I'd have to do eight days in county jail."

The Post spent a week calling and e-mailing Tarantino's agent, lawyer, publicists and Harvey Weinstein, who produced the director's upcoming movie, "The Hateful Eight." The Post also left voice mails on Tarantino's personal phone line. No one responded to any of the inquiries.

As a budding film geek, Tarantino worked at LA's Video Archives rental store for five years — a story key to his creation myth. In the ­Maher appearance, he said he couldn't pay his traffic tickets because he earned only $10,000 a year. It's a claim he has made as far back as 1992, when he told Paris Voice a version of the same story. "If I had a brush with the law, I think I'd wise up fast," he said. "I spent eight days in the county jail on traffic warrants once. At first, I thought, 'Wow, I'm going to pick up some great dialogue in here.' But then you realize what a waste of time it is. They treat you like an animal, and nobody wants to be treated like an animal."

Tarantino's lone brush with the law, according to the LA County Sheriff's Department, is a 2000 charge for driving without a license and failure to appear in court. He paid a fine to avoid jail.

"A check of court records revealed that in August of 2000, he paid a fine of $871, which included court costs, for violation of driving without a license," Reed said. The payment was "in lieu of an eight-day sentence imposed by the court," the captain added.
I wonder… would Tarantino's record be accessible via Freedom of Information Act requests? I'm not so sure it would be, which might mean that the NY Post paid off some LA county cops for a version of the story that they wanted to print. Also, I don't know how California does it, but in some states, those low-level violations (like driving with an expired license, or parking tickets) are expunged from a person's records after several years if the situation is dealt with, either by paying the fines or jail time. Or, you know, maybe Tarantino is lying. It seems like a weird thing to lie about so consistently, in interview after interview.
Last thing: Page Six also claimed, weeks ago, that Harvey Weinstein was pissed about this whole QT-cop situation. But Harvey went to the Hollywood Reporter and made this statement: "Bob and I are getting along better than ever with Quentin. I think he's been misunderstood and misinterpreted. I respect his right to speak out for what he believes in, while at the same time respecting the sacrifices made every day by the overwhelming majority of our police officers. The two are not mutually exclusive." Good luck, Harvey.
Photos courtesy of Getty, WENN.