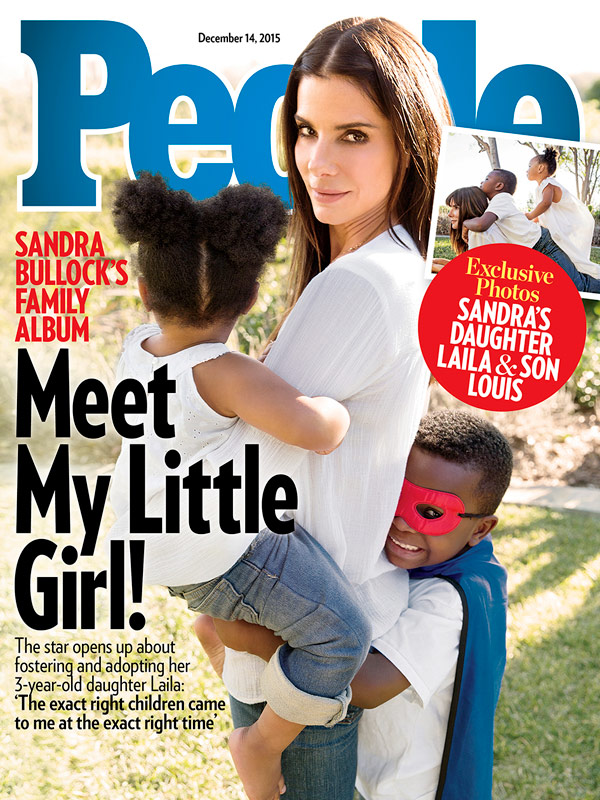 When Sandra Bullock was promoting her film, Our Brand is Crisis, she was asked about the rumors that she had adopted a daughter. Those stories were based on paparazzi sightings of Sandra, with US Magazine reporting that "she was photographed carrying a baby girl into an LA hospital" on September 27th. So they weren't entirely unfounded reports, only Sandra denied them. About a month later, she told BET that she hadn't adopted a second child. "There's only one adopted child in my household and his name is Louis. If I had a second adopted child everyone would be hearing about it. I would be loud and clear and say 'yes, I have officially adopted a second child.' Now, Louis will be it."
Do you notice how carefully she worded that denial? She said "there's only one adopted child in my household." In the new issue of People, Sandra admits that she did adopt a girl, a three and half year-old daughter named Laila, but reveals why she had to keep Laila's adoption a secret – Laila was a child in foster care and the adoption process would have been jeopardized if the news got out before it become official. She had signed a "confidentiality agreement stating that you will not release any photos of the child to a third party to protect their identity" and she was still being evaluated by CPS as a potential adoptive parent. Tabloids were threatening to publish the photos, which could potentially send Laila back into the foster care system. In order to shut it down and ensure that the adoption went through, Sandra had to get lawyers involved and have the publications threatened.
In People, Sandra, 51, explains that she started the adoption process about three years ago when her son, Louis, now five, asked for a sibling. Now that Laila is in their lives Sandra says "there's no doubt in my mind that she was supposed to be here." She also has a lot of touching things to say about helping Laila adjust to her new family after the little girl had bounced around in foster care. I have to admit I did get teared up a few times while reading the full article. Here are some highlights. The full article is very long and detailed, I'm surprised at how much Sandra opened up, and it's worth picking up the print edition for.
On helping Laila adjust to her new life and family
I knew she was scared, and all I wanted was for her to know Louis and I weren't going anywhere. Something I learned in Louis's preschool was the saying "Mamas always come back." and this was what I kept saying to her. It requires sleeping on the floor next to her bed and holding her hand so she can go to sleep; it requires being A-OK with a little being attached to your body at all times during the day. Saying "I'll be right back" or "I'm taking Louis to school" wasn't enough. I had to walk her through all the steps of where I am going to assure her I wasn't leaving her. That's what you do.

On making Laila feel comfortable and safe
With an older child they are experiences that they have already had that molded their personality: some good and many that are heartbreakingly sad. As a parent of a child who has experienced this, you have to be prepared to psychologically educate yourself to the steps you will need to take in order to repair any damage that may have taken place before your arrival.

On having to hide Laila before the adoption went through
We had a scary emergency-room run, and unbeknownst to me, a photographer had followed us and taken a photo of us in line… The next day, I learned that a photo of her was being shopped around for sale to every outlet around the world. I had promised and legally agreed to protect her from something like this, and here I was chasing down lawyers — having them begging everyone to keep her safe… thankfully we were able to get to all the periodicals and prevent the publication of the photos.

Her kids know to go inside if they hear helicopters or a drone
She now knows that when we hear a helicopter or a drone, it's time to run inside. Usually Louis grabs her and carries her under the trampoline.

On saying she hadn't adopted another child
Thank God it was asked the way that it was, because she wasn't adopted at the time. So all I said was that there was only one adopted child in my home…
[From People Magazine, print edition and online, headers added]
Sandra was asked if she's ever considered marrying again, and she didn't talk specifically about her boyfriend, photographer Bryan Randal, but she did say that she wants to be in a committed relationship with "lots of love and laughter." (It's clear that Bryan is still in her life because he's credited with the photos for the article.) Sandra also revealed that Laila is a jokester and that she absolutely loves Bruno Mars and knows all the words to his "appropriate" videos.
I came into this story skeptical that Sandra wasn't open with the press about the fact that she had adopted a second child, but I fully understand why she fudged a little when so much was at stake. I also have a lot of respect for her for adopting a daughter from the foster care system and being so committed to helping her adjust. It's a sweet story and Laila will surely live a charmed life with her protective big brother and famous mom.