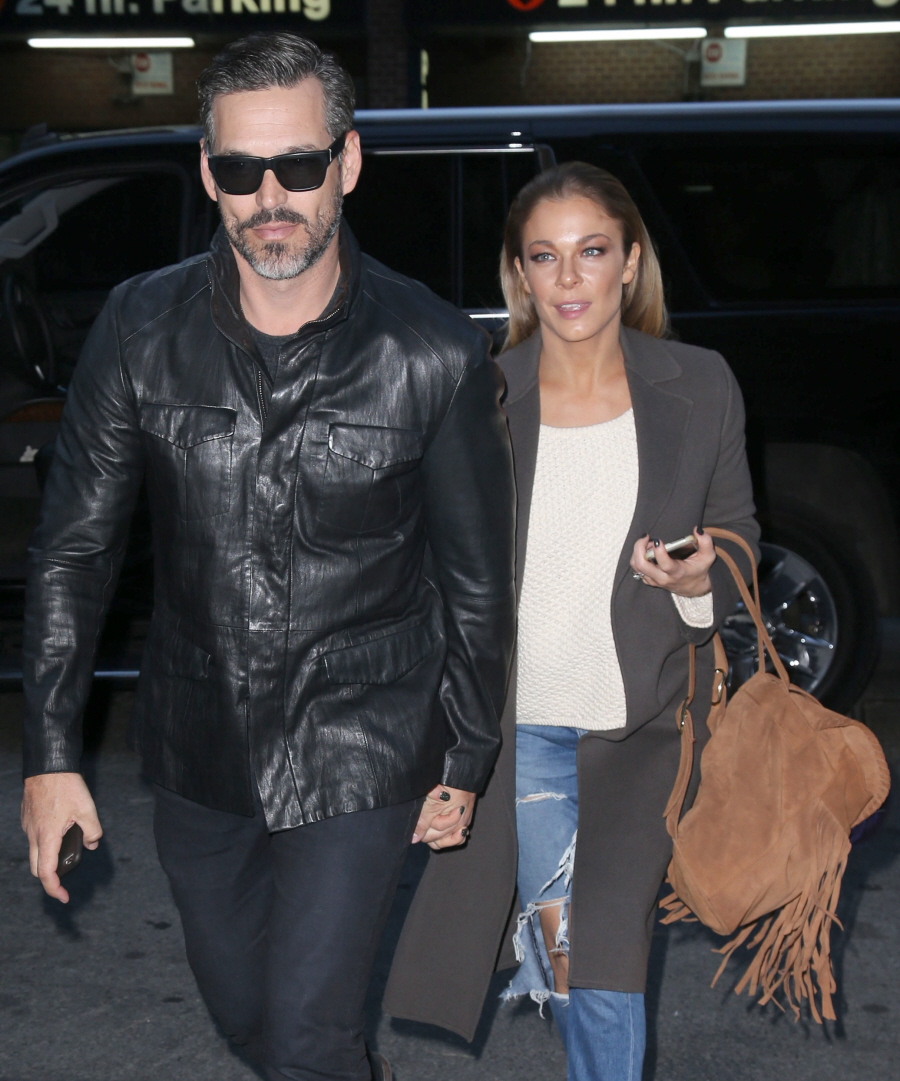 LeAnn Rimes and Eddie Cibrian were out and about in New York all last week. I'm including an assortment of photos from the multiple pap strolls. Why the sudden strolling? Because LeAnn is promoting her very sad Christmas album/EP. And she's taking anything she get to shill, including an appearance on Dr. Oz's show yesterday. CB watched it (and transcribed all of these quotes, thanks CB!) and she said LeAnn talked SO MUCH and was SO CRAZY. So, like usual? Except this appearance included LeAnn singing a jingle for Dr. Oz about poop. I sh-t you not. But the real purpose of LeAnn's interview was to talk about "body shaming" and how everyone hates her and she pays attention to what everyone says about her and she's totally over it. Or something. Some assorted quotes:
Dealing with years of "body bullying": "It can be very difficult. I grew up in the public eye from the time I was very young… I was too big when I was younger, had baby fat. Everybody goes through that awkward stage and then I got healthy and then there was always that I got too skinny. There's always going to be something… So it's been a really big lesson for me on how to censor in myself and not having to listen to so many opinions. It's gotten so bad these days with social media and everything. It's a breeding ground of hatred and it's very sad. I've had to deal with it and it's hit me personally it's been very hard at times. But I'm in a good place now. I've gone through all of this.

Whether she was ever "too skinny": "I was very fit. I would work out a lot, I love working out. I stay healthy. I was going through a ton of stress at that point in my life. I could eat my husband under the table at that point and I could not keep weight on. People give me crap all the time about being in bikinis which I think is so funny because I've had psoriasis all my life and I never was able to walk out in a bikini and feel confident and when I got my skin under control and then I got fit I was like 'I'll walk around naked if I could!' As far as my weight goes, I definitely feel like I'm better with a little more weight on me but I know I wasn't unhealthy at the time it was just the way my body was reacting to what was going on in my life."

Going into treatment/rehab/spa for depression: "There were moments when I definitely did not want to get out of bed and really had some serious depression. I know I'm not the only person who has ever felt that and that's why I've always wanted to be very open about it. When I did get treatment for it, it was funny because people thought that 'she must have an eating disorder or something must be going on – drugs.' People just didn't understand that was what it was – anxiety and depression."

Fighting for her love of Eddie Cibrian: "I'm one of these people that wants to fix things and then I don't want people to believe something that's not – all these lies about me because that's not who I am. Then I started to learn how to let go and realize that's so not me. There's LeAnn Rimes like the human being and this whole other story that's playing out around you. It made our relationship super strong. We fought a lot to be together. We have this bond that's unlike most. We've been through a lot together and have supported each other through a lot."

Taking 40 pills a day: "I do take a lot of vitamins a day. I don't know exactly how many. I take B12 shots. I have an autoimmune disease so I'm constantly trying to keep my immune system up… I do I take fish oil, I take digestive enzymes. So yes I do take a lot of vitamins. I do take prenatals and not because anything is growing inside of me."

Whether she'll have a baby: "Maybe one day. I have two wonderful stepsons that I adore. So much going on. We have talked about it but not happening just yet."

How she keeps her marriage strong: "Communication is key. I'm a big believer in therapy for myself. Eddie and I both have done that. It's great. It really keeps everything kind of open and continuing to move through things and there's things that you discover that you'd didn't even know were there. We're a blended family. I walked into two boys that were 2 and 6 at the time. It's a big shock to the system. We've really had to work through a lot of stuff and really try to blend a family. We are… feeling super comfortable about that and connected and really settled into that."
[From Dr. Oz's show, transcribed by Celebitchy]
Sigh… it's a lot of LeAnn to handle. While I don't doubt that she has struggled (and still struggles) with anxiety and depression, the gloss that she puts on her "rehab" treatment is laughable. She literally announced that she was going to rehab because people were making fun of her (plus she was "addicted" to Twitter), then proceeded to do some minor "outpatient" work at some facility that closely resembled a spa. As for all of the stuff about bullying… how quickly she forgets what she and her crazy friends did to Brandi Glanville. And I guess we're supposed to forget about the YEARS LeAnn spent Single-White-Female-ing her husband's ex-wife?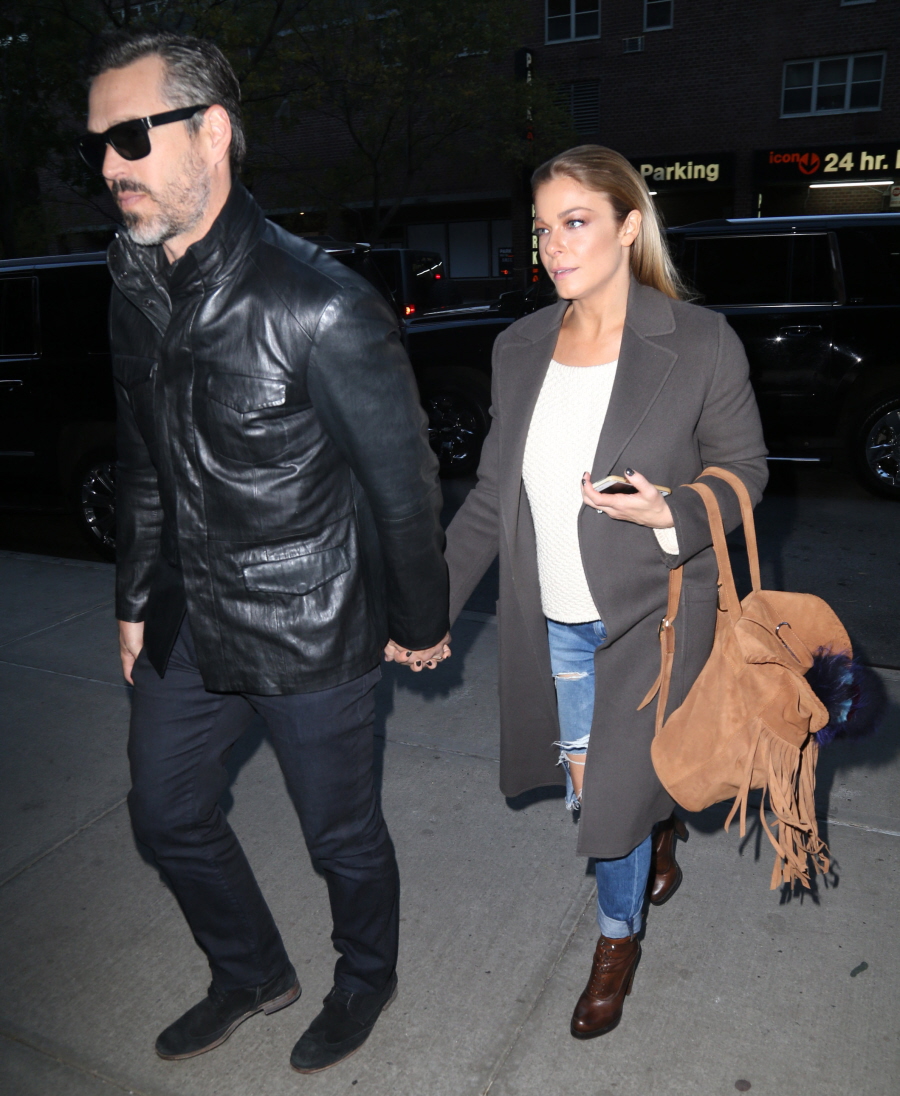 Photos courtesy of Fame/Flynet.