Melanie Griffith and Antonio Banderas have completed the asset-splitting portion of their divorce, which just makes me a little sad. They finalized their divorce back in July and this is the final step. I thought they would make it, and Antonio always speaks glowingly of Melanie, even after their split. Part of me was hoping for a reconciliation, but it was not to be. Anyway Melanie can go stare at her Picasso painting while getting in house spa treatments because she's getting a whopping $65,000 a month in spousal support. They have one daughter together, Stella, she's 19, so it's not like there are any minor children to provide for. They're just insanely rich. Melanie and Antonio also split the money they both made since 2004. They were married in 1996 but they had a post-nup. Here's TMZ's report:
Melanie Griffith and Antonio Banderas are officially single, after dividing a huge chunk of movie change.

According to final divorce docs, obtained by TMZ, Antonio made a lot of dough on "The Mask of Zorro," "Desperado," and "Spy Kids." He keeps all the cash from those flicks and she gets to keep what she made from her earlier work.

Melanie and Antonio split money from every movie either of them did between 2004 and 2014, including "Shrek 2," "Puss in Boots," "Machete Kills," "Expendables 3" and others.

It appears they signed some sort of postnup in 2004 which changed the financial deal of their marriage … they married in 1996 but it seems they kept everything separate from the date of their marriage until 2004.

Antonio is not getting out clean … he's paying her $65k a month in spousal support.

She gets the house in Aspen and they sold their L.A. mansion and split the profits.

And there's a lot of rich people's stuff that was divvied up. She gets a Picasso called "The Painter and His Model." He gets a pencil drawing by Picasso and another pencil drawing by Diego Rivera.
Well I guess it's done now. Antonio has had a girlfriend for about a year, she's a 30-something Dutch investment consultant, and judging from Melanie's Instagram they don't have hard feelings. (That they're making public at least.) Melanie even posted a throwback photo a few months ago of the two of them at the Shrek premiere. In case it looks like she's pining for Antonio, she had the tattoo with his name on it lasered off and she posts other throwback photos, with Don Johnson and her various exes. So I think she's doing fine. Plus Melanie and Antonio seem to be striving to be friendly for their daughter's sake. They even attended Stella's graduation together.
Oh and Melanie is selling the estate she got in the divorce, in Aspen, Colorado. TMZ has a video here and it looks incredible but the decor is not my style. My parents own a "log cabin" type house and their mission style furniture goes with the house and looks more polished than the rustic stuff in Griffin's mansion, but that's just my preference.
This is my favorite throwback photo from Melanie's Instagram:
Also, how amazing does Melanie's mom, Tippi Hedren, look? She's 85!!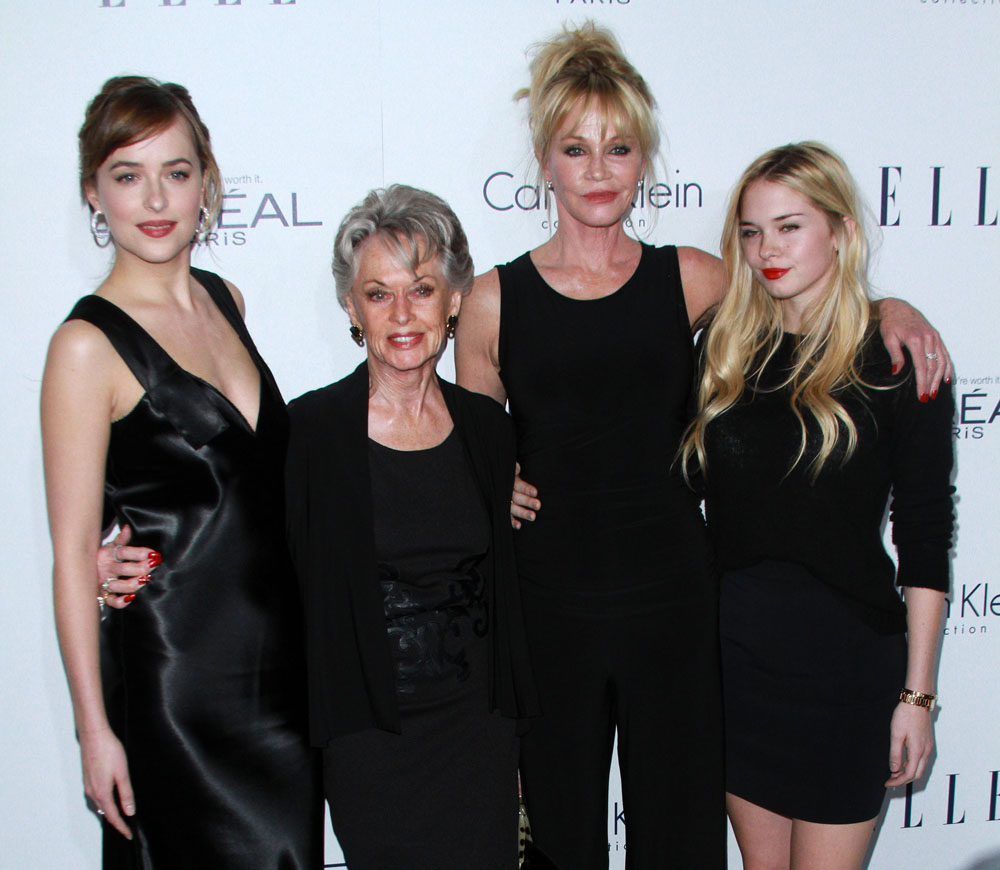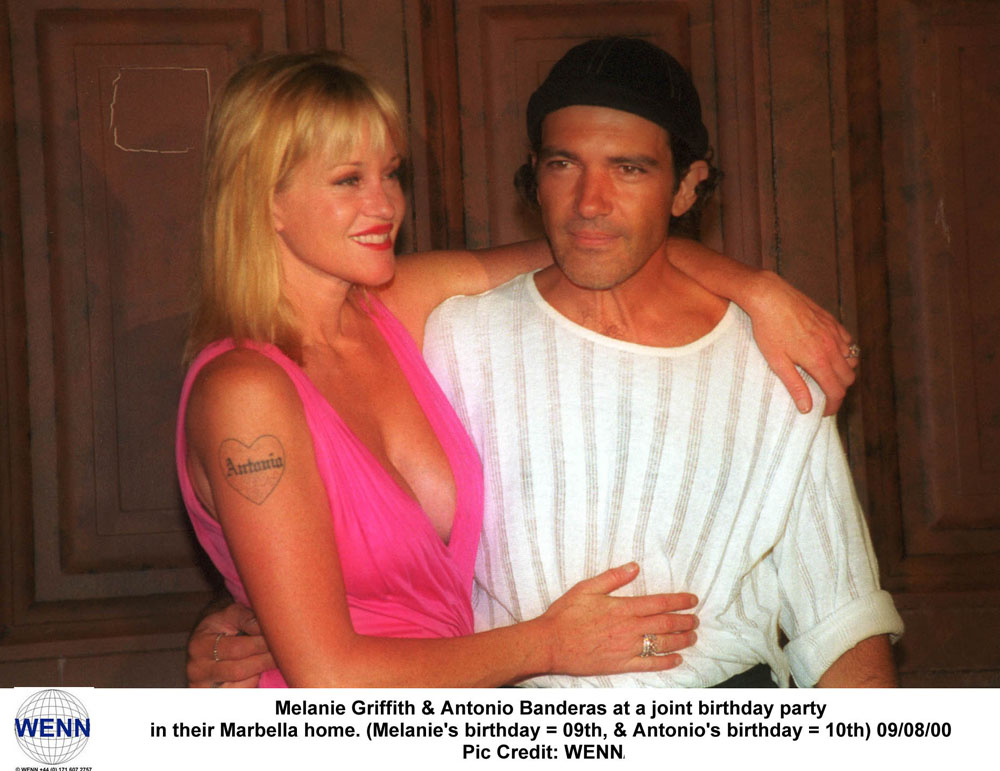 photo credit: WENN.com and Instagram/Melanie Griffith