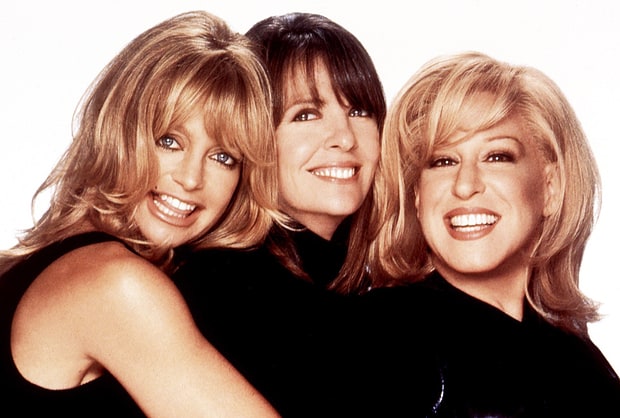 When rumors of Bette Midler, Goldie Hawn and Diane Keaton bringing a sequel to their hit 1995 movie First Wives Club surfaced a while back, I was excited. That project never got off the ground, but the talented trio is reuniting for a new film for Netflix.
The new movie is called Divanation, and in it the ladies play members of a hit singing group forced to reunite 30 years after a bitter split. Sounds like fun, huh? At least we know the ladies can sing! The film has yet to recruit a director and the script, written by Lisa Addario and Joey Syracuse (who co-wrote Bette's 2013 movie Parental Guidance), is still in the works.
Bette, who celebrated her 70th birthday on December 1, took to Twitter to announce the good news. Taking time off for her enthusiastic and frequent posting about the presidential race and other political issues (she really doesn't like Donald Trump) Bette tweeted, "Bit of a hot topic today because Netflix added #FirstWivesClub to their roster…and gearing up to make #divanation with me, Goldie and Diane."
Goldie – who is still not marrying long time love Kurt Russell – hasn't been in a movie since 2002's The Banger Sisters (with Susan Sarandon), so it will be great to see the 70-year-old actress back on screen. Her co-stars are still keeping busy, 69-year-old Diane is lending her voice to the upcoming Pixar film Finding Dory and Bette is taking on the role of legendary actress Mae West for an upcoming biopic written by Harvey Fierstein.
I love that Netflix is giving a platform to older actresses. Grace and Frankie, with Lily Tomlin and Jane Fonda is fantastic and reuniting these 3 great actresses is a wonderful idea – and they've already established that they've got great chemistry. I can't wait to see this movie!
Photos courtesy of Getty.