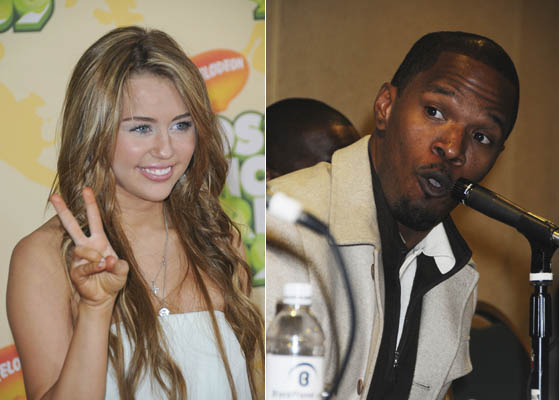 Jamie Foxx went on a shocking and unprovoked rant on Miley Cyrus on his Sirius radio show over the weekend. Along with his co-hosts, he ripped on Miley for getting offended after Radiohead refused to meet her at the Grammys. In a clip of the show posted on YouTube, you hear a female DJ telling Miley to "go make a sex tape" and Foxx agrees saying "go make a sex tape," the female DJ adding "with your daddy." Foxx then takes it farther "Do like Lindsay Lohan and start being a lesbian… put some crack in your pipe. Catch chlamydia on a bicycle seat." He want on to suggest that Cyrus try heroin.
Foxx has publicly apologized to Miley for his obnoxious comments. On the Tonight Show last night he initially gave the lame excuse that he's a comedian, but then told Miley he did apologize to her directly and said he would call her:
The Oscar-winning actor appeared on Tuesday night's Tonight Show with Jay Leno to admit that maybe… just maybe… he might have been a bit too harsh on the 16-year-old Hannah Montana star.

"I am a comedian, and you guys know that whatever I say, I don't mean any of it," he tried to explain to Jay. "And sometimes, as comedians, as we do, we go a little bit too far… There was a situation with Miley Cyrus, and I just want to say, I apologize for what I said. I didn't mean it maliciously."

As if that weren't enough, the actor looked directly into the camera to beg for mercy from the teen superstar. "Miley, I apologize, so I'll call you," he said. "I got a daughter too, so I completely understand."

Of course, the real test will come next weekend, when Jamie's new film The Soloist, co-starring Robert Downey, Jr., hits theaters and goes up against the current box-office champ, Miley's Hannah Montana flick.
[From OK! Magazine]
E! Online's Marc Malkin reported yesterday that Miley and her dad were disappointed by Foxx's comments, particularly since they've met him and are fans. Miley and Billy Ray Cyrus are said to have made the decision not to talk about the controversy in an attempt to let it die down. Now Miley looks like the wronged party for once instead of just a teenage girl making careless comments and offending people. Foxx and his radio buddies should have known better than to say such incredibly rude things about a 16 year old girl, but at least he apologized. A little more contrition would have been appreciated like "I was entirely in the wrong," instead of just "I didn't mean it that way."
I'm really looking forward to seeing The Soloist as it looks like an incredible film. This controversy should blow over by then, and hopefully Foxx's stupid comments haven't affected people's willingness to see his film.
Photo credit: PRPhotos/WENN.com