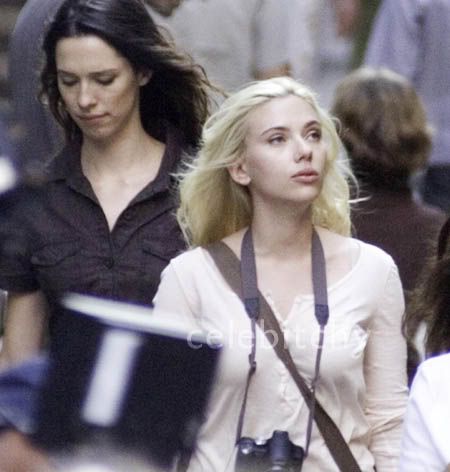 Scarlett Johansson is working on Woody Allen's new movie, tentatively titled Midnight in Barcelona in, predictably, Barcelona, Spain. My husband took me there for a long weekend a few months ago and we loved it. The shopping and sights are excellent and I cannot recommend it enough. It's also a great city for younger single people.
People were saying Johansson gained a little weight when she was seen out recently in NY wearing unflattering khaki shorts. She was with an unidentified guy, which commentors pointed out was her brother, Adrian, who is 30. It turns out there may be a good reason for her slight weight gain – she was living it up in Louisiana for several weeks this summer while recording her debut album. She was said to be visited by her new boyfriend, Ryan Reynolds, and she enjoyed margaritas, crawfish, and other local specialties. She also had frequent outings to Walmart and Albertsons.
If Johansson did gain weight, she seems to have lost it quickly. She looks fabulous in these pictures taken yesterday. She is seen with Patricia Clarkson.
Thanks to WENN for these pictures.