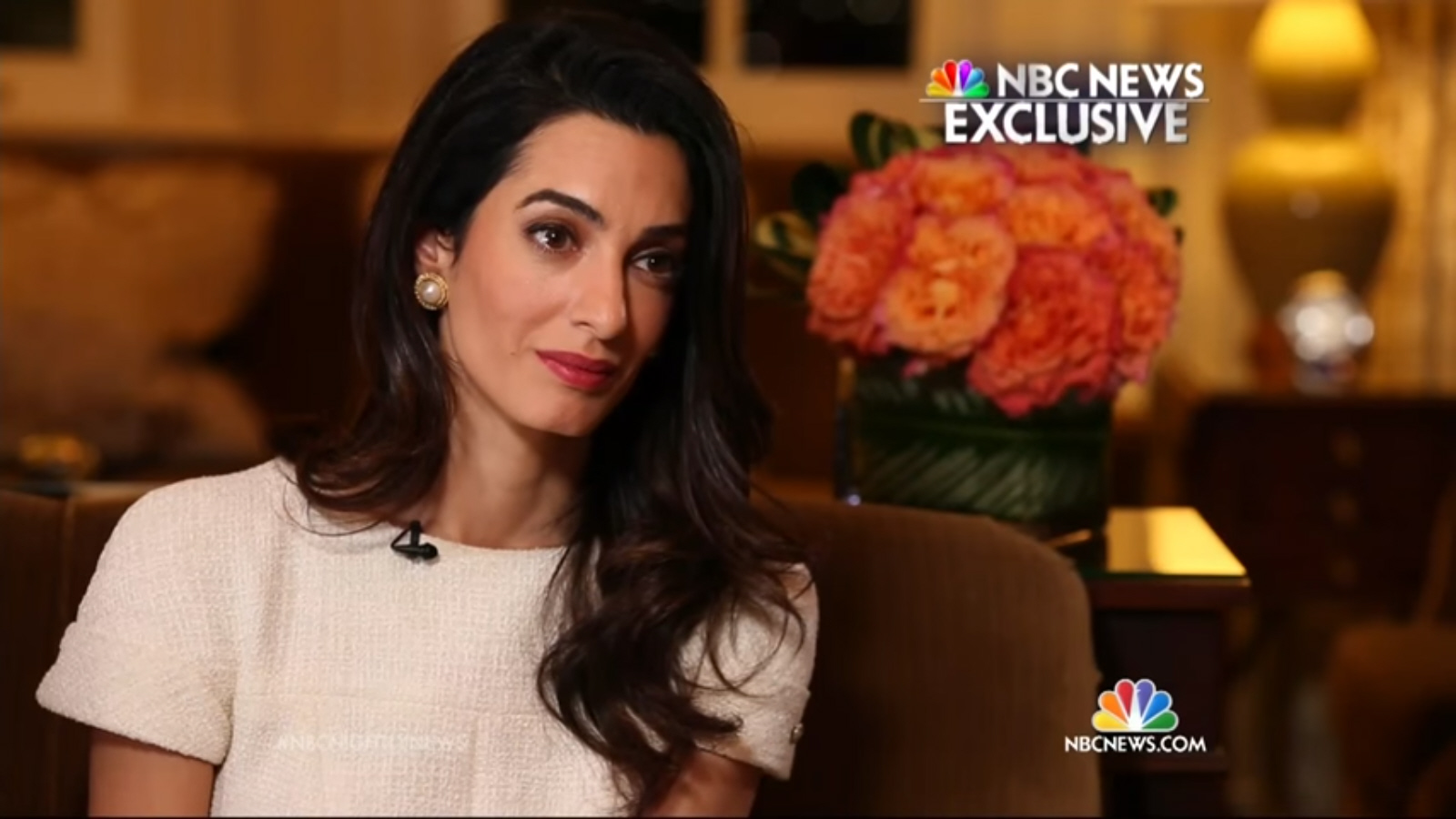 Amal Clooney has been suspiciously quiet for weeks now. We don't even know where she and George Clooney spent the holidays, do we? I kind of hoped/wished that the Clooneys-going-undercover was part of a strategy to do a big pregnancy reveal soon, but it doesn't seem like that's happening right now. Amal gave her first-ever TV interview to an American news outlet this week, but it wasn't about her marriage, her style or an Alamooney Baby. No, Amal was in Washington this week on behalf of her client, Maldives' former president Mohamed Nasheed. Amal has been working on Nasheed's case pro bono for months, and she was in Washington to gin up American support for the human-rights case from senators and Obama administration officials. Behold, the first time Amal has spoken on-camera to an American journalist!
Some superficial notes – I'm doubting a surprise pregnancy announcement is in the works, just because Amal looks as small as she's ever looked. Hair issue: much like the Duchess of Cambridge, Amal does have a hair-touching problem. It's not as bad as Kate's, but it's still there, especially in the glamorous beauty shots of Amal walking around Washington (that footage looks like unaired scenes from The West Wing). And did you see Amal's hot pink phone?! Amazing.
As for what Amal is actually talking about, first she drives home why Americans should care about the Maldives by name-checking ISIS. She says democracy is "dead" in the Maldives because "Literally, if there were an election now there would be no one to run against the president. Every opposition leader is either behind bars or being pursued by the government through the courts." But here are the bits that everyone cares about.
How Amal feels about celebrities like Angelina Jolie working on human rights issues: "I think it's wonderful that celebrities would choose to spend their time or energy or, you know, the spotlight that they have to raise awareness about these causes. I don't really see myself in the same way because I'm still doing the same job that I used to do before."

How she gets more attention now that she's Mrs. Clooney: "If there's more attention paid – for whatever reason – to that, then I think that's good. I think there is a certain responsibility that comes with that. And you know, I think I'm exercising it in an appropriate manner by continuing to do this kind of work."
Amal does not see herself as a celebrity! She's not Angelina Jolie because Amal has always had a full-time job in human rights. I actually have to give Amal some credit there, because even though she was being interviewed by a "real journalist," the Jolie question was framed in a way that could have easily given over to a shade-tastic answer in which Amal criticized human-rights weekend warriors or limousine liberals or whatever. She didn't do that.
Amal's co-counsel has been posting photos of Amal all week on his Twitter: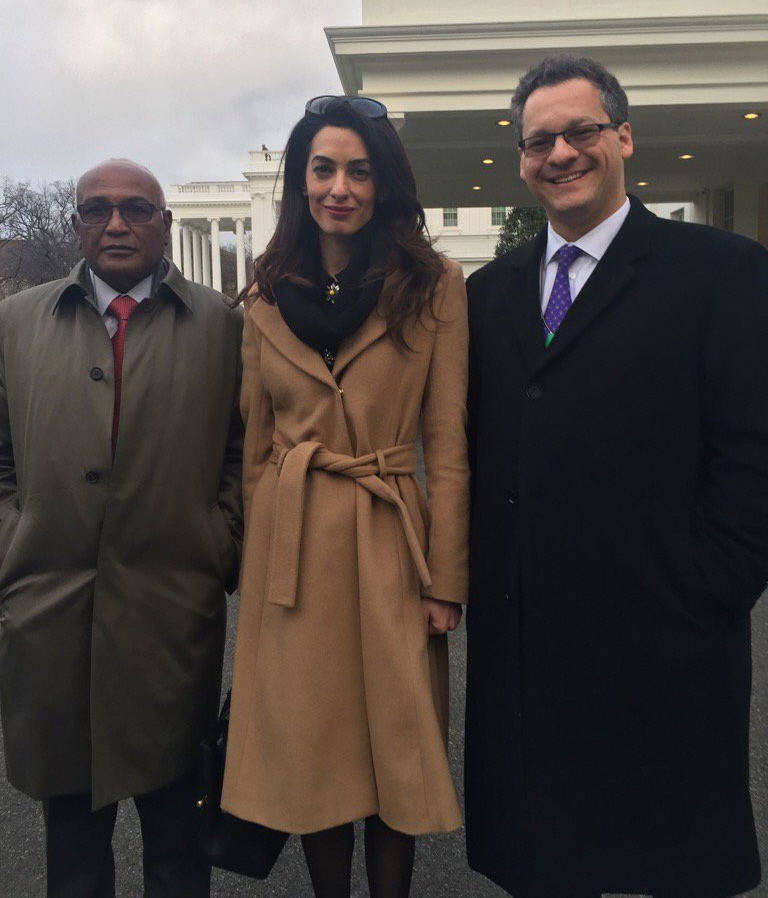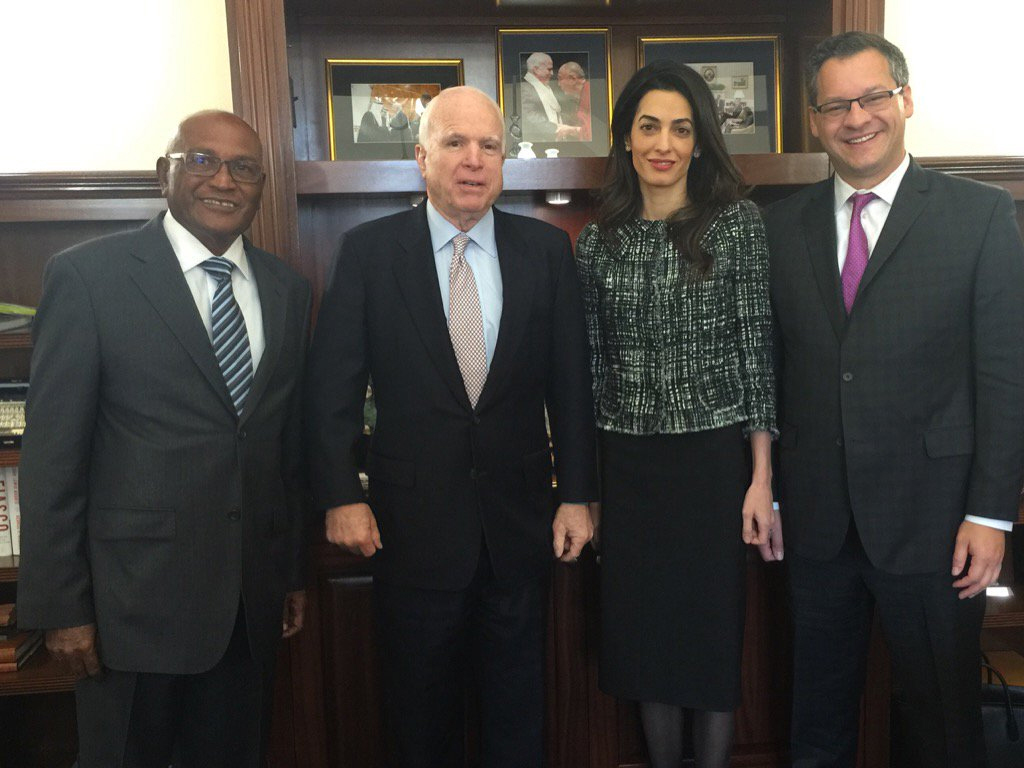 Photos courtesy of Jared Genser's Twitter, screencaps from NBC.