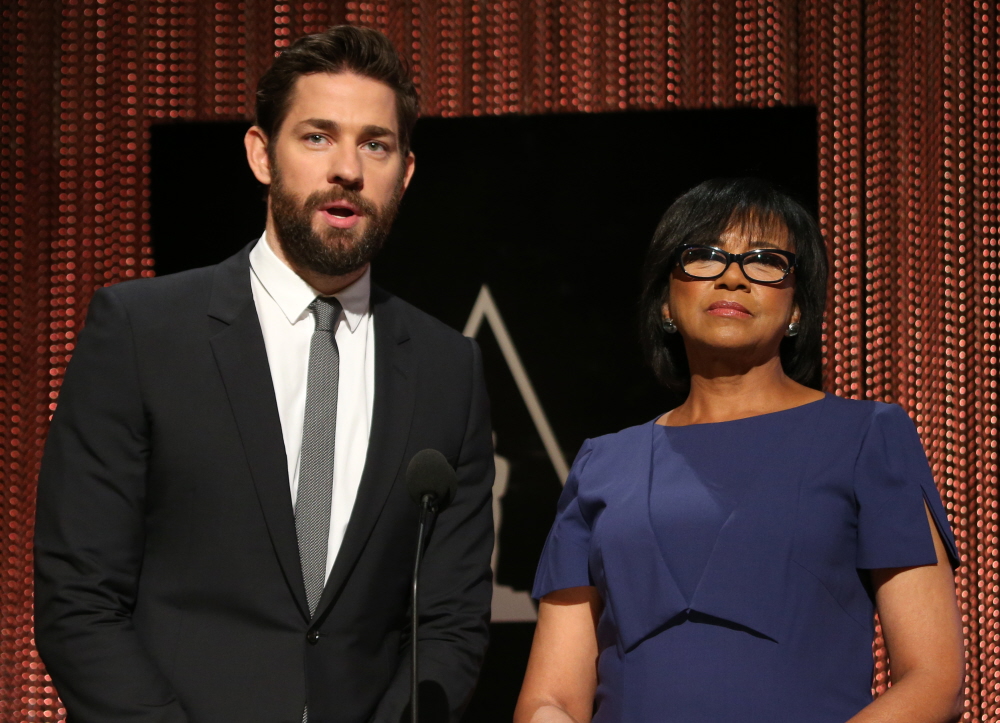 As we discussed earlier, Chris Rock is currently feeling the pressure to possibly pull out of hosting the Academy Awards. Also feeling pressure? Cheryl Boone Isaacs, the president of the Academy and an African-American woman (the first African-American woman to hold that position). Cheryl was openly critical of her organization last year when the #OscarsSoWhite debacle first broke, but now it's the second year in a row with no actors of color up for any awards and with all of the Best Picture nominees being films about white people. Boone Isaacs released a statement last night about the ongoing controversy:
"I'd like to acknowledge the wonderful work of this year's nominees. While we celebrate their extraordinary achievements, I am both heartbroken and frustrated about the lack of inclusion. This is a difficult but important conversation, and it's time for big changes. The Academy is taking dramatic steps to alter the makeup of our membership. In the coming days and weeks we will conduct a review of our membership recruitment in order to bring about much-needed diversity in our 2016 class and beyond. As many of you know, we have implemented changes to diversify our membership in the last four years. But the change is not coming as fast as we would like. We need to do more, and better and more quickly.

"This isn't unprecedented for the Academy. In the '60s and '70s it was about recruiting younger members to stay vital and relevant. In 2016, the mandate is inclusion in all of its facets: gender, race, ethnicity and sexual orientation. We recognize the very real concerns of our community, and I so appreciate all of you who have reached out to me in our effort to move forward together."
My thought: she's doing what she can do. She's not in charge of who gets hired for what project, and she's not the face of diversity at a studio level. But she can change the makeup of the Academy voters and she can change the way minorities are represented within the Academy. I would also make a suggestion that Boone Isaacs put her finger on the scale about some things, and actively participate in some Oscar campaigns for more diverse films, like she could host Academy screenings for films that are more diverse and give those films the stamp of approval, you know?
Meanwhile, David Oyelowo presented Boone Isaacs with an award yesterday for MLK Day. Oyelowo was notably snubbed for an Oscar last year for his work as Martin Luther King Jr. in Selma, and he had harsh words about the Academy (not really Boone Isaacs specifically). Some highlights:
"The Academy has a problem. It's a problem that needs to be solved. A year ago, I did a film called Selma, and after the Academy Awards, Cheryl invited me to her office to talk about what went wrong then. We had a deep and meaningful [conversation]. For 20 opportunities to celebrate actors of color, actresses of color, to be missed last year is one thing; for that to happen again this year is unforgivable… The reason why the Oscars are so important is because it is the zenith, it is the epitome, it is the height of celebration of artistic endeavor within the filmmaking community. We grow up aspiring, dreaming, longing to be accepted into that august establishment because it is the height of excellence. I would like to walk away and say it doesn't matter, but it does, because that acknowledgement changes the trajectory of your life, your career, and the culture of the world we live in… This institution doesn't reflect its president and it doesn't reflect this room. I am an Academy member and it doesn't reflect me, and it doesn't reflect this nation."
That made my chest hurt. David really did want an Oscar nomination. Despite what people say, everyone really does want the nomination. They want to be acknowledged by the most prestigious film organization in the world. They want to feel like their voice, their art, their story is being represented. And for a second year in a row, they were told to suck it.
Photos courtesy of Getty, WENN.