Tuesday afternoon, I was reading gossip and thinking about the next day's stories, as I often do. I came across Bristol Palin's sad Patheos blog, and a blog post she wrote just this week. Bristol was throwing a hissy fit because Ted Cruz had the audacity to "slam" Sarah Palin after reports were circulating about Palin possibly endorsing Donald Trump and not Ted Cruz. Bristol bristled because, "Cruz's flip-flop, turning against my mom who's done nothing but support and help him when others sure didn't, shows he's a typical politician. How rude to that he's setting up a false narrative about her!" Guess what? Sarah Palin just endorsed Donald Trump. So… it wasn't so much a false narrative as Ted Cruz reacting to something that was happening.
Donald Trump just landed a very special deal – a presidential endorsement from Sarah Palin.

"I am proud to endorse Donald J. Trump for President of the United States of America," Palin said in a statement provided by his campaign on Tuesday.

"I am greatly honored to receive Sarah's endorsement," Trump said in the statement. "She is a friend, and a high quality person whom I have great respect for. I am proud to have her support."

The former Alaska governor and vice presidential candidate will officially make her allegiance known Tuesday night during a Trump rally at Iowa State University in Ames, Iowa. She will also join Trump for two events on Wednesday, in Norwalk, Iowa, and Tulsa, Oklahoma.

Palin and Trump have long admired each other, and the billionaire businessman has said he would "love" to have her as a member of his Cabinet. ("She's really a special person," he said in a July interview.) The two expressed their mutual respect for each other in August when Palin interviewed Trump for One America News, and they joined forces again in September to protest the Iran deal with a rally on Capitol Hill (along with Ted Cruz and others).
As for the actual endorsement of an orange buffoon by a cut-and-run governor, I think this one is pretty obvious. I mean, I would have been shocked if Palin had endorsed Jeb Bush or Chris Christie. But vapid reality-star famewhores stick together, so of course Palin endorsed Trump. And when they fall out (probably two months from now or less), it will be epic and televised and half of the beef will be on Twitter.
And I don't think it was ever a realistic possibility that Palin would have endorsed Ted Cruz. I'm not trying to start a flame war or anything, but I'm sort of a Ted Cruz Birther, and I suspect Sarah Palin is the same way (aw, similarities). I don't think Cruz is eligible to be president of the United States, simply because he was born in Canada. I'm not saying his citizenship is in question or anything, I'm just saying that if you were born in another country, you don't get to be POTUS. And after eight years of birther nonsense about Barack Obama being born in HAWAII, it's hysterical for the worm to have turned so magnificently.
PS… Sarah Palin's oldest son, Track, was arrested in the Palin family home in Wasilla on Monday night for assaulting his girlfriend and possessing an AR-15. You can read about the incident here at Gawker.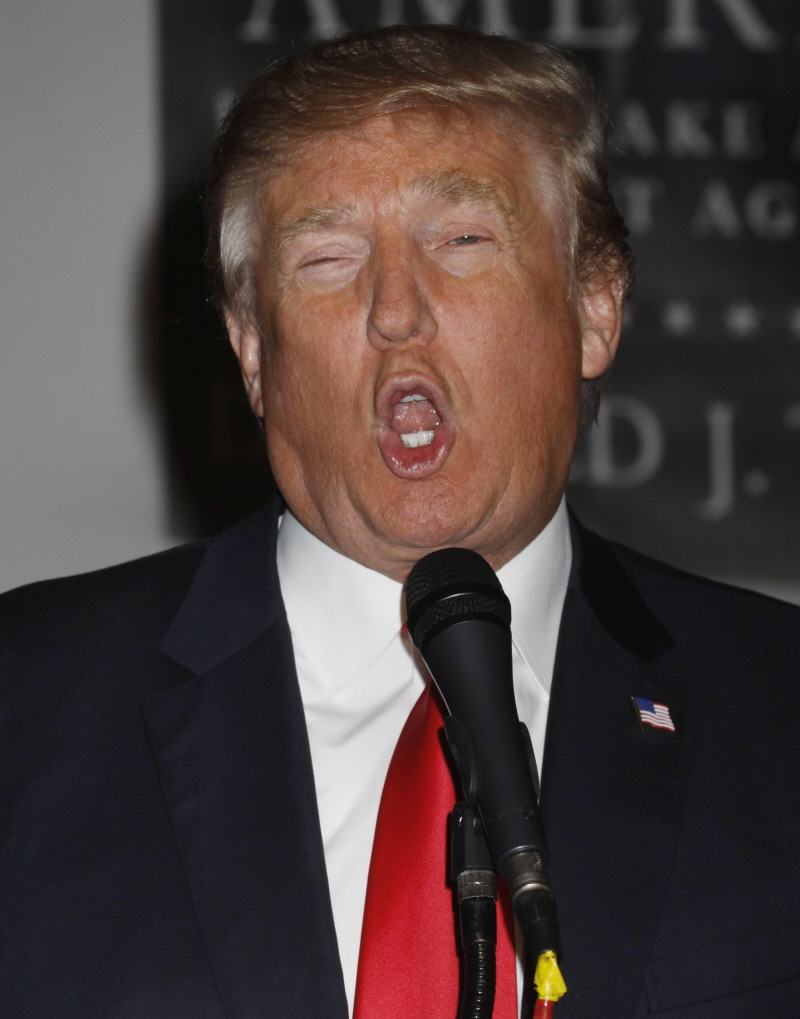 Photos courtesy of Fame/Flynet and Getty.