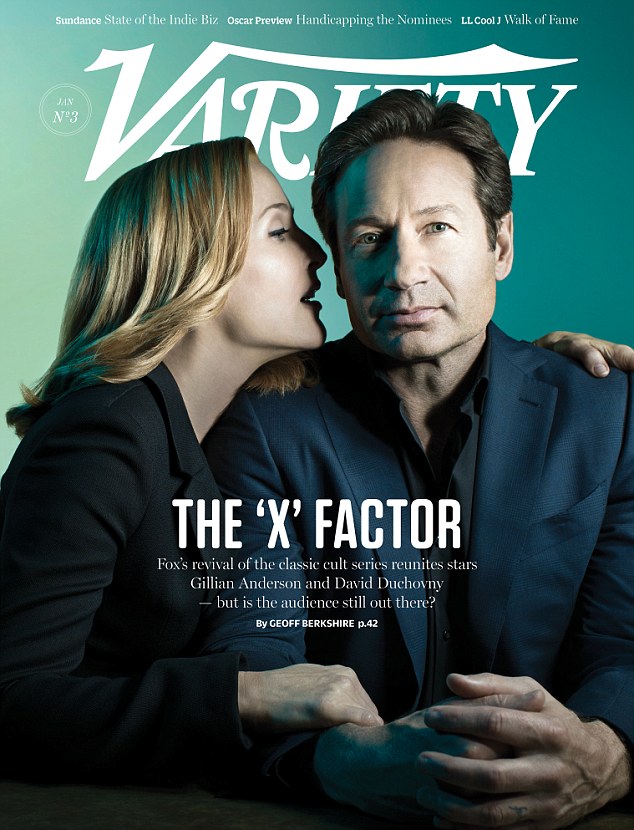 I'm so excited for The X-Files premiere on Fox, which is this Sunday and Monday. (I just set my DVR!) It's getting bad reviews, but I watched the movie with the villain who was just a talking head (ok I watched it twice), and I'm going to watch all six episodes of this show no matter what. EW says it stars out poorly but picks up in the third episode, which is good enough for me. (Incidentally, creator Chris Carter wrote the poorly reviewed first episode.) I just love these characters so much and I want to see what happens with them.
As promotion for the show, David Duchovny and Gillian Anderson cover Variety. Their quotes about each other remind me of their flirty giggly joint appearance on Jimmy Kimmel, where Anderson was practically falling all over Duchovny. I floated the theory that they're boning and some of you said it's been on between them for a while while other people insisted Anderson is just a goofy person. In Varity, they don't exactly gush about each other but it sounds like they thoroughly enjoy working together. Maybe that's because it's on between them!
Duchovny on how much better they get along now
"The crucible of doing that show made monsters out of both of us. Once we got to step back, it was like, 'Oh, wow, we really like each other. I didn't know that was going to happen.'

"The way we work together has changed. Whatever rapport we have as actors, we earned. It's nice to be able to play that without ever even feeling like you're playing it."

Anderson on working with Duchovny
"Our relationship has definitely become a proper friendship over the last few years. I think we're more on each other's side. We're more aware of the other's needs, wants, concerns, and mindful to take those into consideration— and just sharing more about our experiences in the moment, under the sudden realization that we're both in this together, and wouldn't it be nice if it were a collaboration?"

Duchovny on whether they would do a longer series
"Gillian and I have talked about (doing more episodes), and then we just stop because we get to 2023 and we still haven't found a date we can do it. It's like, 'Let's just wait and see what happens after this,' and then we can start to talk seriously about whether we can make it work again."

Creator Chris Carter dismisses the bad reviews
"What seemed to be under review was the fact that we were coming back at all. They were reviews of our intentions rather than reviews of the show itself."
In terms of whether the X-Files will come back on a more permanent basis, I think that's down to how this six episode arc performs more than to Duchovny and Anderson's schedules. They're both busy people but if there's a big demand I bet they would be open to doing more. Given the negative advance buzz, I'm not hopeful. Still, it's Anderson, Duchovny and Joel McHale! They're all highly talented, watchable actors, they just need decent material. That might not even matter if the numbers are good, so we'll have to wait and see.

This t-shirt is a reference to a joke Gillian and David made on Jimmy Kimmel.