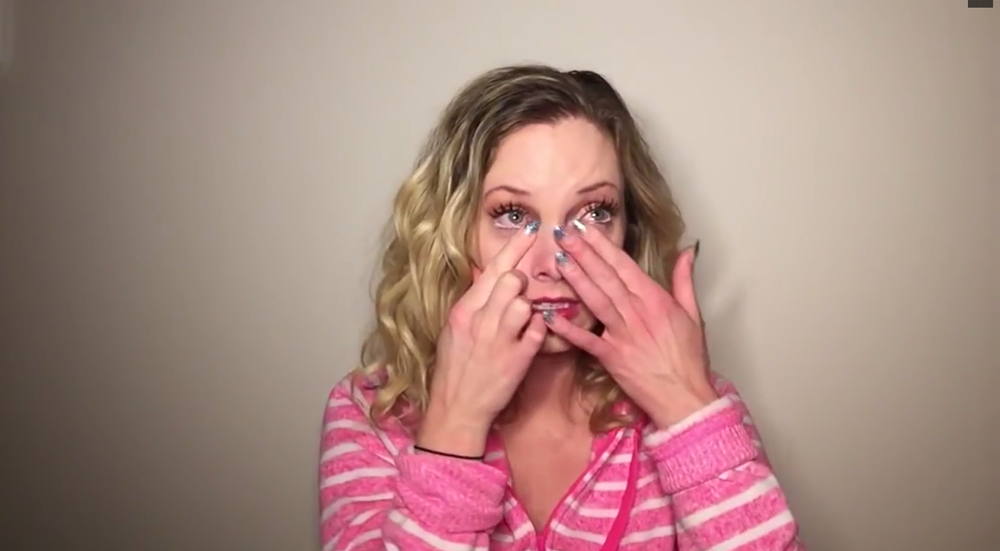 For those of you unfamiliar with this story, go here. Matthew Santoro, an extremely popular YouTuber with over five million subscribers, posted a video last week claiming that he had been in an abusive relationship for about a year with an unnamed person who hit him on the face, isolated him from his friends and family, and made him feel worthless. He claimed he broke up with his abusive girlfriend and that he was reclaiming his life and hoping to give other victims the courage to come forward. Santoro's video was moving, thoughtful and seemed very genuine. He cried as he recalled what he went through in the relationship and said "men get hit too." As I said in our coverage of that story, if he was lying or exaggerating at all he's an incredible actor because it seemed totally believable to me.
In response, Santoro's ex girlfriend, Nicole Arbour (also a Youtuber, albeit a controversial and much less popular one) posted two videos. In the first video she said that "there was no domestic abuse" and claimed to have broken up with Santoro, but she never explicitly denied hitting him on the face. She also said that she didn't want to put her private life online and that Santoro kept pushing her to do so during their relationship. Arbour said that Santoro was "taking a tiny little thing and spinning it into something that just didn't happen," which was telling to me. In the second video Arbour challenged Santoro to take a polygraph test with her, live on her own Youtube channel, natch. Arbour also initially commented on one of her own videos that she "Heard the little bitch I dumped months ago is still trying to use me to get attention on his vlog channel. Ew."
There's the matter of a video which Arbour posted several months ago which contradicts her recent statements. In Arbour's earlier video, which she removed and is said to be trying to keep copies off YouTube, she asks Santoro to take her back,and says that "we broke up" and "I don't want to break up anymore." It doesn't sound like she broke up with him, which she claimed in her newer response to him, because she's crying and asking him to take her back. She said "I'm sorry and I think we've made a mistake."
Here's the video which Arbour posted and removed. Someone copied and posted this to Daily Motion so it's harder to take down.

Nicole Arbour – Dear Matt by nicolearbour
This humanized her to me a little actually, but it highlights that she's rewriting the past and I can't get over the fact that she has white eyeliner on the water lines of her eyes. It's like she did it purposefully to look miserable. (I also don't understand how people can put so much personal information out there. I'm someone who can't even stick with Facebook it bugs me so much, but these are popular Youtubers and this is how they make money.) Santoro is also very popular on Periscope, which is for live broadcasting, and apparently these two did a lot of periscope videos together.* This of course goes against Arbour's other claim that she didn't want to put her private life online. She published that video begging him to get back with her and saying she was pretty sure he would be the father of her kids one day. That's putting her personal life out there.
Arbour also tweeted about a year and a half ago that she can pass a lie detector test when she's lying, which makes her offer to take a polygraph seem that much more hollow. Plus one of Santoro's friends posted an earlier comment from Arbour in which she admits slapping Santoro and says she did it to keep him from driving drunk. I'm not going to get into the details of all that except to say that if that's the case why didn't she mention it in her rebuttal video?
For his part Santoro has put out two new video vlogs claiming everything is fine in his life and he's happy now and looking forward to new things that are coming up for him professionally. He said that he received a lot of support which meant a lot to him and that "there are a lot of good people in the world." One video featured a woman who apparently stayed over his house after partying that night. I don't know what their relationship is, but he seems to be doing well now, which is good news.
Some of Arbour's recent but now deleted tweets include "Damn right I beat him!! …at Scrabble, Wii, chess, pretty much everything!!" and "If you are being abused, get help. If you are making up lies to get back at someone for breaking up with u six months ago. Also get help." As GradeAUnderA pointed out in a recent video about Arbour, can you imagine if a guy responded that way when an ex accused him of abuse? [via NY Mag]
(*Most of these details I got from this video by GradeAUnderA calling out Arbour, but it's loud and sweary so I'm just linking it instead of posting it. Thanks to FLORC, Alexandra and MellieMel for the background on this story.)
Our grandparents were in wars at 18 and survived. The pussy generation led by drama queen internet twats cry at words hurting. Fak off.

— Nicole Arbour (@NicoleArbour) January 19, 2016