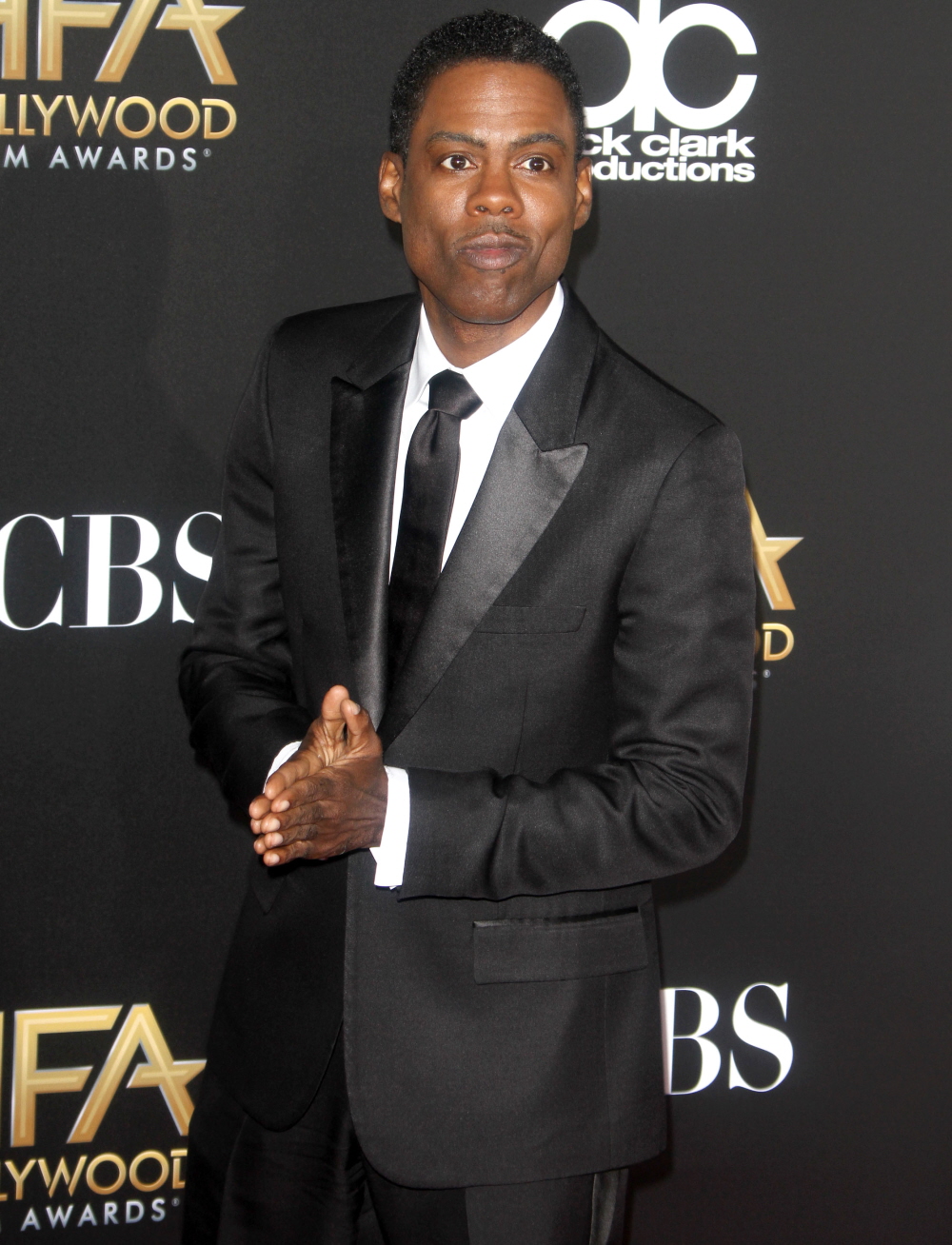 I tend to believe that the #OscarsSoWhite controversy has blown up to the point where this year's Oscar telecast will probably be one of the most-watched Oscars in years. It's not that people are super-interested in seeing Leonardo DiCaprio take home an Oscar for Boy Drama In the Woods, it's that people are going to tune in to see how the Academy handles the drama in real time, within the Oscar telecast. They'll also tune in to see Chris Rock's opening monologue, as they should. Some have said that Rock should step down from hosting the Oscars as a way of protesting #OscarsSoWhite. I've never been a believer in a boycott – although I think the boycott talk has been the necessary vehicle by which we've been having much-needed conversations about change – and I've always hoped that Rock would stick to it and just go HAM as host and make all of those old, white Academy members squirm. And guess what? That's exactly what's going to happen.
Outrage over the lack of diversity among nominees at the Oscars will not keep Chris Rock from his hosting duties, the show's producer told ET exclusively. ET's Nischelle Turner sat down with Academy Awards producer Reginald Hudlin at the 47th NAACP Image Awards Nominee Luncheon on Saturday, where he confirmed that Rock will not be dropping out of the show.

Hudlin also revealed that though the 50-year-old comedian finished writing his monologue a week ago, once the #OscarsSoWhite outrage came to a head with Jada Pinkett Smith and Will Smith's pledge to boycott, Rock scrapped his jokes and started working on a new script.

"Chris is hard at work. He and his writing staff locked themselves in a room," Hudlin told ET. "As things got a little provocative and exciting, he said, 'I'm throwing out the show I wrote and writing a new show.' Chris is that thorough. He's that brilliant, and I have 1000 percent confidence that he will deliver something that people will be talking about for weeks."

According to Hudlin, Rock isn't steering away from the issue of a white-washed group of nominees, but rather diving right into the fire.

"You should expect [#OscarsSoWhite jokes]," Hudlin told ET. "And, yes, the Academy is ready for him to do that. They're excited about him doing that. They know that's what we need. They know that's what the public wants, and we deliver what the people want."
Awesome. Make 'em squirm, Chris. I'm glad he's not pulling out and I hope he really delivers. But even if he doesn't… I hope people recognize that Chris Rock is not the face of this problem, you know?
When CB and I were chatting amongst ourselves about the boycott, I said to her that I hoped the Oscar producers would double-down and schedule wall-to-wall people of color to present. The producers were thinking along the same lines – they're allowing Quincy Jones to speak for five full minutes, and according to Page Six, producers are "scrambling" to schedule "prominent black presenters to dole out its top awards, including Best Picture." People like Oprah and Morgan Freeman. I would say Michael B. Jordan, Lupita Nyong'o, Octavia Spencer, John Boyega and more should be on the presenter list too.
Photos courtesy of Getty, Fame/Flynet.