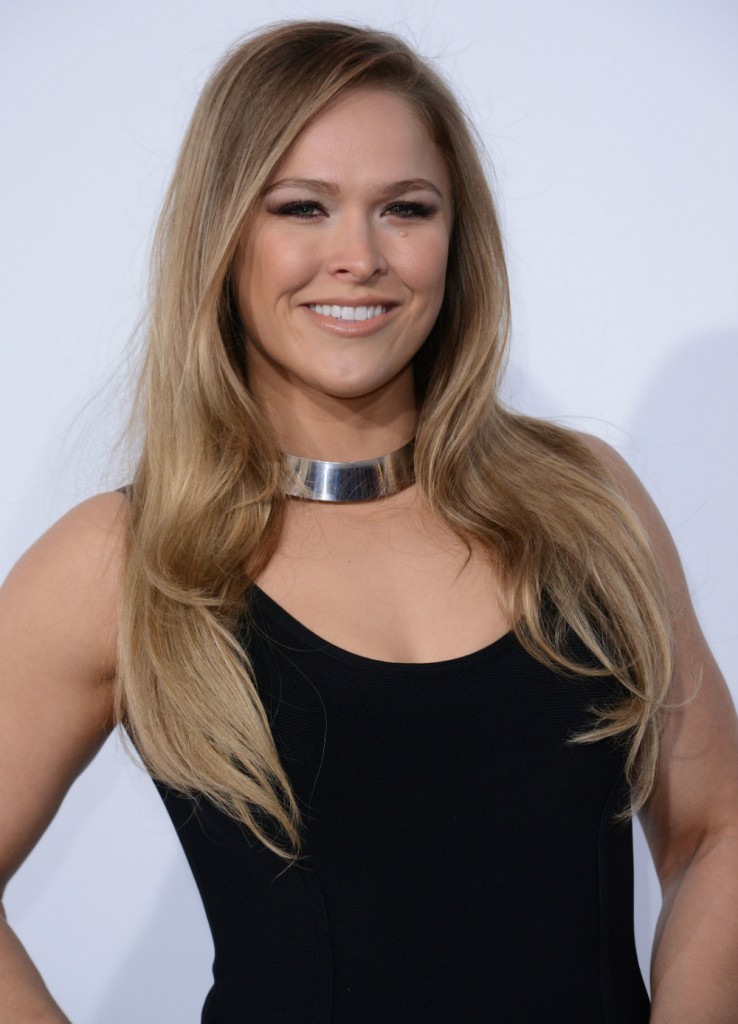 Being an Olympian and UFC Champion isn't enough for Ronda Rousey; she's added actress to her list of hyphens. With small parts in Entourage, Furious 7 and The Expendables 3, Ronda is reported to have been cast in the comedy Do Nothing Bitches with Tina Fey. In an attempt to workout her comedic muscles, Ronda hosted Saturday Night Live this weekend. Other than attending the Marine Ball in December and being one of Barbara Walters most interesting people of 2015, she has been laying low since November after Holly Holm knocked her out during their championship fight. The most notable part of Ronda's SNL monologue was that she opened by congratulating Holly on the fight "Holly deserved to win." Given Ronda's tactic of talking smack, this was a good show of sportsmanship. The "joke" was for her to silence the crowd as soon as they started to applaud. With a more seasoned comedian, this would have been funnier but Ronda's inexperience made it a bit awkward. However, given how hard Ronda took that loss, I am still giving her credit for the gesture. Here's some of what Ronda said in her SNL opening:
UFC star Ronda Rousey's first time hosting Saturday Night Live this weekend was special for multiple reasons.

First, as she told the audience in her opening monologue, "It's the first time i'm (sic) going to be live on television without getting punched in the face!"

But: "It's also the first time I'm talking to my fans since my loss to Holly Holm in November," Rousey said, referencing her brutal knockout and subsequent swirl of speculation over how she might recover from that fight.

Rousey wanted to make clear in her monologue that the November bout "was a fight that Holly deserved to win, and I just wanted to take a minute to sincerely congratulate her."

But after a millisecond of applause, Rousey sliced her hand through the air with a smirk – "that's enough!"
A video of the monologue is below if you want to see the whole thing. As SNL often does with non-comedian hosts, Ronda's monologue had an assist from other cast members, including musical guest Selena Gomez singing a few lines of her song "Come & Get It." The monologue turned into a spoof of a fighter/coach scene in which the coach (Kenan Thompson) gave Ronda tips on how to knockout the audience with jokes as two sportscasters critiqued her approach. I thought it worked because the writers poked fun at their own formulaic approach to monologues. Now if they would only write a short bit about how they drag out their jokes way too long.
As for her other skits, Ronda did a decent job with what she had to work with. Other than some unfortunate skits on topics including bullying, statutory rape by a teacher and overly aggressive schmucks bugging women in a bar, she did appear in a few funny ones. Vulture has a nice breakdown and videos of most of the skits here. Of hers, I think the Superhero skit was my favorite.
As for the rest of the show, the cold open with Tina Fey as Sarah Palin and Darrell Hammond as Donald Trump was great and the SAG Awards skit skewering the lack of diversity in Hollywood was so on point, it was almost a return to the level of original SNL parodying.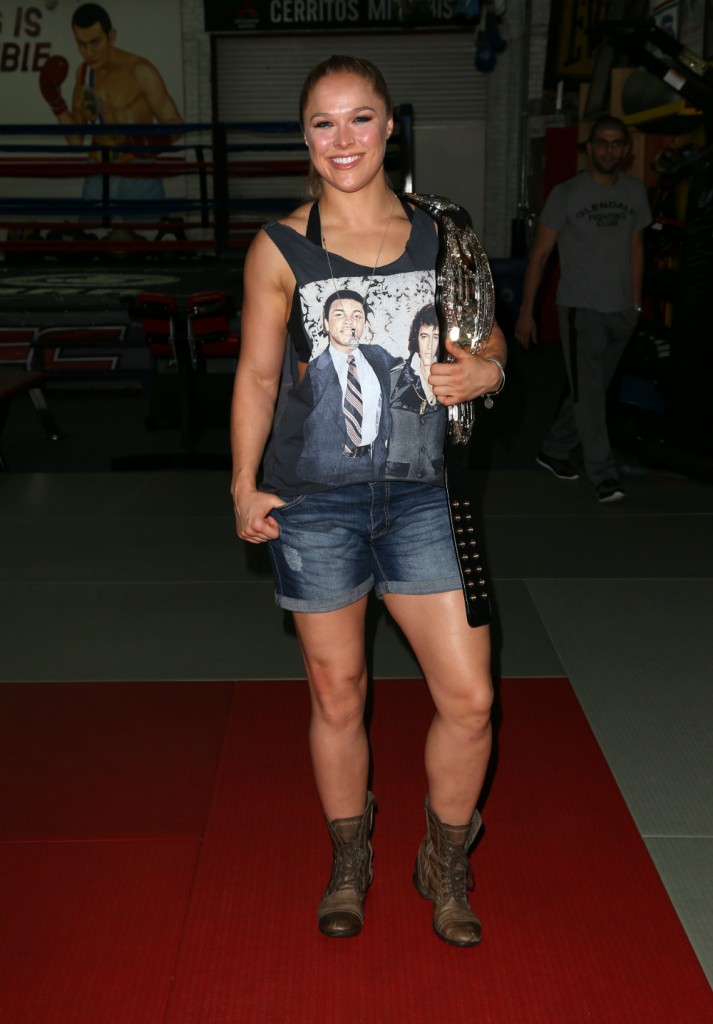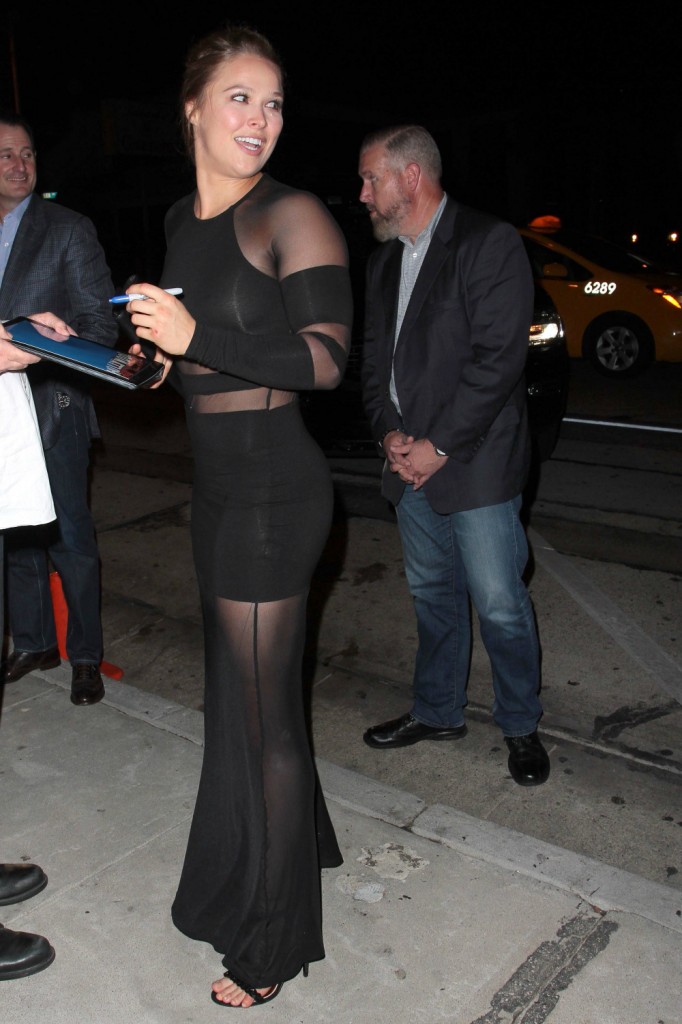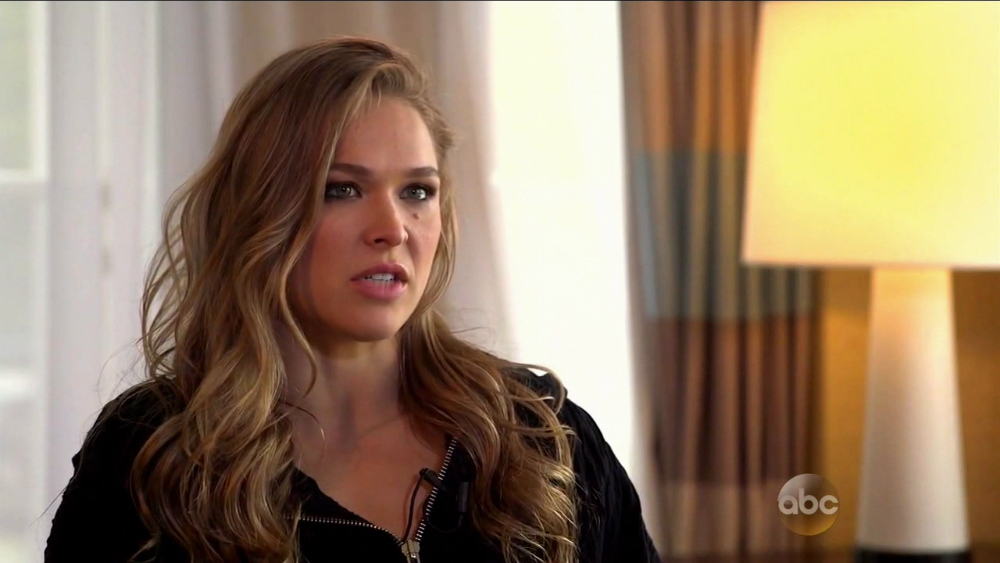 Photo credit: FameFlynet and WENN Photos