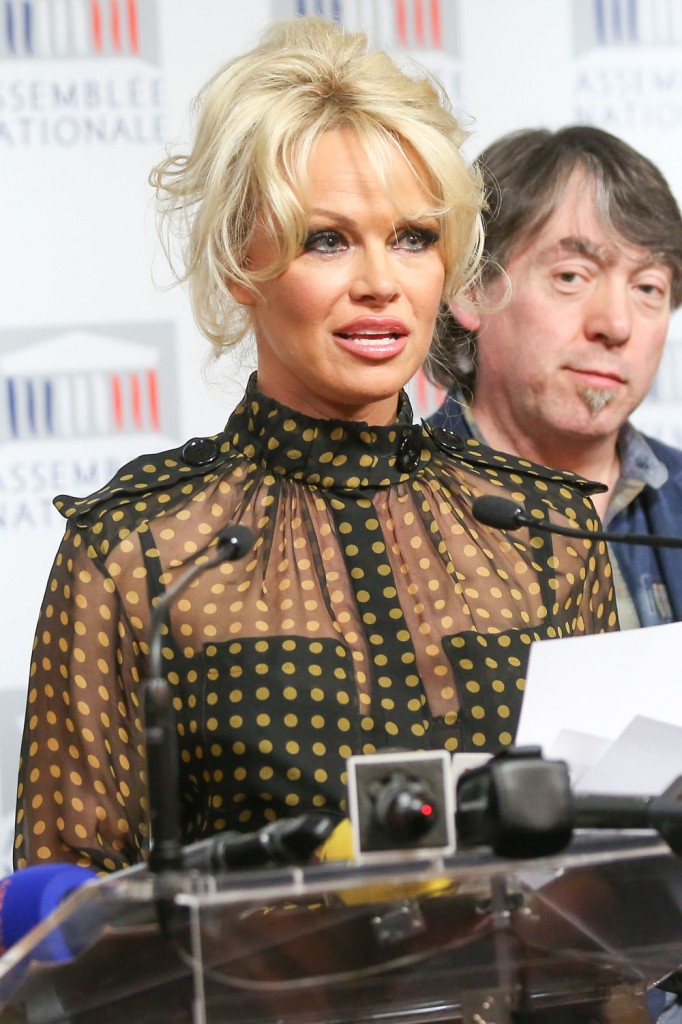 The Daily Beast has a new profile and interview with Pamela Anderson, who is starring in a short film called Connected which premieres on Vice online on February 8. Anderson comes across as someone still finding her place in the world post sex symbol and with her sons nearly out of the house. She explains that she's recently escaped from an abusive relationship, in her marriage to Rick Salomon, which ended early last year. This may be the first time Anderson has publicly talked about the abuse she suffered in the relationship, although she did reveal it in her request for a restraining order against Salomon, which was granted last spring. Luckily she sounds like she's on the other side of it now and is finding a kind of peace with the world. She also finds purpose in her tireless animal advocacy work. It's a decent profile and is worth reading if you have the time.
The interview was conducted with Connected filmmaker Luke Gilford, so some of the interview themes were dictated by the film, which depicts a spin instructor, played by Anderson, joining a health cult to regain her sense of self as an older woman. What I'm saying is that Anderson might not be this self-doubting in typical interviews, as they're drawing parallels to her character. It does seem genuine though and like Anderson was chosen for this part as it mirrors her life somewhat.
She was uncertain about her future
"My kids were getting older—they're almost both graduated from high school—and I thought, 'Am I going home? Am I going back to Canada? Am I going to disappear?'"

How she drew from personal experience for this character
"I look at old pictures and I look at me now and I feel, like they say, it just slowly catches up on you—like if you're in a bad relationship that makes you feel awful about yourself. I was drawing a lot from that, too. Thinking about when people try and control you and put you down, and tell you you're crazy—you start believing those things.

"A lot of it is psychological. You can make yourself younger just by being happy. I wasn't happy. I knew I couldn't do this film while I was married. And I knew I had to take that leap of faith. It was very therapeutic to do this film, at that time.

"It really didn't take long to bamboozle me into that state. People are powerful. People can be very manipulative. Just trying to get my groove back… trying to drink the shakes, and take the vitamins, exercise, get out there—do what everybody else is doing. That's kind of what I was drawing from."

She skipped a meeting with Quentin Tarantino due to paparazzi when she got there
"I didn't even call him to tell him I wasn't coming. I stood him up! And I haven't seen him since. I couldn't believe Tarantino wanted to meet me. I just freaked out and ran away. But I was looking for any excuse not to go in there. It was self-sabotage; I just wasn't ready."

On social media
"We're so desensitized. People are creating their own image. You're texting and Instagramming and basically ordering from a catalog who you want to be with and who you want to be around. It's whoever takes the best pictures. You retouch yourself."

On firing all her agents and managers recently
"I fired everybody! I fire everybody all the time, but this time I meant it. I find there is this formula that everybody wants people to follow, and I really go with my gut. I felt like I was arguing with people all the time about where to go, what to do, how to look. You know, I'm 48 years old—don't tell me what to wear! Don't tell me not to wear lip gloss. I just got out of an abusive relationship, I really didn't want someone else telling me…

I just want to be the girl with big boobs breaking things. You've got to use everything you've got. Every woman does. When people say they don't, they're lying."
I agree with her about Instagram and social media. It's somewhat foreign to me. It's like the social rules have completely changed with the new media. As for Anderson firing all her people, it sounds like her agents were telling her to change her image and she didn't want to. It's not a bad idea. She tried to tone down the makeup a couple of years ago and the difference was amazing. She's so naturally pretty.
Anderson has previously opened up about he fact that she suffered devastating abuse as a child. I hope that she's ok now and that she has the knowledge and tools to avoid abusive romantic relationships. It sounds like she's figuring it out.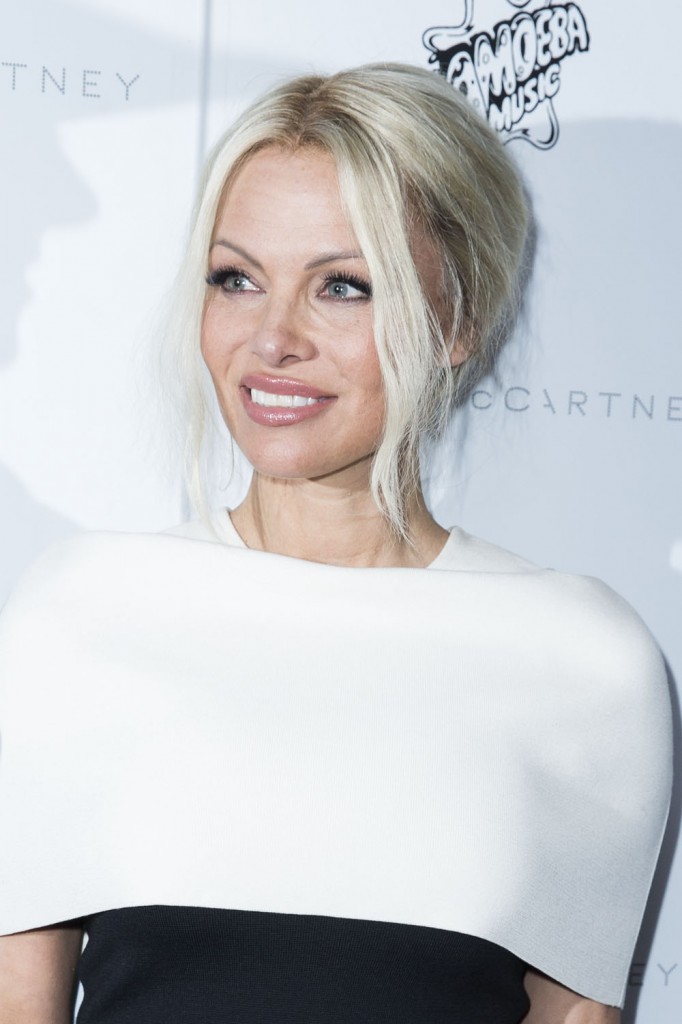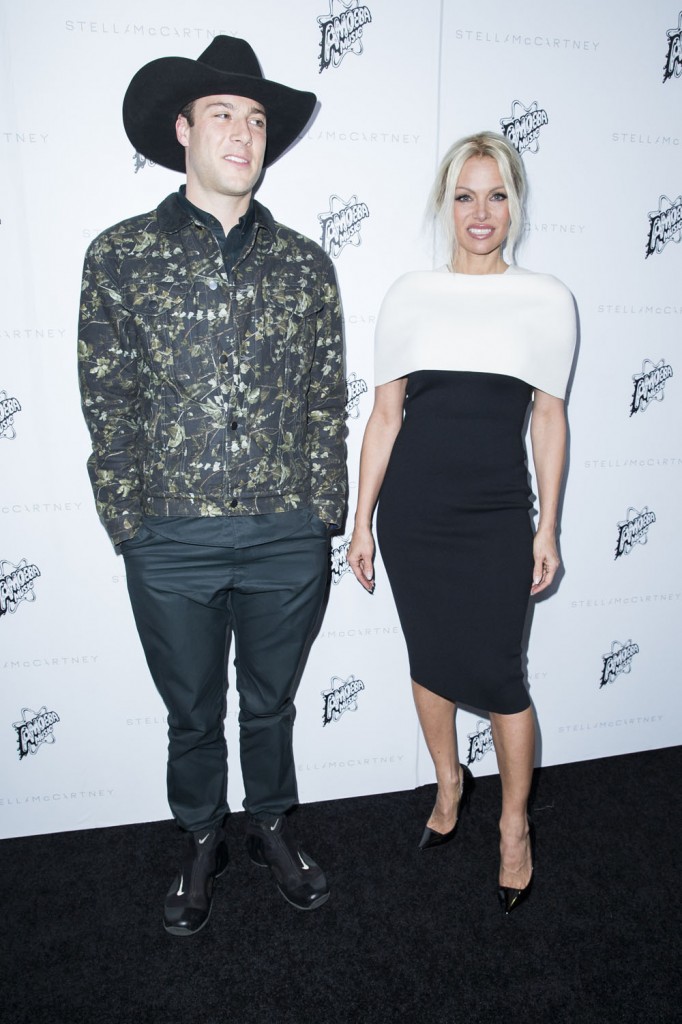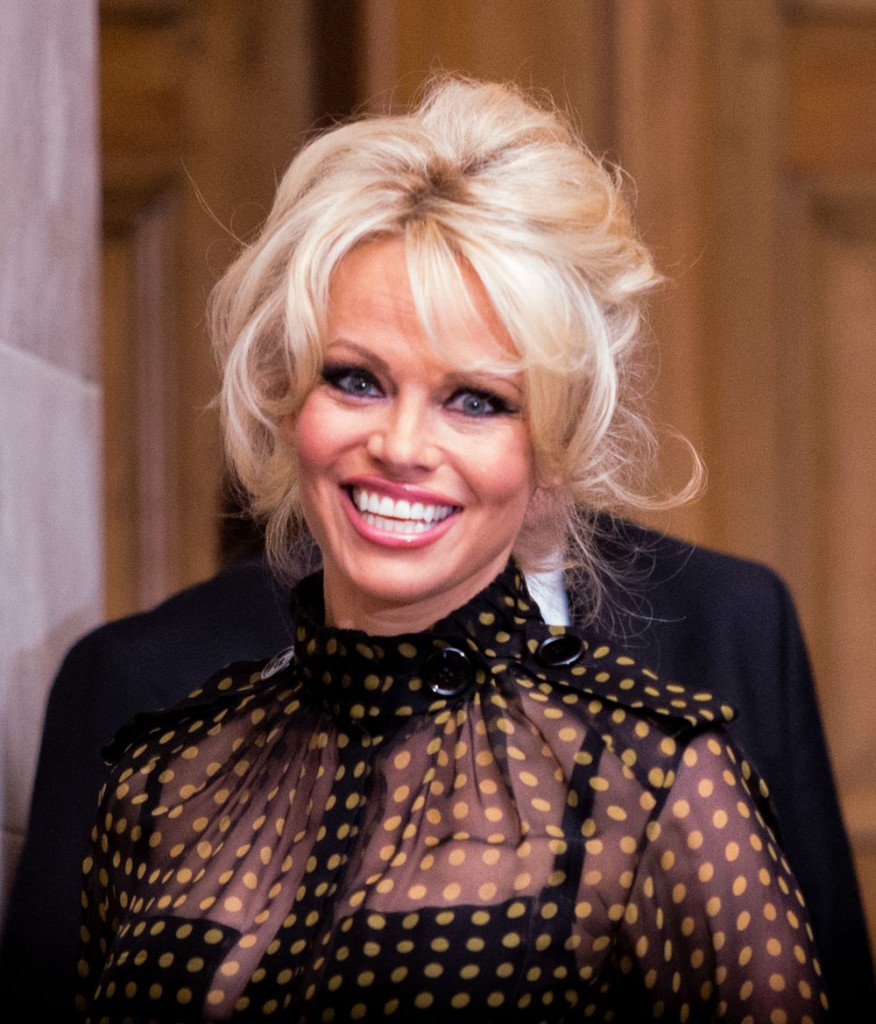 Pamela Anderson is shown in January at a press conference in Paris protesting foie gras and at the Stella McCartney show with her son. credit: FameFlynet