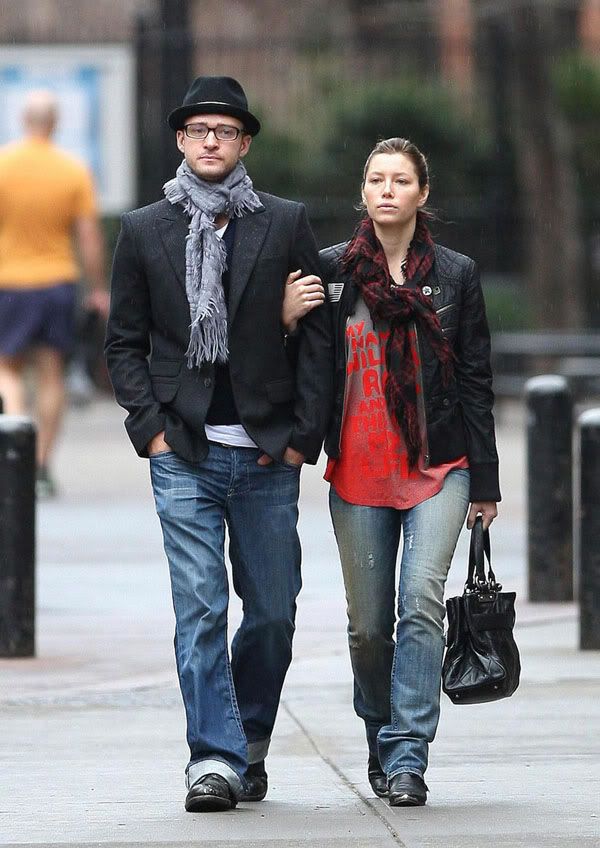 Justin Timberlake is having issues with Jessica Biel… her father, that is. Apparently, Jessica's dad Jon Biel is all up on JT, trying to get Justin to marry his daughter. Jon calls JT to have "man-to-man talks" about getting his little girl down the aisle. According to the National Enquirer, Jon even offered a "bribe" to Justin (and I'm not even joking, NE refers to this as a "bribe") – that he would pay for the whole wedding. That's not a technically a "bribe", dude. A "bribe" would be $300,000 in unmarked bills waiting for Justin after the deed is done. Offering to pay for the wedding is ole-timey tradition for the bride's family – although who knows how many brides' families still adhere to that in this day and age.
Justin Timberlake is being pressured into marriage – by his girlfriend's relentless dad, say sources.

The "SexyBack" singer has been dragging his feet over proposing to Jessica Biel, his girlfriend of two years. The former 7th Heaven beauty's dad has begun hammering away at the 28-year-old Justin to march down the aisle, revealed an insider.

And to sweeten the deal, Jon Biel has offered to pay the wedding bill.

"Jessica's dad is really putting heat on Justin to marry her," said the insider.

"Jon's been calling Justin a lot lately for man-to-man talks."

The no-nonsense dad asked the performer to "do the right thing" regarding his daughter, the insider revealed.

Justin moved the 27-year-old actress into his Hollywood Hills home last summer, and since then, wedding speculation has run rampant.

"But Justin is running out of time and excuses," the source said. "Jon has made it clear he's growing impatient."

Jessica's dad even offered him a "bribe", says the insider.

"Jon told Justin that he'll cover the entire cost of the wedding."
[From The National Enquirer, print edition April 27, 2009]
My first thought was "I bet the unnamed source is Jessica." My second thought was "How embarrassing for Jessica if even part of this is true." Jessica seems like she really wants to get Justin down the aisle, true. But I doubt she gets her father to do her dirty work. On the bright side, at least Jon isn't threatening Justin with a shotgun. Or at least, there will be no shotgun threats until Jessica gets "accidentally" pregnant. There's a bribe – marry my daughter or I'll shoot you. No, wait, that's not a bribe. That's a felony!
Jessica Biel and Justin Timberlake are shown out in NY on 3/8/09. Credit: PacificCoastNews.com. Biel is also shown out in Beverly Hills on 4/9/09. Credit: Eddie Morales/Fame Pictures